Cochlear Implants Iran

Loss of hearing or congenitally hearing impaired patients can have a simple solution to their problem.  Cochlear Implant in iran are routinely done for those who have become deaf or have hearing issues due to various reasons. Cochlear Implants transform speech and other sounds into electrical energy that is used to stimulate hearing nerves in the inner ear. This implant has both internal and external components consisting of an external speech processor, headset (worn behind the ear) and a surgically implanted receiver/stimulator package with an electrode array in the skull. Through a surgery, an electronic device is fitted in the ear. It does the function of damaged parts in the inner ear and sends signals to the brain.
The world's best cochlear implant technology is now available in Iran. Available in a range of product offerings, you can choose from devices and solutions that best fits your needs and lifestyle. Available through of hospital across the country, our products are backed by the unmatched Cochlear advantage and excellent service and support.
What is a cochlear implant?

A cochlear implant (CI) system helps to restore the sense of hearing for individuals with severe-to-profound sensorineural hearing loss. For individuals with this type of hearing loss, hearing aids provide little or no benefit.
A CI is the only medical device capable of replacing a sense. It works by bypassing non-functioning parts of the inner ear and providing electrical stimulation directly to nerve fibres in the cochlea. A CI system consists of two parts: an externally worn audio processor, which sits comfortably behind or off the ear, and an internal cochlear implant, which is surgically placed just under the skin.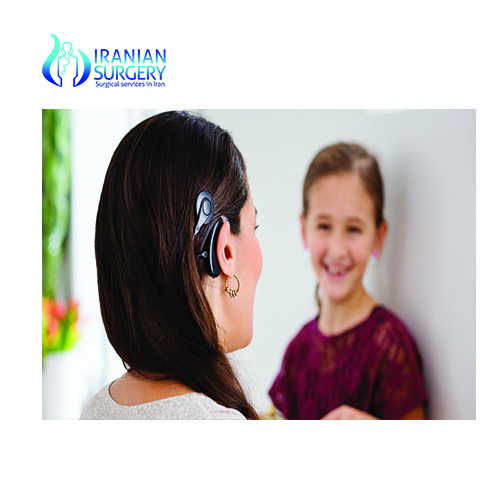 Who is a good candidate for a cochlear implant?
The following are general guidelines; candidacy depends on many other factors, as well. To determine if you or a loved one might benefit from a cochlear implant, check with your ENT doctor or hearing healthcare professional.
Children:
Children with hearing loss as young as 12 months old may be eligible for a cochlear implant. Experts recommend implantation as early as possible to expose children to sounds during the critical period of language acquisition. After implantation, they must undergo intense speech and language therapy in order to achieve the best possible outcome from the device.
Children are considered viable candidates when they:
Have profound hearing loss in both ears.
Get little or no benefit through the use of hearing aids.
Are healthy and any medical conditions would not compromise surgery.
Understand (when able), along with their parents, their role in the successful use of cochlear implants.
Have support from an educational program that will emphasize the development of auditory skills.
Adults:
Adults may qualify for cochlear implantation regardless of whether they lost their hearing before or after learning language. Those adults who developed language before losing their hearing (postlingually deafened) typically have greater success with cochlear implants than those who had not developed language before losing their hearing (prelingually deafened). Adult candidates are generally eligible for an implant if they:
Have severe or profound hearing loss in both ears.
Get little or no benefit from hearing aids.
Have no medical problems that could put them at risk during surgery.
Have a strong desire to be part of the hearing world and communicate through listening, speaking and speechreading.
5 advantage of cochlear implant
1.Hear better with a cochlear implant than with a hearing aid.
Adults often benefit immediately and continue to improve for about 3 months after the initial tuning sessions.
Then, although performance continues to improve, improvements are slower. Cochlear implant users' performances may continue to improve for several years.

2. you Can focus better when in noisy environments.
3.Listen to your favorite music
Some can enjoy music. Some enjoy the sound of certain instruments (piano or guitar, for example) and certain voices. Others do not hear well enough to enjoy music.

4. Easily talk with phone
Many can make telephone calls and understand familiar voices over the telephone. Some good performers can make normal telephone calls and even understand an unfamiliar speaker. However, not all people who have implants are able to use the phone.
5.Hearing more in crowded environments
Most perceive loud, medium and soft sounds. People report that they can perceive different types of sounds, such as footsteps, slamming of doors, sounds of engines, ringing of the telephone, barking of dogs, whistling of the tea kettle, rustling of leaves, the sound of a light switch being switched on and off, and so on.