veneers cost in iran
June 17, 2019

Rhinoplasty in Iran
June 19, 2019
Breast surgery in Iran
Mammoplasty in Iran
Breast surgery refers to a group of plastic surgery the goal of which is to reshape or modify the appearance of the breast. Breast surgery in Iran typically can be divided into four general categories: breast augmentation (augmentation mammoplasty), breast reduction, breast lift (mastopexy) and breast reconstruction (mastectomy).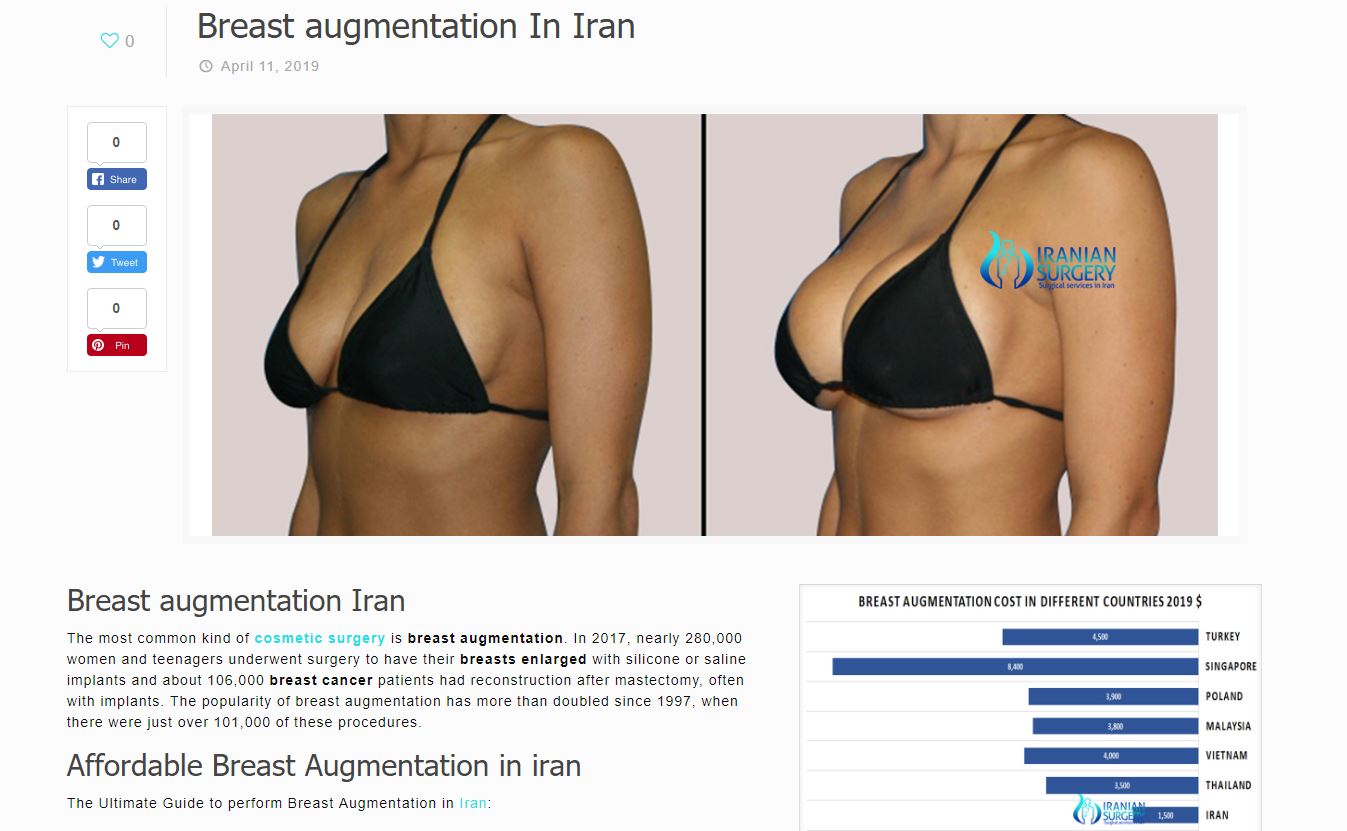 Breast augmentation in Iran
Breast augmentation is performed to enhance the appearance, size and contour of a woman's breasts. Women consider breast augmentation -- or augmentation mammoplasty in Iran -- for different reasons. Some women feel their breasts are too small in relation to their body contour. Some women desire augmentation after size loss associated with pregnancy and lactation. Others desire to correct an asymmetry in breast size. Affordable Breast Augmentation prices in Iran The ultimate guide to perform breast augmentation in Iran: Give your boobs a boost with breast augmentation in Iran. Our quality-checked surgeons offer affordable plastic surgery at state-of-the-art clinics throughout the Iran. The average cost of breast augmentation surgery in Iran in the year 2019 is between $1200-2200.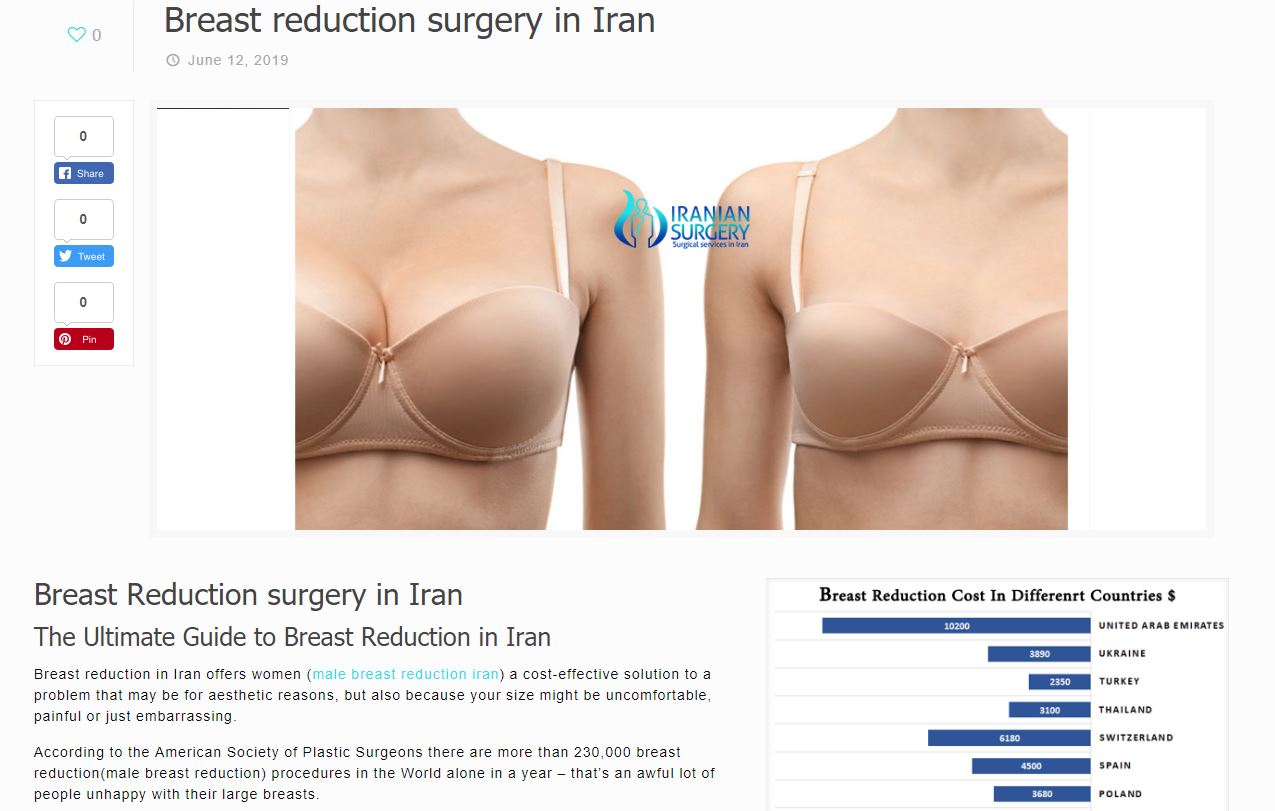 Breast reduction in Iran
Large, heavy, pendulous breasts can be uncomfortable. The excess weight can cause neck pain, back pain, skin irritation, bra strap indentations, numbness or weakness. Breast reduction is known as reduction mammoplasty. The procedure involves removal of excess skin, fat and glandular tissue. Breast reduction in Iran is often done along with a breast lift, so that your smaller breasts are lifted into a higher, and more youthful position. Breast reduction surgery prices in Iran 2019 compared to the other countries: The costs of breast reduction vary widely. However, the average cost of a breast reduction in Iran is between $1200-2100 compared to the cost of breast reduction in Chicago United State which is between $10,000 and $15000.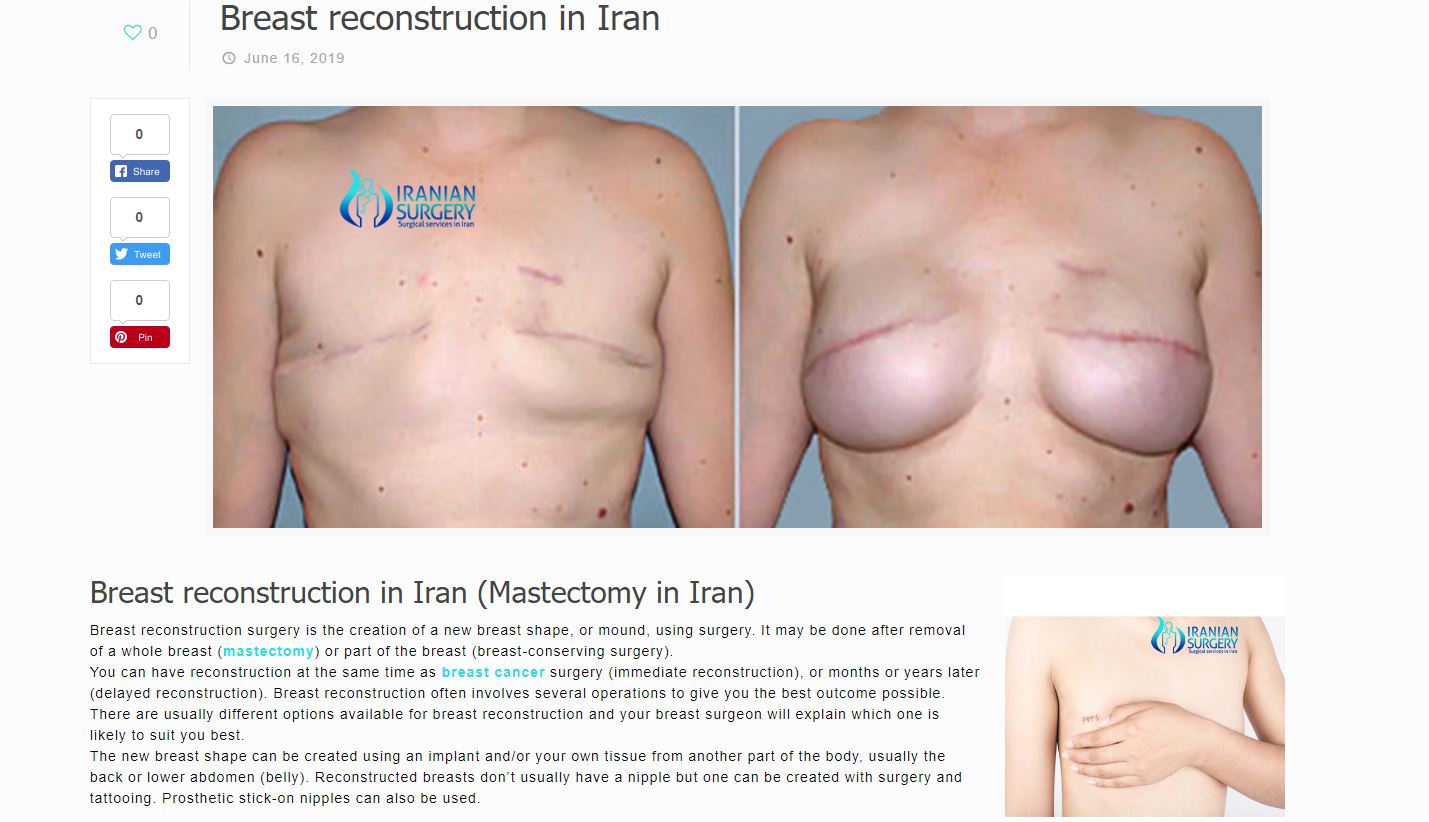 Breast reconstruction in Iran
Breast reconstruction seeks to recreate a breast with the desired appearance, contour and volume. The nipple-areola component also is recreated. Normal breast sensation and the ability to breastfeed are lost when the sensory nerves or milk glands and ducts have been removed or significantly injured. He knew breast shape can be created using an implant and/or your own tissue from another part of the body, usually the back or lower abdomen (belly). Reconstructed breasts don't usually have a nipple but one can be created with surgery and tattooing. Prosthetic stick-on nipples can also be used. What is the cost of breast reconstruction (mastectomy) in Iran compared to the United States and India? The average cost of breast reconstruction in Iran (mastectomy in Iran) is around $2200, compared to around $5,000 in the United States or $3000 in India.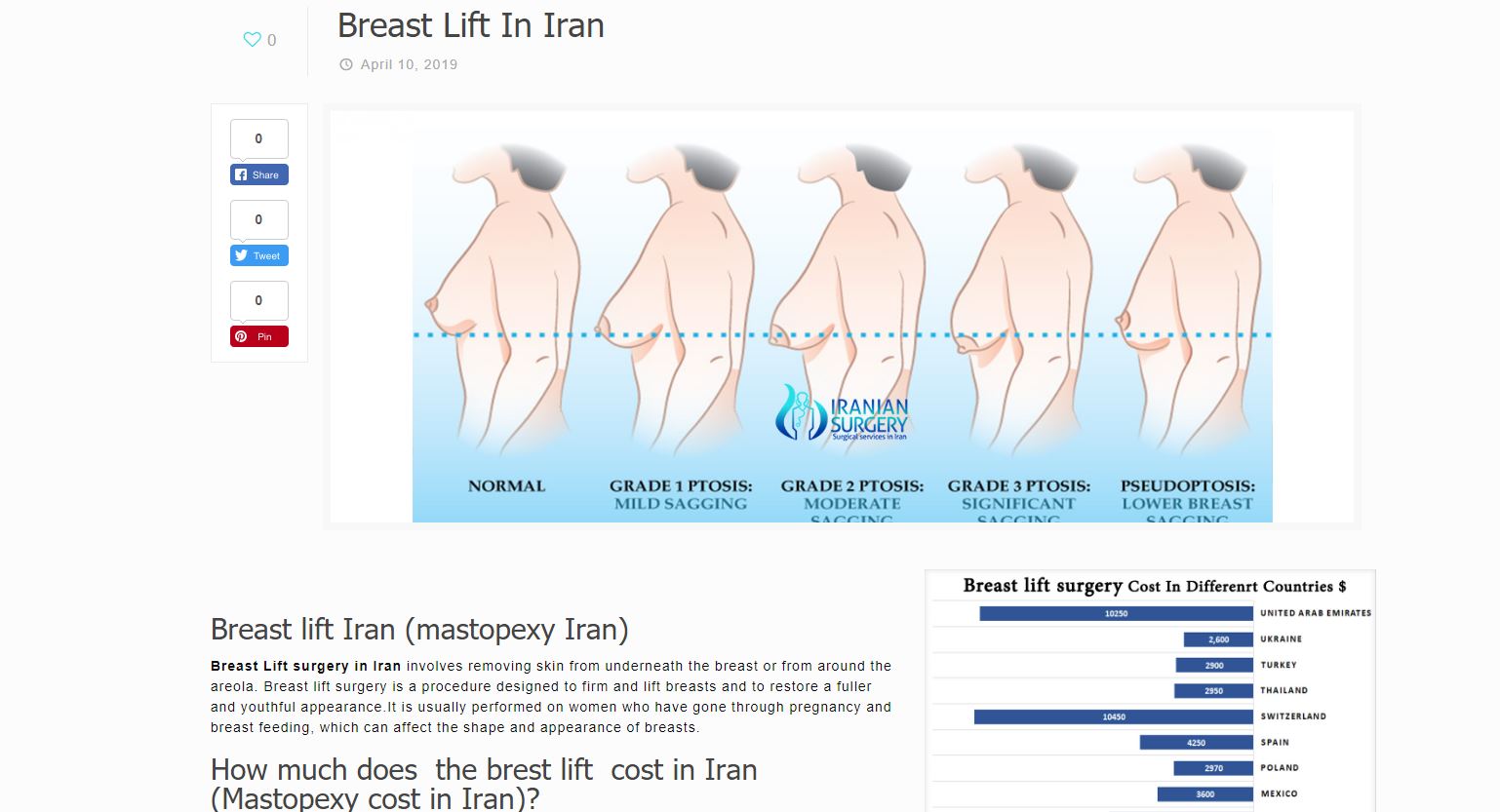 Breast lift in Iran
In some women, the skin is not strong or resilient enough to support the weight of the breast, causing the breasts to sag. With this condition, called ptosis, there is too much skin compared to breast tissue. To give the breast a lift, or what is known as mastopexy, the excess skin must be removed. How much does the breast lift cost in Iran (Mastopexy cost in Iran)? How much does a breast lift (Mommy Makeover) in Iran cost compared to the United States? Again, this will depend on the procedures, but, for example a breast lift, tummy tuck and liposuction may cost around $15000-20,000 in the US, and the same breast lift(mommy makeover ) breast surgery in Iran, is around $1800-2400.
Who is a Good Candidate for breast surgery?
You are a right candidate for breast surgery in Iran if you:
Have a good physical health
. Have fully-developed breasts
. Are conscious of your breast-size
. Have lost shape and volume in breasts after pregnancy, breast-feeding or weight loss
. Have asymmetrical breasts
. Suffer from abnormal development of one or both the breasts
Breast surgery in Shiraz, Tehran and Mashhad Iran is very popular among medical. In addition to the low cost plastic surgery, foreign patients will benefit from the pleasant weather and tourist attractions.
8 Common question about Breast surgery in Iran
1. What are the risks of breast implants?
The most common local complications and adverse outcomes are capsular contracture, reoperation and implant removal. Other complications include rupture or deflation, wrinkling, asymmetry, scarring, pain, and infection at the incision site.
2. How dangerous is breast surgery?
Other complications include rupture or deflation, wrinkling, asymmetry, scarring, pain, and infection at the incision site. You should assume that you will need to have additional surgeries (reoperations). Many of the changes to your breast following implantation may be cosmetically undesirable and irreversible.
3. Can breast implants kill you?
Breast implants can cause a rare form of cancer that may have killed at least nine people, the Food and Drug Administration said Tuesday. The cancer is called anaplastic large cell lymphoma (ALCL) and the FDA is checking into more than 350 reports linking it with both silicone and saline breast implants.
4. What's the safest breast implant?
Both saline and silicone breast implants are considered safe for breast augmentation and breast reconstruction. Research on the safety and effectiveness of both types of implants is ongoing
5. What is Breast Implant illness?
Reports of Breast Implant Illnesses Prompt Federal ReviewReports of Breast Implant Illnesses Prompt Federal Review. ... Millions of women have implants, which are silicone sacs filled with either salt water or silicone gel, used to enlarge the breasts cosmetically or to rebuild them after a mastectomy for breast cancer.
6. How long does it take to recover from breast surgery?
Recovery from breast augmentation typically takes one to two weeks. Your breasts will be swollen and sore for several days after breast augmentation surgery. You will need to limit your activity for several weeks. By week 6 you should be able to resume normal activities.
7. How long do you need off work after breast surgery?
How much time should I take off work? Patients are often able to return to work shortly after the operation. It's normally recommended that you take around one to two weeks off work following a breast augmentation to allow your body to recuperate fully.
8. How do you sleep after breast augmentation?
1. Avoid lying on your stomach for the first few weeks. 2. Use a pillow against your side to help keep you in place. 3. Sleep at a reclined angle, half-sitting up, to relieve pressure on your implants. 4. Wear a sports bra to help reduce pressure on the incision.