Bone Marrow Transplant
How much does Bone Marrow Transplant Cost in Iran?
The cost of a Bone Marrow transplant in Iran is around $27,000, compared to its US cost of $400,000, so if you decide to have a Bone Marrow transplant in Iran, reading this article can improve your knowledge about Bone Marrow transplant procedure in Iran.
About Iranian Surgery
Iranian surgery is an online medical tourism platform where you can find the best Bone Marrow Transplant Surgeons in Iran. The price of a Bone Marrow Transplant surgery in Iran can vary according to each individual's case and will be determined based on an in-person assessment with the doctor.
For more information about the cost of Bone Marrow Transplant in Iran and to schedule an appointment in advance, you can contact Iranian Surgery consultants via WhatsApp number 0098 901 929 0946. This service is completely free.
Read more about : A patient who came from Iraq to Iran for Kidney transplant
Read more about : Performing one of the heaviest and largest pediatric heart surgeries in Iran and miraculously rescuing an Iraqi child from certain death by Iranian heart surgeons.
What is a Bone Marrow Transplant?
A bone marrow transplant also called a stem cell transplant is a medical procedure performed to replace bone marrow that has been damaged or destroyed by disease, infection, or chemotherapy. This procedure involves transplanting blood stem cells, which travel to the bone marrow where they produce new blood cells and promote growth of new marrow.
Bone marrow is the spongy, fatty tissue inside your bones. It creates the following parts of the blood:
. Red blood cells, which carry oxygen and nutrients throughout the body
. White blood cells, which fight infection
. Platelets, which are responsible for the formation of clots
Bone marrow also contains immature blood-forming stem cells known as hematopoietic stem cells, or HSCs. Most cells are already differentiated and can only make copies of themselves. However, these stem cells are unspecialized, meaning they have the potential to multiply through cell division and either remain stem cells or differentiate and mature into many different kinds of blood cells. The HSC found in the bone marrow will make new blood cells throughout your lifespan.
A bone marrow transplant replaces your damaged stem cells with healthy cells. This helps your body make enough white blood cells, platelets, or red blood cells to avoid infections, bleeding disorders, or anemia.
Healthy stem cells can come from a donor, or they can come from your own body. In such cases, stem cells can be harvested, or grown, before you start chemotherapy or radiation treatment. Those healthy cells are then stored and used in transplantation.
Before Bone Marrow Transplant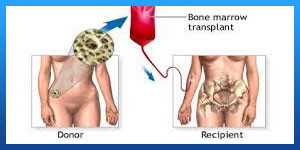 Why it's done
A bone marrow transplant may be used to:
. Safely allow treatment of your condition with high doses of chemotherapy or radiation by replacing or rescuing the bone marrow damaged by treatment
. Replace diseased or damaged marrow with new stem cells
. Provide new stem cells, which can help kill cancer cells directly
Bone marrow transplants can benefit people with a variety of both cancerous (malignant) and noncancerous (benign) diseases, including:
. Acute leukemia
. Adrenoleukodystrophy
. Aplastic anemia
. Bone marrow failure syndromes
. Chronic leukemia
. Hemoglobinopathies
. Hodgkin's lymphoma
. Immune deficiencies
. Inborn errors of metabolism
. Multiple myeloma
. Myelodysplastic syndromes
. Neuroblastoma
. Non-Hodgkin's lymphoma
. Plasma cell disorders
. POEMS syndrome
. Primary amyloidosis
Risks and Complications
A bone marrow transplant is considered a major medical procedure and increases your risk of experiencing:
. A drop in blood pressure
. A headache
. Nausea
. Pain
. Shortness of breath
. Chills
. A fever
The above symptoms are typically short-lived, but a bone marrow transplant can cause complications. Your chances of developing these complications depend on several factors, including: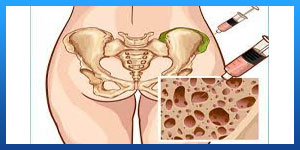 . Your age
. Your overall health
. The disease you're being treated for
. The type of transplant you've received
Complications can be mild or very serious, and they can include:
. Graft-versus-host disease (GVHD), which is a condition in which donor cells attack your body.
. Graft failure, which occurs when transplanted cells don't begin producing new cells as planned.
. Bleeding in the lungs, brain, and other parts of the body
. Cataracts, which is characterized by clouding in the lens of the eye
. Damage to vital organs
. Early menopause
. Anemia, which occurs when the body doesn't produce enough red blood cells.
. Infections
. Nausea, diarrhea, or vomiting
. Mucositis, which is a condition that causes inflammation and soreness in the mouth, throat, and stomach.
Talk to your doctor about any concerns you may have. They can help you weigh the risks and complications against the potential benefits of this procedure.
Read more about : Stem cells transplant
Graft-versus-host disease: A potential risk when stem cells come from donors
If you receive a transplant that uses stem cells from a donor (allogeneic transplant), you may be at risk of developing graft-versus-host disease (GVHD). This condition occurs when the donor stem cells that make up your new immune system see your body's tissues and organs as something foreign and attack them.
GVHD may happen at any time after your transplant. Many people who have an allogeneic transplant get GVHD at some point. The risk of GVHD is a bit greater if the stem cells come from an unrelated donor, but it can happen to anyone who gets a bone marrow transplant from a donor.
There are two kinds of GVHD: acute and chronic. Acute GVHD usually happens earlier, during the first months after your transplant. It typically affects your skin, digestive tract or liver. Chronic GVHD typically develops later and can affect many organs.
Chronic GVHD signs and symptoms include:
. Joint or muscle pain
. Shortness of breath
. Persistent cough
. Vision changes, such as dry eyes
. Skin changes, including scarring under the skin or skin stiffness
. Rash
. Yellow tint to your skin or the whites of your eyes (jaundice)
. Dry mouth
. Mouth sores
. Diarrhea
. Nausea
. Vomiting
How you prepare
. Pretransplant tests and procedures
You'll undergo a series of tests and procedures to assess your general health and the status of your condition, and to ensure that you're physically prepared for the transplant. The evaluation may take several days or more.
In addition, a surgeon or radiologist will implant a long thin tube (intravenous catheter) into a large vein in your chest or neck. The catheter, often called a central line, usually remains in place for the duration of your treatment. Your transplant team will use the central line to infuse the transplanted stem cells, medications and blood products into your body.
. Collecting stem cells for autologous transplant
If a transplant using your own stem cells (autologous transplant) is planned, you'll undergo a procedure called apheresis to collect blood stem cells.
Before apheresis, you'll receive daily injections of growth factor to increase stem cell production and move stem cells into your circulating blood so that they can be collected.
During apheresis, blood is drawn from a vein and circulated through a machine. The machine separates your blood into different parts, including stem cells. These stem cells are collected and frozen for future use in the transplant. The remaining blood is returned to your body.
. Collecting stem cells for allogeneic transplant
If you're having a transplant using stem cells from a donor (allogeneic transplant), you will need a donor. Once a donor is found, stem cells are gathered from that person for the transplant.
Stem cells can come from your donor's blood or bone marrow. Your transplant team decides which is better for you based on your situation.
Another type of allogeneic transplant uses stem cells from the blood of umbilical cords (cord blood transplant). Mothers can choose to donate umbilical cords after their babies' births. The blood from these cords is frozen and stored in a cord blood bank until needed for a bone marrow transplant.
The conditioning process
After you complete your pretransplant tests and procedures, you begin a process known as conditioning. During conditioning, you'll undergo chemotherapy and possibly radiation to:
. Destroy cancer cells if you are being treated for a malignancy
. Suppress your immune system
. Prepare your bone marrow for the new stem cells
The type of conditioning process you receive depends on a number of factors, including your disease, overall health and the type of transplant planned. You may have both chemotherapy and radiation or just one of these treatments as part of your conditioning treatment.
Side effects of the conditioning process can include:
. Nausea and vomiting
. Diarrhea
. Hair loss
. Mouth sores or ulcers
. Infection
. Bleeding
. Infertility or sterility
. Anemia
. Fatigue
. Cataracts
. Organ complications, such as heart, liver or lung failure
You may be able to take medications or other measures to reduce such side effects.
. Reduced-intensity conditioning
Based on your age and health history, your doctor may recommend lower doses or different types of chemotherapy or radiation for your conditioning treatment. This is called reduced-intensity conditioning.
Reduced-intensity conditioning kills some cancer cells and suppresses your immune system. Then, the donor's cells are infused into your body. Donor cells replace cells in your bone marrow over time. Immune factors in the donor cells may then fight your cancer cells.
During Bone Marrow Transplant
Types of Bone Marrow Transplant
There are two major types of bone marrow transplants. The type used will depend on the reason you need a transplant.
. Autologous Transplants
Autologous transplants involve the use of a person's own stem cells. They typically involve harvesting your cells before beginning a damaging therapy to cells like chemotherapy or radiation. After the treatment is done, your own cells are returned to your body.
This type of transplant isn't always available. It can only be used if you have a healthy bone marrow. However, it reduces the risk of some serious complications, including GVHD.
. Allogeneic Transplants
Allogeneic transplants involve the use of cells from a donor. The donor must be a close genetic match. Often, a compatible relative is the best choice, but genetic matches can also be found from a donor registry.
Allogeneic transplants are necessary if you have a condition that has damaged your bone marrow cells. However, they have a higher risk of certain complications, such as GVHD. You'll also probably need to be put on medications to suppress your immune system so that your body doesn't attack the new cells. This can leave you susceptible to illness.
The success of an allogeneic transplant depends on how closely the donor cells match your own.
During your bone marrow transplant
Your bone marrow transplant occurs after you complete the conditioning process. On the day of your transplant, stem cells are infused into your body through your central line.
The transplant infusion is painless. You'll be awake during the procedure.
After Bone Marrow Transplant
After your bone marrow transplant
When the new stem cells enter your body, they travel through your blood to your bone marrow. In time, they multiply and begin to make new, healthy blood cells. This is called engraftment. It usually takes several weeks before the number of blood cells in your body starts to return to normal. In some people, it may take longer.
In the days and weeks after your bone marrow transplant, you'll have blood tests and other tests to monitor your condition. You may need medicine to manage complications, such as nausea and diarrhea.
After your bone marrow transplant, you'll remain under close medical care. If you're experiencing infections or other complications, you may need to stay in the hospital for several days or sometimes longer. Depending on the type of transplant and the risk of complications, you'll need to remain near the hospital for several weeks to months to allow close monitoring.
You may also need periodic transfusions of red blood cells and platelets until your bone marrow begins producing enough of those cells on its own.
You may be at greater risk of infections or other complications for months to years after your transplant. You'll have periodic lifelong follow-up appointments with your doctor to monitor for late complications.
Medications
If your bone marrow transplant is using stem cells from a donor (allogeneic transplant), your doctors may prescribe medications to help prevent graft-versus-host disease and reduce your immune system's reaction (immunosuppressive medications).
After your transplant, it takes time for your immune system to recover. During this time, you may be given medications to prevent infections.
Diet and other lifestyle factors
After your bone marrow transplant, you may need to adjust your diet to stay healthy and to prevent excessive weight gain. Your nutrition specialist (dietitian) and other members of your transplant team will work with you to create a healthy-eating plan that meets your needs and complements your lifestyle. Your dietitian can also give you food suggestions to control side effects of chemotherapy and radiation, such as nausea.
Some of your dietitian's recommendations may include:
. Following food safety guidelines to prevent foodborne infections
. Eating a wide variety of healthy foods, including vegetables; fruits; whole grains; lean meats, poultry and fish; legumes; and healthy fats, such as olive oil.
. Limiting salt intake
. Restricting alcohol
. Avoiding grapefruit and grapefruit juice due to their effect on a group of immunosuppressive medications (calcineurin inhibitors)
After your bone marrow transplant, regular physical activity helps you control your weight, strengthen your bones, increase your endurance, strengthen your muscles and keep your heart healthy. As you recover, you can slowly increase your physical activity.
Taking steps to prevent cancer is even more important after your transplant. Don't smoke. Wear sunscreen when you're outside, and be sure to get the cancer screenings your doctor recommends.
Results
A bone marrow transplant can cure some diseases and put others into remission. Goals of a bone marrow transplant depend on your individual situation, but usually include controlling or curing your disease, extending your life, and improving your quality of life.
Some people complete bone marrow transplantation with few side effects and complications. Others experience numerous challenging problems, both short and long term. The severity of side effects and the success of the transplant vary from person to person and sometimes can be difficult to predict before the transplant.
It can be discouraging if significant challenges arise during the transplant process. However, it is sometimes helpful to remember that there are many survivors who also experienced some very difficult days during the transplant process but ultimately had successful transplants and have returned to normal activities with a good quality of life.