Angiography: Angiography is a procedure where a dye is injected into blood vessels and radiological imaging is conducted. It is used to study the abnormal blood vessels in the varicocele.
CT scan / MRI scan: A CT scan or an MRI are imaging tests that may be used to evaluate the varicocele. You will be asked to lie on a table while images are taken. For an MRI, the table will enter a tunnel. You may receive an injection containing a dye into a vein for better images.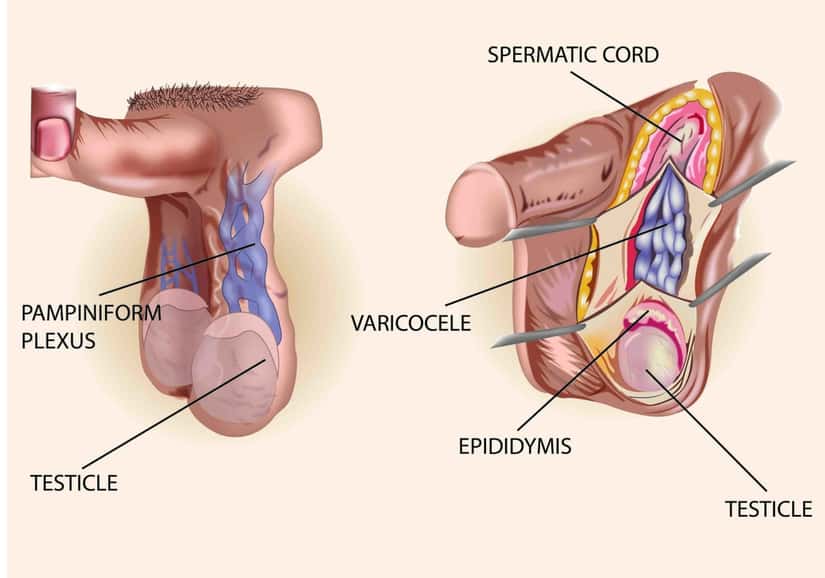 during Varicocelectomy surgery in iran

Type of Anesthesia – Varicocele surgery is done either under general anesthesia or spinal anesthesia. In some cases, local anesthesia may also be used. If you undergo general anesthesia, you will be asleep during the procedure and will not be aware of what is going on. Under spinal or local anesthesia, you will be awake but will not be able to feel any pain during the surgery. Laparoscopic surgery is done under general anesthesia.
Pre-operative Check-up – Routine tests as indicated above are ordered a few days before the surgery. Admission may be required a day before the surgery.
Fasting before Surgery - Overnight fasting is required if you are undergoing the surgery under general anesthesia and occasionally intravenous fluid maybe required to keep you well hydrated. Sedation is sometimes required for good overnight sleep before the surgery.
Shift from the Ward or Room to the Waiting area in the Operating room - An hour or two before the surgery, you will be shifted to the operating room waiting area on a trolley. Once the surgical room is ready, you will be shifted to the operating room.
Shift to the Operating room - The ambience in the operating room can sometimes be very daunting and a small amount of sedation can help overcome your anxiety. From the trolley, you will be shifted on to the operating table. As you look up, you will see the operating light console and at the head end will be the anesthesia machine. There may also be monitors to check oxygen levels, ECG and other vital parameters. A constant beeping sound may be present from the monitors, which may sometimes be irritating.
Anesthesia before Surgery – If you are undergoing general anesthesia, the anesthetist will inject drugs through an intravenous line and make you inhale some gases through a mask that will put you in deep sleep. Once you are asleep, a tube will be inserted into your mouth and windpipe to administer the anesthesic gases to overcome pain and keep you comfortable while the surgery is going on. If you are administered spinal anesthesia, you will receive an injection in your lower back, following which your lower body will feel numb. For local anesthesia, you will receive injections in the area that is to be operated.
Varicocelectomy Procedure
The position of the incision for the surgery depends on the type of open surgery. In high retroperitoneal ligation, a horizontal incision is made in the lower abdomen on the same side of the surgery. In inguinal and subinguinal ligation, the incision is made in the groin. The underlying muscles are then separated and the spermatic cord is identified. An incision is made on the spermatic cord to expose the dilated veins which are ligated. Care is taken to preserve the testicular artery and the lymphatics during the procedure.
Microsurgery with the help of an operating microscope can be done under local, regional or general anesthesia. The side effects following the procedure are reduced due to accurate identification of arteries and lymphatics during the surgery.
Non-surgical Treatment

what is the Varicocele Embolization?

"Embolization" is Non-Surgical treatment of Varicocele. Unlike varicocele surgery, embolization requires No incision, No stitches, or No general anaesthesia. After embolization the Scrotal pain & heaviness gets better and risk of infertility also decrease. Varicocele embolization patients almost don't need overnight stay into the hospital. In addition, embolization is just as effective as surgery.
Embolization patients return to normal activities in a day or two, but varicocele surgery patients may need to avoid strenuous activity for several days or even weeks. Some complications of varicocele surgery, such as arterial injury (testicular death) or hydrocele (fluid around that testicle) never happen after embolization.
THE COMMON QUERIES THAT PATIENTS ASKS:
What is the chance of recurrence after embolization,
How safe are the coils,
Whether the coils will move,
Whether they will remain inside my body forever
Or will I need to be take them out later,
Whether I will feel the coils
My straightforward and sincere answer to all the above queries is that "Embolization" is the safest and among the best available Non Surgical treatment option available at present. In our experience the recurrence rate of having varicocele once again after embolization procedure is almost "zero" or < 1% if performed properly and by a well-experienced Endovascular interventional Specialist. Till date, I have treated many patients in whom surgery was performed and patient never got treated of varicocele.