Gastric bypass surgery Iran
Gastric bypass is surgery that helps you lose weight by changing how your stomach and small intestine handle the food you eat.
After the surgery, your stomach will be smaller. You will feel full with less food.
The food you eat will no longer go into some parts of your stomach and small intestine that absorb food. Because of this, your body will not get all of the calories from the food you eat.
Gastric bypass is one of the most common types of bariatric surgery in the United States. Gastric bypass is done when diet and exercise haven't worked or when you have serious health problems because of your weight.
The operation is prescribed to treat morbid obesity (defined as a body mass index greater than 40), type 2 diabetes, hypertension, sleep apnea, and other comorbid conditions. Bariatric surgery is the term encompassing all of the surgical treatments for morbid obesity, not just gastric bypasses, which make up only one class of such operations. The resulting weight loss, typically dramatic, markedly reduces comorbidities. The long-term mortality rate of gastric bypass patients has been shown to be reduced by up to 40%.As with all surgery, complications may occur. A study from 2005 to 2006 revealed that 15% of patients experience complications as a result of gastric bypass, and 0.5% of patients died within six months of surgery due to complications.

The Procedure
There are two components to the procedure. First, a small stomach pouch, approximately one ounce or 30 milliliters in volume, is created by dividing the top of the stomach from the rest of the stomach. Next, the first portion of the small intestine is divided, and the bottom end of the divided small intestine is brought up and connected to the newly created small stomach pouch. The procedure is completed by connecting the top portion of the divided small intestine to the small intestine further down so that the stomach acids and digestive enzymes from the bypassed stomach and first portion of small intestine will eventually mix with the food.
The gastric bypass works by several mechanisms. First, similar to most bariatric procedures, the newly created stomach pouch is considerably smaller and facilitates significantly smaller meals, which translates into less calories consumed. Additionally, because there is less digestion of food by the smaller stomach pouch, and there is a segment of small intestine that would normally absorb calories as well as nutrients that no longer has food going through it, there is probably to some degree less absorption of calories and nutrients.
Most importantly, the rerouting of the food stream produces changes in gut hormones that promote satiety, suppress hunger, and reverse one of the primary mechanisms by which obesity induces type 2 diabetes.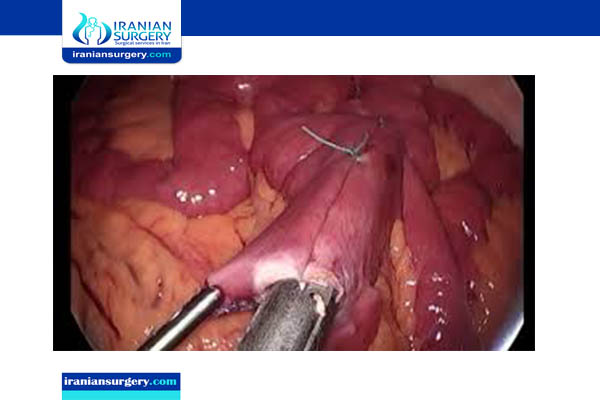 How does a gastric bypass work?
A gastric bypass works in two ways:
It creates a small upper stomach pouch and a lower stomach pouch that is no longer used. This effectively reduces your stomach size so you eat small amounts of food.
It allows the food you eat to bypass the majority of your stomach (the unused lower part of your old stomach) and small intestine so that the food you do eat is not fully digested.

How much does a gastric bypass cost?
The typical gastric bypass cost is between £9,500 and £15,000 .a gastric bypass is very competitively priced from a guide price of £9,799. This gastric bypass package includes: 24 months aftercare that comprises access to a team of specialist bariatric nurses, dieticians and regular medical reviews.
Is a gastric bypass right for me?
So, who can have a gastric bypass? You may be eligible for gastric bypass surgery if:
Your BMI (body mass index) score is 40 or more.
Your BMI is 35 or more and you have other medical conditions such as type 2 diabetes or high blood pressure that may be improved by losing weight.
You are fit enough to have a general anaesthetic and surgery.
You are committed to losing weight and maintaining your weight loss through lifestyle and gastric bypass diet changes.
You have tried to lose weight in other ways such as eating healthily, exercising and taking relevant medicines.
How you prepare
If you qualify for gastric bypass, your health care team gives you instructions on how to prepare for surgery. You may need to have various lab tests and exams before surgery.
During the procedure
The specifics of your gastric bypass depend on your individual situation and the doctor's practices. Some surgeries are done with traditional large (open) incisions in your abdomen. However, most are performed laparoscopically, which involves inserting instruments through multiple small incisions in the abdomen.
After making the incisions with the open or laparoscopic technique, the surgeon cuts across the top of your stomach, sealing it off from the rest of your stomach. The resulting pouch is about the size of a walnut and can hold only about an ounce of food. Normally, your stomach can hold about 3 pints of food.
Then, the surgeon cuts the small intestine and sews part of it directly onto the pouch. Food then goes into this small pouch of stomach and then directly into the small intestine sewn to it. Food bypasses most of your stomach and the first section of your small intestine, and instead enters directly into the middle part of your small intestine.
Surgery usually takes a few hours. After surgery, you awaken in a recovery room, where medical staff monitors you for any complications.
Aftercare and recovery
Initially, you will only be able to have fluids. You will then move on to puréed food and eventually add solid food to your diet. You will be advised to take vitamin and mineral supplements to ensure you are getting all the nutrients your body needs for a healthy lifestyle for the rest of your life. You may also need regular injections of vitamin B12 to prevent pernicious anaemia.
Your weight loss surgeon or a dietitian will discuss your gastric bypass diet including changes to the foods and their reduced quantities that you should be consuming. Once you have lost some of your initial excess weight they will also discuss healthier lifestyle options and how to become more active.
Most people take between four and six weeks to make a full recovery after gastric bypass surgery.
Risks
As with any major surgery, gastric bypass and other weight-loss surgeries pose potential health risks, both in the short term and long term.
Risks associated with the surgical procedure are similar to any abdominal surgery and can include:
Excessive bleeding
Infection
Adverse reactions to anesthesia
Blood clots
Lung or breathing problems
Leaks in your gastrointestinal system
Longer term risks and complications of gastric bypass can include:
Bowel obstruction
Dumping syndrome, causing diarrhea, nausea or vomiting
Gallstones
Hernias
Low blood sugar (hypoglycemia)
Malnutrition
Stomach perforation
Ulcers
Vomiting
Complications and side effects
You may experience some gastric bypass surgery side effects including: bruising, pain and swelling around your wounds, and dumping syndrome if you continue poor eating habits and over eating. Dumping syndrome is common if you eat weight gaining foods high in sugar and fat and can cause diarrhoea, stomach cramps, nausea, dizziness and sweating. You will eventually learn to avoid these foods unless you want to experience dumping syndrome symptoms. There are complications associated with any surgery and these will be discussed when you have a consultation with a surgeon
Results
Gastric bypass can provide long-term weight loss. The amount of weight you lose depends on your type of surgery and your change in lifestyle habits. It may be possible to lose 60 percent, or even more, of your excess weight within two years.
In addition to weight loss, gastric bypass may improve or resolve conditions often related to being overweight, including:
Gastroesophageal reflux disease
Heart disease
High blood pressure
High cholesterol
Obstructive sleep apnea
Type 2 diabetes
Stroke
Infertility
---