Breast Lift In Iran
April 10, 2019
Buttock augmentation
April 15, 2019
Breast augmentation Iran
The most common kind of cosmetic surgery is breast augmentation. In 2017, nearly 280,000 women and teenagers underwent surgery to have their breasts enlarged with silicone or saline implants and about 106,000 breast cancer patients had reconstruction after mastectomy, often with implants. The popularity of breast augmentation has more than doubled since 1997, when there were just over 101,000 of these procedures.
Affordable Breast Augmentation in iran
The Ultimate Guide to perform Breast Augmentation in Iran:
Give your boobs a boost with breast augmentation in iran. Our quality-checked surgeons offer affordable plastic surgery at state-of-the-art clinics throughout the iran.
The average cost of breast augmentation surgery in iran 2019 is between $1200_2200 .
7 factors of breast augmentation cost in Iran
1. Incision location/type
2. type of implant you select
3.Brand
4.Type of anesthesia or sedation
5.Qualifications/expertise of specialist
6.Implant size
7.Materials used

Breast augmentation surgery in Iran
Breast augmentation (also known as augmentation mammoplasty, breast enlargement and breast implants) is the plastic surgery you may want to consider if you have lost volume in your breasts due to weight reduction or pregnancy, or it may just be that you want to increase the size of your breasts for esthetic or confidence reasons.
Why should I get breast augmentation in Iran?
Iran is one of the world's most popular health tourist destinations. Not only is it a big country with a choice of different locations appealing to everybody, but its healthcare facilities are second-to-none.
You do not need to worry about Breast augmentation  until you pay more attention to all these issues before proceeding. The important thing is to find a Breast implant Hospital And Breast augmentation surgeon . If you are looking for Breast augmentation cost in Iran , you can contact us and Get free consultation from Iran health tourism guide .
The Breast augmentation Process in Iran
Just like any other surgery, you should check your medical records with a professional doctor. To do this, you must send us all your medical files and medical IDs. We will connect you with the best doctors, hospitals and clinics in Iran, and then you can ask any questions you have in mind.
By traveling to Iran, you can save the most money and get the highest quality of Breast augmentation.
Priority should be given before Breast augmentation in Iran
Consultation with Breast augmentation surgeon before traveling to Iran
Estimated cost of Breast augmentation in Iran
Duration of treatment in Iran
Travel expenses to Iran.
3 Types of breast implants in iran
1.Silicone gel implants– These implants are filled with soft silicone gel that helps to maintain the shape and size of the breasts. They are available in a number of sizes.

2.Saline solution implants– These are implants with saline solution in it which the body can absorb safely with no side effects. But these implants are more prone to rupturing and does not give a natural look if compared with that of soft silicone implants.

3.Gummy Bear Breast implant-In this implant, the consistency of the silicone gel is more than any traditional implants. This implant is tapered at the top and has more projection in the bottom.
There is also round breast implant, smooth breast implant and textured breast implants that may be used for the procedure.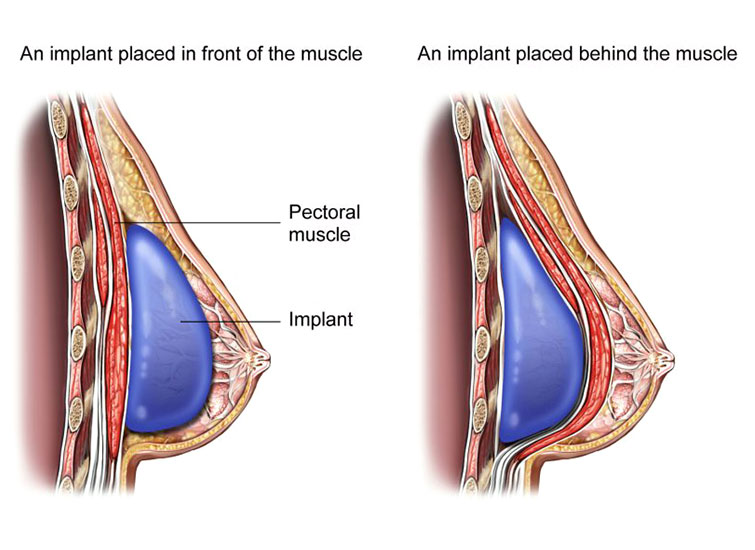 Before breast augmentation surgery in Iran
The patient must follow the guidance given by the doctor:
Guidelines on eating and drinking.
Blood test should be done.
Avoid smoking as it interferes with the healing process.
Avoid intake of certain medications as prescribed by the doctor.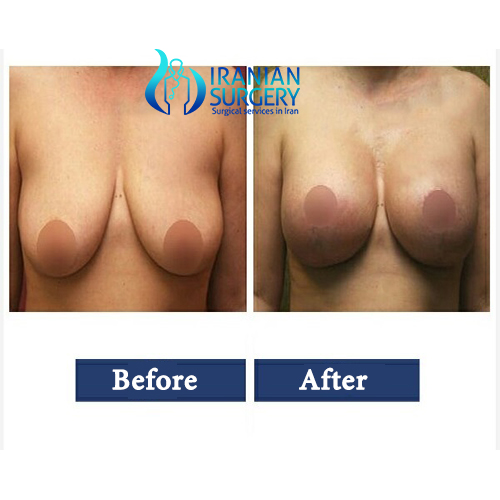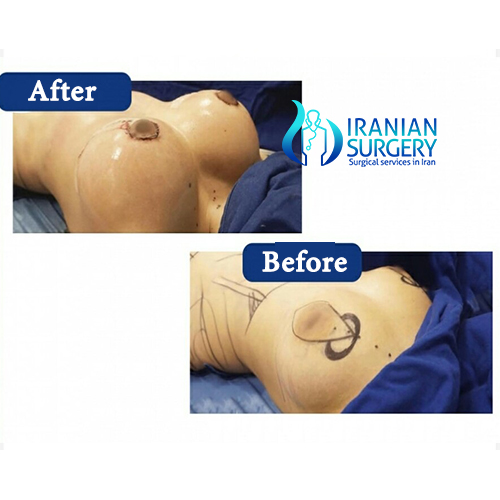 After Breast Augmentation in iran
Taking good care of yourself post-op is extremely important. You need to give your body an optimal amount of time to heal and look its best. Here's what you can expect within the first few days after your surgery:
Surgery is incredibly taxing on the body. You'll likely feel extremely tired and sore in the days following the procedure. Get plenty of rest.
24 hours after breast surgery, you may remove the dressings, except for the skin tapes or steri-strips that cover the incisions. Steri-strips are applied with a skin adhesive, so they can be washed over without needing to be removed. Just blot dry with a clean towel. The steri-strips will eventually fall off on their own.
You may continue to cover incisions with gauze dressings, as needed, for a week.
The chest area may feel tight while the skin adjusts to the implants, which is normal.
You may have less feeling in your breasts and nipples in the days immediately following the surgery.
Swelling and mild bruising of the breasts is normal after surgery, and will gradually subside over the next several weeks.
Your plastic surgeon may also tell you to wear a soft, yet supportive post-surgical bra, sports bra or wide, elastic bandage around your breasts for help with support and positioning during recovery. Do not wear an underwire bra.
The wire can affect the position of the breast implant.
Some plastic surgeons advise patients not to wear a bra at all.
Follow your surgeon's instructions.
If instructed to wear a bra or compression bandage, remove it to bathe, but put it back on immediately after.


What to Expect in the Weeks Following Surgery:
As previously mentioned, the recovery process varies for everyone. Although most patients are completely back to normal about a week
After surgery, recovery continues:
Breasts will likely remain swollen and sensitive for up to a month or longer following surgery.
Strenuous activities and exercises that raise the pulse, blood pressure or require extensive use of the arms and chest should be avoided.
Your plastic surgeon should provide you with a comprehensive guide to recovery. If you experience any issues or complications during recovery, contact your surgeon immediately.
Breast augmentation in iran is generally performed for two reason:
1. reconstructive (after the removal of one or both breasts, mastectomy, due to breast cancer)
2.cosmetic (being unhappy about the size, shape or symmetry).Breast augmentation generally takes about 2 to 3 hours and is performed under general anesthesia.
Cheapest Breast augmentation cost in iran :
Breast augmentation cost in iran shiraz
Cheapest Breast augmentation cost in iran shiraz is $1200. Average Breast Implants cost in iran shiraz is $1500 where prices can go as high as $ 1700.
Breast augmentation cost in iran tehran
Cheapest Breast Implants price in iran tehran is $1500. Average Breast Implants cost in iran tehran is $1750 where prices can go as high as $ 1900.
Breast augmentation cost in iran mashhad
Cheapest Breast augmentation cost in iran mashad is $1500. Average Breast Implants cost in mashhad is $ 1900 where prices can go as high as $2200.
Does Breast augmentation cost in Iran less than other countries?
Low price is one of the most important features of Breast surgery in Iran. This is because the cost is less than 100 to 300 percent of the price of Breast surgery in Europe, Turkey, Qatar and the United States, while maintaining the same efficiency.
Who is the best surgeon in Breast augmentation in Iran?
Most surgeons in breast surgery in Iran have high experience in plastic surgery.
Most Iranian beauty surgeons graduate from reputable American and European universities and have enough experience to do so.
Breast augmentation Package In iran
We offer the best Breast augmentation Package in iran at the most affordable prices. Our Breast augmentation package in iran includes flight ticket, hotel, pick up, clinic and transfer.
Hotel / Transfer/ Full board / Visa
Items included in the package :
Clinic and doctor visits
laboratory tests
medical photography
Breast surgery in hospital
post-operative care
medicines
recovery and follow-up
Health care in iran
Iran ( the Islamic Republic of Iran) is a country in the Asia.
With over 81 million people, Iran is the world's 18 most populous country, the second largest country in the Middle East and the world's 17 largest countries.
Iran is one of the safest countries in the world, annually more than 1 million tourists from different parts of the world travel to Iran to visit historical sites(ex: Perspolis in Shiraz) and treatments.Iran is one of the main tourist destinations in the world, Iran's hospitals are highly equipped and the most specialized surgical operations such as organ transplantation, heart surgery, plastic surgery and cancer treatment are carried out by Iranian surgeons.
ASK In Comment -Get Here Answer
8 Question about breast augmentation
1. Are you a good candidate for breast augmentation?
Generally speaking, anyone who is in reasonably good mental and physical health can be candidates for breast augmentation. However, you are likely not a good candidate for this surgery if: You're pregnant or breastfeeding. You have breast cancer or an abnormal mammogram.
2. What size implants should I get?
Breast implants in Iran come in a whole range of sizes, from about 80CC up to 800CC. Obviously, the higher the number, the bigger the breast implant size. The width of the base also varies, fom 7.4cm to 17.2cm. There are three ways that can help you figure out implant size for your breast augmentation.
3. How long do breast implants last?
eight to 10 years In general, it is thought that implants last approximately 10 years or should be replaced every eight to 10 years. A ruptured saline implant is clinically obvious as the breast will deflate and there will be great asymmetry. A ruptured silicone implant is more difficult to determine and is referred as a silent rupture.
4. Are breast implants good for life?
Although breast implants don't actually expire, they aren't guaranteed to last a lifetime. The average saline or silicone implants may last anywhere from 10 to 20 years. However, many are removed sooner due to complications or cosmetic concerns.
5. How long do breast augmentation take to heal?
In general, recovery from breast augmentation surgery is normally 4 to 6 weeks. Placing the implants under the muscle through the subpectoral dual plane usually will take several weeks longer to heal than placing an implant in the retromammary or subglandular plane above the muscle.
6. How long after breast augmentation can I take a bath?
Taking baths, swimming, or using hot tubs does require a longer time before the patient can proceed. For most patients, they can start these activities at 3 weeks or so after their procedure. The delay is because the healing tissues of the incision need longer before they can be soaked in water for any length of time.
7. How should I sleep after breast augmentation?
A. Avoid lying on your stomach for the first few weeks. B. Use a pillow against your side to help keep you in place. C. Sleep at a reclined angle, half-sitting up, to relieve pressure on your implants. D. Wear a sports bra to help reduce pressure on the incision. E. If you experience any abnormal pain, contact your doctor immediately.
8. How long should I wear a surgical bra after breast augmentation?
This depends on the type of surgery and its intensity. Some doctors require patients to wear compression garments for just four weeks following surgery, while others recommend wearing them for as long as three months.