Bbl price in iran
How much does it cost to get a bbl in Iran ?
Why bbl cost in Iran is by far lower than the bbl surgery cost in other countries?
Are there different types of BBL in Iran?
On average, bbl cost in Iran is around $ 1100(With best surgeon). The minimum bbl surgery cost is $ 900 and the maximum bbl price in Iran is $ 1300.
The cost of a Brazilian Butt Lift (bbl surgery) in Iran 2021 is around $1100, compared to its global cost of $8,000 thus,, If you decide to have a Brazilian Butt Lift in Iran, reading this article can improve your knowledge about cost of Brazilian Butt Lift in Iran to a great extent and help you to choose the best city and hospital to perform Brazilian Butt Lift in Iran.
In this article we provide you with a comprehensive description of Brazilian Butt Lift in Iran and the cost of Brazilian Butt Lift in Iran.
About Iranian Surgery
All cosmetic surgeons working with Iranian Surgery specialize in plastic surgery and perform cosmetic surgeries in well-equipped hospitals, so after cosmetic surgery in Iran you will face the least possible complications.
For more information about the cost of your bbl surgery in Iran and to schedule an appointment in advance, You can contact Iranian Surgery consultants through WhatsApp number 0098 901 929 0946 This service is completely free.

General information about Brazilian Butt Lift in Iran
The following table describes general information about Brazilian Butt Lift surgery in Iran including Brazilian Butt Lift cost in Iran, recovery time, and to name but a few.
| | |
| --- | --- |
| General Information |   |
| Cost | $ 900- 1300 |
| Anesthesia | General |
| Hospital Stay | 1 Day |
| Back to Work | 7 to 10 Days |
| Duration of Operation | 2-5 Hours |
| Minimum Stay in Iran | 1 Week |
Read more about : Does liposuction hurt?
Read more about : Lipomatic
Read more about : what causes rippling after liposuction?
Read more about : Nerve pain after liposuction
Read more about : Tummy tuck in Iran
Read more about : Fat transfer
Read more about : Liposuction in Iran
Read more about : Fever after tummy tuck
Read more about : Pain after liposuction flanks
Read more about : Lipomatic vs liposuction
What is a Brazilian butt lift?
Brazilian butt lift surgery (BBL) Iran is a fat transferring procedure that improves the fullness and shape of the buttocks using your own fat. Liposuction or tummy tuck is performed in the areas that have excess fat—typically the abdomen, sides and hips, and/or lower back—to both improve the proportions and contour of the lower body and harvest fat to be added to the buttocks.
The collected fat is then purified and prepared for grafting before your plastic surgeon strategically injects the fat into specific areas of your buttocks to create a fuller, more defined shape.
This method has usurped traditional options like butt implants in popularity for its natural-looking and fully customizable results. However, Brazilian butt lift surgery is not without its complications or controversy, leading many patients to ask, "Is BBL safe?"
Before Brazilian Butt Lift Surgery
Brazilian butt-lift surgery Benefits
Brazilian butt lift surgery can help overcome the effects of genetics by reshaping the buttocks and surrounding areas, such as the hips, lower back, and thighs. You might consider a Brazilian butt lift to:
. Enhance the curves of your lower body
. Reduce fat pockets on your hips, thighs or belly while adding fullness to the buttocks.
. Help clothing fit more attractively
. Give a more youthful, aesthetically pleasing shape to flat buttocks
. Enhance your overall proportions by improving balance between your upper and lower body.
. Unlike other forms of buttock surgery, such as placement of silicone buttock implants, a Brazilian butt lift is touted for providing more natural-looking results while also creating more roundness in your backside.
. It can also help address certain issues, such as the sagging and shapelessness that sometimes occur with age.
. Another benefit to Brazilian butt lifts is that there is a lower risk of infection compared to silicone buttock implants. It does have a better safety profile than other substances, such as silicone caulking and sealants that are sometimes illegally injected into buttocks by people not qualified to perform the procedure.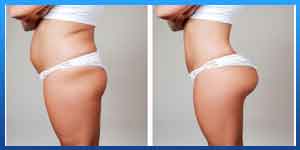 You might also consider the procedure if you're bothered by figure imbalances that make it difficult to wear clothing comfortably.
Read more about : Does fat transfer work for breast augmentation?
Read more about : Liposuction results week by week
Read more about : Maximum weight for liposuction
Brazilian butt lifts side effects
As with any invasive surgery, risks are inevitable. Many common side effects of a Brazilian Butt Lifts are minor; however, a few are extreme.
Brazilian Butt Lifts can result in:
. Fat embolism in the heart or lungs - when fat is injected too deeply which can be deadly.
. Lumps under the skin in the areas suctioned or injected
. Loss of skin in the treated areas due to deep infection
. Excessive blood loss
. Cardiac and pulmonary complications
. Deep vein thrombosis (DVT)
. Necrosis of fat and/or surrounding tissue
Minor side effects can include:
. Scarring
. Pain
. Bruising
. Stretch marks
. Lumps under the skin- in areas where liposuction was performed
. Infection-deep infection can cause you to lose skin
. Blood clots
Brazilian Butt Lift procedures have been known to cause death in some cases, with the current fatality rate being 1 in 3000.
However, in almost all reported fatality cases the surgeon wasn't professionally trained and incorrectly performed the procedure. Inexperienced surgeons can/have incorrectly injected fat into large veins/muscles in the buttocks. This enables fat to travel up into vital organs (lungs and heart), clogging its vessels and resulting in death.
To help minimize this risk, your surgeon may insert extra fat the first time around.
To avoid any possible risks and complications, seek professional advice and make sure you follow your surgeon's post-surgical advice carefully.
An ideal candidate for a Brazilian butt lift
A Brazilian butt lift can be a great opportunity to improve the shape and size of the buttocks; however, certain patients are better suited to the procedure, and it is important to have realistic expectations about the surgery, recovery, and results. In general, you are likely a good candidate for a Brazilian butt lift if you agree with the following:
. You want a buttock augmentation without implants
. You have good skin tone in the hips and buttocks
. You have adequate fat stores in other areas to harvest for injection into the buttocks
. You are willing and able to avoid sitting directly on your buttocks for several weeks.
How to get a safe Brazilian Butt Lift?
Although Brazilian butt lift surgery has been shown to have a higher complication rate than other cosmetic procedures, there are many happy patients who have received fat grafting to the buttocks safely and with beautiful results.
To achieve that, as a patient you need to know how to approach your procedure safely.
First, know that Brazilian butt lifts are by no means a "one size fits all" procedure. Every patient's body is different, with different levels of fat and muscle—that means what is safe for one patient may not be safe for you, and the nuances of the procedure need to be well-understood by your surgeon.
This makes it crucial that you work with a board certified cosmetic surgeon who has successfully performed Brazilian butt lifts for a range of patients. Your surgeon should recognize the limitations of the procedure, be up-to-date on the latest safety precautions, and be completely transparent with you about what you can expect with surgery and recovery.
Read more about :  Rhinoplasty in Iran
Read more about : Weight loss surgery in Iran
Read more about : How to massage lumps after liposuction?
During Brazilian Butt Lift Surgery
What is involved in Brazilian butt lift surgery?
A Brazilian butt lift involves three basic steps:
. Fat is removed from the hips, lower back, thighs, abdomen, and/or other areas with liposuction.
. The extracted fat is purified and prepared for transfer
. The cosmetic surgeon injects fat into specific points on the buttocks to increase volume and improve shape.
Surgery is typically performed as an outpatient procedure, using general anesthesia or intravenous sedation and local anesthesia. It is typical for a portion of the injected fat not to "take" in its new location—an experienced cosmetic surgeon will take this into account and may initially inject a slightly greater amount of fat into the buttocks than is needed to ensure your final results most closely achieve your goals.
Brazilian butt lift vs. buttock implants
One significant advantage of Brazilian butt lift surgery is that it increases buttock size without implants. The procedure will be perfumed in the hands of trained cosmetic surgeons, and has a low risk for complications and can achieve remarkably natural looking and feeling results.
However, if you are very lean, you may not have enough fat to harvest, and buttock implants may be the only way to achieve your desired size increase. Buttock implants may be a good option for some patients; however, it is important to understand the added risks of having implants, including capsular contracture and a higher risk for infection. Buttock implants can also look and feel less natural compared to a skillfully performed Brazilian butt lift.
After Brazilian butt lift surgery
Brazilian butt lift results are meant to last for many years. Fat cells removed with liposuction will not return to the area, and fat cells that survive transfer to the buttocks will remain for years to come. However, significant weight fluctuations can affect your results, so maintain a stable weight to keep your results looking their best.
Results are typically final within 6 months of surgery, after residual swelling has gone away and you are fully healed. By this time, your curvier buttocks and improved lower body proportions will be noticeable in how you look and in the way clothing fits.
Brazilian butt lift Recovery
Having an operation on the buttocks requires some special modifications during recovery. While pain is typically minimal and easily controlled through pain medication, you will not be allowed to sit or lie directly on your buttocks for about 2 weeks after a Brazilian butt lift.
During this time, you will need to sleep on your stomach or side, and either lie this way or stand for all activity except using the toilet. When you are ready, your cosmetic surgeon will allow you to sit in a modified position, using a "donut" seat or placing a pillow under your thighs to avoid pressure on the buttocks. Normal sitting activity is typically allowed after 8 weeks or so.
Given you follow your cosmetic surgeon's instructions, you should be able to resume light daily activities within 1 week after surgery and return to work within 10 to 14 days.
Read more about : Coolsculpting
Read more about : Abdominal etching
Read more about : Ideal bmi for tummy tuck
Brazilian butt lift Surgeons
How can I find the best Brazilian butt lift surgeon in Iran?
Brazilian butt lift surgeons in Iran can make your body more appealing. Brazilian butt lift surgeons in Iran can also help you in making your final decision about what type of Brazilian butt lift is more suitable for you.
It is important that you seek the assistance of experienced and skilled Brazilian butt lift surgeons in Iran who have provided a suitable condition for people with limited budgets to do Brazilian butt lift in Iran easily. It is worth explaining that the quality provided by Iranian surgeons is far higher than other countries including Turkey and India.
Brazilian butt lift surgeons in Iran, have performed numerous procedures annually which make Brazilian butt lift surgeons in Iran more experienced than other countries' plastic surgeons, due to high demand and low costs of Brazilian butt lift in Iran, thousands of people travel to Iran every year in a way that you can perform Brazilian butt lift in Iran by the best Brazilian butt lift surgeons with affordable and reasonable price.
Plastic surgery hospitals in Iran
Tehran hospitals
Moheb Kosar Hospital
Imam Khomeini Hospital
Ebnesina Hospital
Parsian Hospital
Pasteurno Hospital
Kasra Hospital
Treata Hospital
Shiraz hospitals
Mirhoseini Hospital
Ordibehesht Hospital
Mir Hospital
MRI hospital
Dena Hospital
Abualisina Hospital
Ghadir Mother and Child Hospital
Mashhad hospitals
Imam Reza Hospital
Mehregan Hospital
Hashemi Nezhad Hospital
Farabi Hospital
Mehr Hospital
Sina Hospital
Bentolhoda Hospital
Brazilian Butt Lift cost
How much does Brazilian Butt Lift cost in Iran?
The cost of a Brazilian Butt Lift in Iran is between $1800-2500, compared to $8,000 in the United States.
The cost of a Brazilian butt lift can fluctuate based on a variety of factors, including:
. Experience of the Surgeon: Cosmetic surgeons just beginning their careers generally offer more affordable procedures than surgeons who have been practicing for years. However, with extensive experience comes better results and reduced risk for complications.
. Surgical Facility: our doctors perform their procedures at the fully-accredited, ambulatory surgery center as an outpatient procedure, offering you the highest level of care.
. Areas of Liposuction: A Brazilian butt lift uses excess fat from your body rather than butt implants. As a result, it requires liposuction beforehand. We can perform this procedure on a number of areas, including your abdomen, hips, thighs, or back. The areas selected and the size of those areas will affect the overall cost of your procedure.
. Anesthesia: Patients who require more anesthesia often face higher costs.
. Follow-Up Visits: After surgery, you will be required to attend a number of follow-up appointments, so our doctors can monitor your results. Although these are built into your treatment plan, if you face any complications during recovery, you may require additional office visits. In this situation, you may incur higher costs.
. Additional Procedures: If you combine your Brazilian butt lift with another body contouring procedure, such as a tummy tuck or thigh lift, your treatment cost may rise.
Is Brazilian butt lift cost in Iran less than Istanbul or Europe?
Low price is one of the most important features of Brazilian butt lift Iran. This is because the cost is less than 200 to 400 percent of the price of Brazilian butt lift in Istanbul, Qatar and the United States, while maintaining the same quality.
Brazilian butt lift Package in Iran
We offer the best Brazilian butt lift Package in Iran at the most affordable prices. Our Brazilian butt lift Package in Iran includes flight ticket, hotel, pick up, clinic and transfer.
Hotel / Transfer/ Full board / Visa
Items included in the package:
Clinic and doctor visits
Lab tests
Medical photography
Brazilian butt lift surgery in hospital
Post-operative care
Medicines
Recovery and follow-up