Can I Have Multiple plastic Surgery Procedures at the Same Time?
June 12, 2019

Sex reassignment surgery in iran
June 12, 2019
Breast Reduction surgery in Iran
The Ultimate Guide to Breast Reduction in Iran
Breast reduction in Iran offers women (male breast reduction iran) a cost-effective solution to a problem that may be for aesthetic reasons, but also because your size might be uncomfortable, painful or just embarrassing.
According to the American Society of Plastic Surgeons there are more than 230,000 breast reduction(male breast reduction) procedures in the World alone in a year – that's an awful lot of people unhappy with their large breasts.
However, you no longer have to endure breasts that are too large or of different sizes, and if you thought breast reduction surgery cost is too expensive in your country, traveling to Iran may be the answer you can afford.
Breast reduction in Iran is often done in conjunction with a breast lift, so that your smaller breasts are lifted into a higher, and more youthful position.
Breast reduction surgery prices in Iran 2019 compared to the another countries :
Costs vary widely. However, the average cost of a breast reduction in Iran between $1200_2100 compared to cost of male breast reduction chicago $6,000 or $10000 in United Arab Emirates.

Why perform Breast Reduction surgery in Iran?
The most important decision to perform plastic surgery in iran is the quality of the hospital . Iran may well be considered as an emerging economy but it is one of the world's most popular destinations for medical tourism.
In part, this is because it has always attracted visitors from over the border in search of a bargain – with medical, dental and pharmaceutical services being no exception. However, with international travel now affordable and commonplace for the masses, visitors from much further afield are coming here because not only are the costs significantly lower than at home, but the quality of Iran health tourism is very good to excellent.
While this is generally good news, we cannot stress how important it is to do some research into your breast reduction procedure, as well as any prospective surgeons or clinics you have identified in Iran. There are bogus operators everywhere in the world, not just Iran, and there are steps you should take to ensure you don't fall victim to one of them.
This is not always easy to do, which is why we perform background checks on our clinics and doctors, verifying qualifications, professional memberships and experience, as well as publishing clinic photos, virtual tours and real patient reviews on our website. No medical procedure can be guaranteed 100% anywhere in the world, but you can minimize the risk of anything untoward happening by making sure you go to a reliably qualified surgeon in the first place.
How long is the breast reduction procedure and when can I go back to work?
Breast reduction surgery typically takes between 1.5 and 3 hours to complete, although it depends on how much tissue needs to be removed. Sometimes the process is quicker if there are two surgeons working – one on each breast.
Your stitches will be removed after about 10 days but it usually takes at least 2-3 weeks before the swelling has subsided substantially. You will be quite sore but most people return to work in an average of 10 days. You will have to be mindful not to do anything too strenuous for at least 6 weeks, and especially no heavy lifting. It could take up to 6 months before you are fully healed inside and out.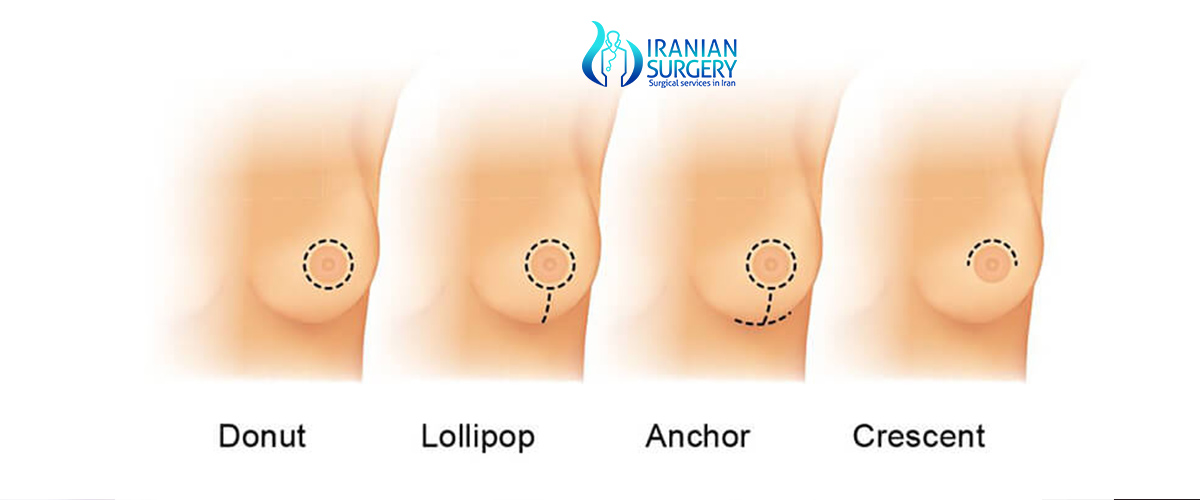 5 main options for breast reduction surgery in .
1.Wise Pattern Breast Reduction:
Out of the 5 options we'll be looking at, this is considered the gold standard of breast reduction procedures. The name gives you a clue as to how this option is performed. An incision is made around the areola and then continues down the center of the lower half of the breast, then an incision is made horizontally along the breast crease. The incisions form the inverted-t or anchor shape that this option is named after.
2.Vertical or "Lollipop" Breast Reduction:
Another very popular option with both surgeons and patients is the vertical breast reduction. An incision is made around the areola and then continues vertically down the center of the lower half of the breast, giving this option its nickname, lollipop. An additional short, horizontal incision may be needed at the breast crease in some cases.
3."Donut" or "Benelli" Breast Reduction
If your breasts are only mildly enlarged, the donut breast reduction may be a good option for you. As implied in the name, this option requires an incision around the perimeter of the areola. This means you'll only have one, short scar that can be somewhat hidden by the dark skin of the areola.
4."No Vertical Scar" Breast Reduction
The "no vertical scar" breast reduction is performed with an incision around the areola and another incision in the breast crease. There is no vertical incision from the areola down to the breast crease. This option eliminates the most visible scar and utilizes the two incisions that are easiest to hide.
5.Virtually Scarless Breast Reduction
The virtually scarless option is achieved by using liposuction. Two small incisions are made in the breast crease and are well-hidden under the breast. The recovery time following this technique is shorter than standard breast reduction procedures.
What should i do Before breast reduction surgery in iran:
1.Complete various lab tests.
2.Get a baseline mammogram.
3.Stop smoking for a certain period of time before and after surgery.
4.Avoid taking aspirin, anti-inflammatory drugs and herbal supplements, to control bleeding during surgery.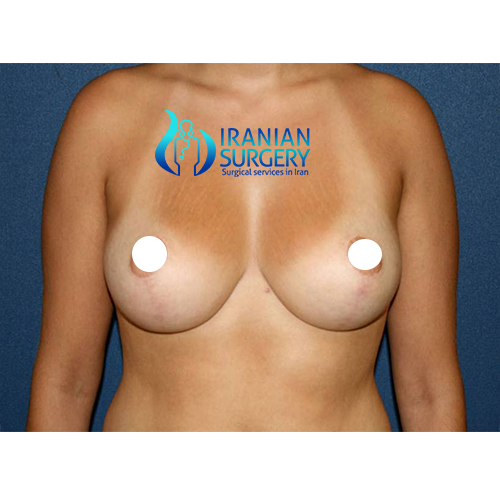 After breast reduction surgery in iran:
For the first days or week, your breasts will probably feel tender and sensitive. They might also be swollen and bruised. Your surgeon might recommend an elastic compression bra initially to protect the breasts.
You'll need to limit physical activity for two to four weeks while the breasts heal. Your surgeon also may recommend avoiding underwire bras for a month after surgery.

How much is a breast reduction prices in Iran?
The average cost of breast reduction surgeryh in Iran is around $1450.
3 factors of breast reduction cost in iran
The breast reduction cost in Iran depends on:
1.Location ( Tehran , Shiraz or Mashhad )
2.Quality of hospital
3.surgeon's fee
The surgeon's fee will most likely vary depending on the length of your surgery as a result of how big your breast are and how much tissue reshaping is needed. Your surgeon's geographical location may also factor into how much they charge. This is because doctors who live in densely populated areas usually have a higher demand for their services and higher overheads. As such, they are more expensive than less populated areas. Next, your surgeon's experience will also influence their fee. It is important that you don't skimp on choosing a doctor with ample experience, as an inexperienced doctor is potentially dangerous
Cheapest Breast reduction cost in iran :
Breast reduction cost in iran shiraz
Cheapest Breast reduction cost in iran shiraz is $1200. Average Breast reduction cost in iran shiraz is $1400 where prices can go as high as $ 1600.
Breast reduction cost in iran tehran
Cheapest Breast reduction price in iran tehran is $1500. Average Breast reduction cost in iran tehran is $1750 where prices can go as high as $ 1900.
Breast reduction cost in iran mashhad
Cheapest Breast reduction cost in iran mashad is $1500. Average Breast reduction cost in mashhad is $ 1900 where prices can go as high as $2100.
Ask In Comment- Get Here Answer
8 Common imp. question about breast reduction in Iran
1. What should I wear after breast reduction surgery?
Immediately after surgery, you will need to wear a bra that promotes proper healing. Your doctor may recommend a surgical compression bra or a simple wirefree bra.
2. How dangerous is breast reduction surgery?
Breast reduction surgery has the same risks as any other type of major surgery bleeding, infection and an adverse reaction to the anesthesia. Other possible risks include: Bruising, which is usually temporary.
3. How long does it take to recover from breast reduction surgery?
Recovery. It can take two to six weeks to fully recover from breast reduction surgery. You may need to take a week or two off work and shouldn't drive for at least a week. The final appearance of your breasts may not be obvious for several weeks or months after the operation.
4. Can you die from breast reduction surgery?
With any surgery, there is inherent risk to going under anesthesia, though the risk is low. Risks of the actual procedure include decreased sensation or loss of sensation in the nipple, infection, poor wound healing, asymmetry and the death of fat tissue in the breast.
5. Do breasts grow back after reduction?
Although it is rare that the breasts would "grow back" after a reduction surgery, it certainly can happen. ... If the breasts do increase in size after surgery, it can be for a few different reasons: Drastic hormonal changes, such as menopause. Significant weight gain.
6. Is it safe to have a tummy tuck and breast lift at the same time?
Yes, a Tummy Tuck and a Breast Reduction can safely be performed at the same time. Make sure that your body will be able to tolerate these two rather extensive surgical procedures. ... If they plan to send you home after a Tummy Tuck and a Breast Reduction it may be in your best interest to consider another practitioner.
7. How long do you have to stay in the hospital after a mastectomy?
Hospital stays for mastectomy average 3 days or less. If you have a mastectomy and reconstruction at the same time, you may be in the hospital a little longer
8. Is breast reconstruction a major surgery?
Breast reconstruction is major surgery. With both implant reconstruction and flap reconstruction, a person can expect to spend several days in the hospital after each operation. An individual may need more than one surgery to fully reconstruct the breasts.