How Much Does Gynecomastia Surgery Cost in Iran?
Fortunately, the cost of gynecomastia surgery in Iran is very affordable. The average cost of gynecomastia surgery in Iran is $ 1,400, which includes the cost of surgery, hospital and anesthesia, pre op tests, consultation, medication during hospitalization, checkup and follow up.
The cost of gynecomastia surgery in Iran is much lower than other countries. For example, the cost of gynecomastia surgery in Turkey is 3000 dollars and in the United States it is about (exact price)8000 dollars.
In this article we provide you with a comprehensive description of Gynecomastia surgery in Iran and the cost of Gynecomastia surgery in Iran.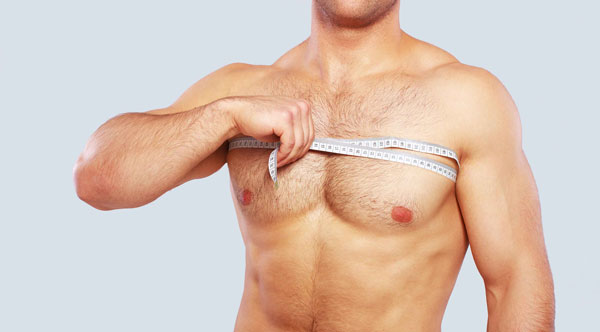 General information about Gynecomastia surgery in Iran
The following table describes general information about Gynecomastia surgery in Iran including Gynecomastia cost in Iran, recovery time, and to name but a few.
| | |
| --- | --- |
| General Information |   |
| Cost | $ 1400 |
| Anesthesia | General |
| Hospital Stay | 1 Day |
| Back to Work | 1 Week |
| Duration of Operation | 1-1.5 Hours |
| Minimum Stay in Iran | 7 Days |
Gynecomastia Surgery in Iran
Many men suffer from large breasts because their bodies are like women and this greatly reduces their self-confidence, especially in the summer when men like to show off their bodies by the beach or pool.
Gynecomastia Surgery in Iran is performed in a completely specialized way and under the supervision of the professional doctors and in the most modern hospitals of Iran, and due to its very affordable price, many people from all over the world, such as the United States, Europe, Australia, and Arab countries, travel to Iran every year to undergo Gynecomastia.
Why gynecomastia Surgery in Iran?
Undoubtedly, Iran is the most professional country in Asia and one of the leading countries in the world for performing Gynecomastia and liposuction. Gynecomastia in Iran is performed in a completely specialized way and under the supervision of the professional doctors and in the most modern hospitals of Iran.
Before performing Gynecomastia in Iran, You will do the necessary tests and then the necessary examinations are performed by an anesthesiologist. Therefore, there is no need to worry about your health condition after Gynecomastia in Iran, because Gynecomastia in Iran is performed by the best plastic surgeons and Anesthesiologists in the most specialized medical centers.
Read more about : Liposuction in Iran
Read more about : Hair transplant in Iran
Gynecomastia Surgery cost in Iran
Cost of best Gynecomastia surgeon in Iran
The average cost of gynecomastia surgery in Iran is around $1200.
Other factors involved in final Gynecomastia cost in Iran:
There are many factors that determine the overall Gynecomastia surgery cost, including:
The surgeon's skill: The most skilled and best Gynecomastia surgeons are in high demand.
Geographical location: the cost Gynecomastia surgery is varied according to geographical location.
Gynecomastia surgery cost in Iran Shiraz
The cheapest cost of gynecomastia surgery in Shiraz is $ 1200.The average cost of Gynecomastia surgery in Shiraz is $1000 where prices can go up to $ 1400.
Gynecomastia surgery cost in Iran Tehran
The cheapest cost of gynecomastia surgery in Tehran is $1200. The average cost of Gynecomastia surgery in Tehran is $12400 where prices can go up to $ 1700.
Gynecomastia surgery cost in Iran Mashhad
The cheapest cost of gynecomastia surgery in mashed is $1300. The average cost of Gynecomastia surgery in Mashhad is $ 1400 where prices can go up to $1700.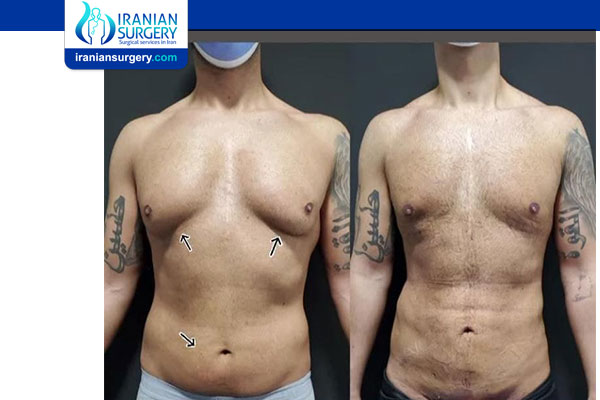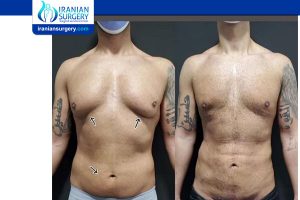 Gynecomastia surgery Surgeons in Iran
How can I find the best Gynecomastia surgeon in Iran?
Gynecomastia surgeons in Iran can make your body more appealing. Gynecomastia surgeons in Iran can also help you in making your final decision about what type of Gynecomastia is more suitable for you.
It is important that you seek the assistance of experienced and skilled Gynecomastia surgeons in Iran who have provided a suitable condition for people with limited budgets to do Gynecomastia in Iran easily. It is worth explaining that the quality provided by Iranian surgeons is far higher than other countries including Turkey and India.
Gynecomastia surgeons in Iran, have performed numerous procedures annually which make Gynecomastia surgeons in Iran more experienced than other countries' plastic surgeons, due to high demand and low costs of Gynecomastia in Iran, thousands of people travel to Iran every year to undergo Gynecomastia in Iran with the best Gynecomastia surgeons at an affordable and reasonable price.
Here are the Iranian plastic surgeons who perform gynecomastia in Iran:
Dr. Zarei
Dr. Amali
Dr. Fadaei
Dr. Razmara
Gynecomastia Surgery in Iran With The Best Plastic Surgeon.
A lot of men suffer from large breasts and this greatly reduces their self-confidence. this procedure helps you to reach your ideal body and feel more confident about it. in addition, along with a gynecomastia surgery you have the option to do a liposuction to eliminate excess fat in your body give your body a desirable shape.
The Iranian Surgery team has access to a large number of hospitals and doctors who have the ability to perform these services, and the low cost of labor and materials, has made doing this operation in Iran a cost-effective choice. The low cost of medical services compared to its very high quality and the low cost of accommodation, travel, food and transportation and the presence of experienced doctors have made Iran a very high-quality destination for gynecomastia.
the Iranian Surgery team have always done their best to help you get the best results by providing excellent medical and tourism services and to make sure you have a beautiful and lovely trip.
For more information, the Iranian Surgery Support Team is ready to answer all your questions. Just contact us on WhatsApp or send us an email.
Number:00989019290946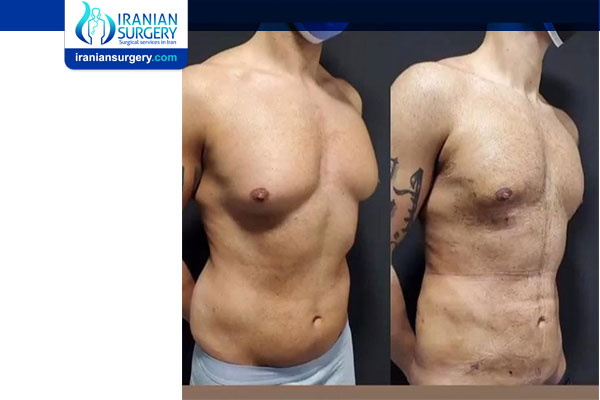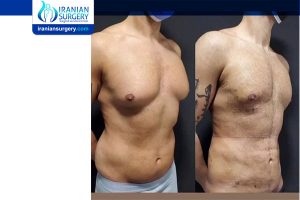 Read more about :  Liposuction Podcast with Dr. Afshan shah
Read more about : Best plastic surgeon in Iran for gynecomastia surgery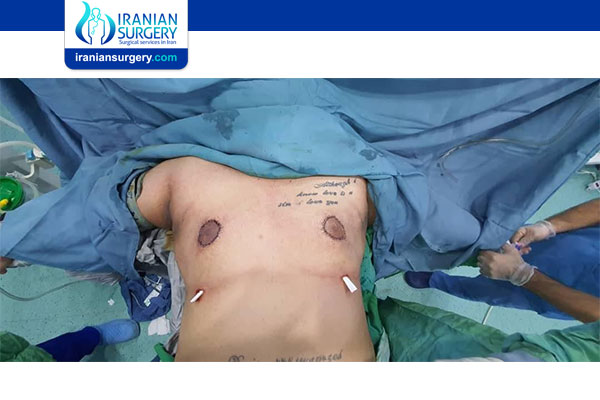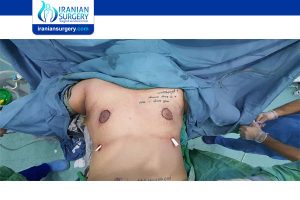 Read more about : Lipomatic
"Read more about : Liposuction in Iran"
"Read more about : Tummy tck in Iran"
Why Gynecomastia in Iran?
Read more about : Hair transplant in Iran
All you should know about Gynecomastia surgery
What is Gynecomastia (enlarged male breasts)?
Gynecomastia is enlargement of the glandular tissue of the male breast. During infancy, puberty, and in middle-aged to older men, gynecomastia can be common. Gynecomastia must be distinguished from pseudogynecomastia or lipomastia, which refers to the presence of fat deposits in the breast area of obese men. In fact, Gynecomastia is an enlargement or swelling of breast tissue in males. It can affect one or both breasts.
Male breast reduction is a surgical procedure designed to help reshape and improve contour of the male chest for a flatter, toned appearance— by removing excess fat, breast tissue and, sometimes, excess skin from the chest.
Gynecomastia is characterized by:
. Excess localized fat
. Excess glandular tissue development
. Sometimes excess breast skin
. Presence unilaterally (one breast) or bilaterally (both breasts)
Read more about : Liposuction vs coolsculpting
Before gynecomastia surgery
Before undergoing surgery, it is important that you:
. Be as fit as possible to help the recovery process
. Reach your optimal weight
. Check with your surgeon about your medications as some may need to be stopped
. Stop smoking
You will also be asked to provide a complete medical history for your Specialist Plastic Surgeon including any health problems you have had, any medication you are taking or have taken, and any allergies you may have.
You may be advised to stop taking certain medicines such as non-steroidal anti-inflammatory drugs (NSAIDs), aspirin, and medicines that contain aspirin. You may also be asked to stop taking naturopathic substances such as garlic, ginkgo, ginseng and St John's Wort as they may affect clotting and anaesthesia. Always tell your surgeon everything you are taking.
You may be given medicines to take before the surgery, such as antibiotics.
Your surgeon will also advise you if any other tests are required, such as blood tests, X-ray examinations or an Electrocardiograph (ECG) to assess your heart
Prepare a "recovery area" in your home. This may include pillows, ice packs, a thermometer and a telephone within easy reach. Make sure you arrange for a relative or friend to drive you to and from the hospital or clinic. Someone should also stay with you for at least 24 hours after you return home.
Your surgeon should give detailed preoperative instructions. Follow them carefully.
What are the signs and symptoms of gynecomastia?
. The primary symptom of gynecomastia is enlargement of the male breasts. As mentioned before, gynecomastia is the enlargement of glandular tissue rather than fatty tissue. It is typically symmetrical in location with regard to the nipple and may have a rubbery or firm feel. Gynecomastia usually occurs on both sides but can be unilateral in some cases. The enlargement may be greater on one side even if both sides are involved. Tenderness and sensitivity may be present, although there is typically no severe pain.
. The areola, the area of pigmented skin that surrounds the nipple, may increase in diameter, and the chest tissue may appear asymmetrical.
If there is unusual and persistent swelling, tenderness, pain, or nipple discharge, or a combination of these, it is important to see a physician.
The most important distinction with gynecomastia is differentiation from male breast cancer, which accounts for about 1% of overall cases of breast cancer. Usually, cancer is confined to one side, is not necessarily centered around the nipple, feels hard or firm, and can be associated with dimpling of the skin, retraction of the nipple, nipple discharge, and enlargement of the underarm (axillary) lymph nodes.
Read more about : Mini tummy tuck in Iran
Causes of gynecomastia
A number of factors can lead to gynecomastia.
. Gynecomastia can stem from an imbalance between the sex hormones testosterone and estrogen. Estrogen, the "female" hormone, makes breast tissue grow, while testosterone, the "male" hormone, stops estrogen from making breast tissue grow.
. All males and females have both testosterone and estrogen, but testosterone occurs in higher proportions in males, while females have higher levels of estrogen.
. According to the American Family Physician, up to 1 in 9 newborn males have palpable breast tissue. This is because they have derived high levels of estrogen from the mother. As estrogen levels return to normal, the swelling goes away, usually within weeks.
. Swollen breasts become more common among males as they approach middle and older age. Older men produce less testosterone, and they usually have more fat than younger men. This, too, can result in a higher production of estrogen.
Risk factors may include:
. Kidney or liver disease
. Alcohol abuse
. Radiation treatment of the testicles
. Klinefelter's syndrome
. Tumors of the testes, adrenal or pituitary gland
. Hyperthyroidism and hormonally active tumors.
Between 10 percent and 20 percent of cases are thought to stem from the use of medication or herbal products, and 25 percent occur for unknown reasons.
Researchers have suggested a possible link between gynecomastia and a number of illegal drugs.
Medications that can cause the breasts in men to enlarge include:
. Anabolic steroids
. Some antibiotics
. Some ulcer medications
. Chemotherapy
. Tricyclic anti-depressants
. Diazepam (Valium) and some other drugs for treating anxiety
. Some HIV medications, including efavirenz, also known as Sustiva
. Anti-androgens, commonly prescribed for patients with cancer or prostate enlargement
. Some heart drugs, including calcium channel blockers and digoxin.
Tea tree oil and lavender products, used in creams and shampoos, may have an effect.
However, one meta-analysis notes that many of these claims are supported by poor quality evidence.
What diseases and conditions cause gynecomastia?
A number of medical conditions may also result in gynecomastia:
. Malnutrition and re-feeding (recovery from malnutrition) have both been shown to create a hormonal environment that may lead to gynecomastia. Similarly, cirrhosis of the liver alters normal hormone metabolism and may lead to gynecomastia.
. Disorders of the male sex organs (testes) can result in decreased testosterone production and relatively high estrogen levels, leading to gynecomastia. These disorders may be genetic, such as Klinefelter's syndrome or acquired due to trauma, infection, reduced blood flow, or aging. Testicular cancers may also secrete hormones that cause gynecomastia.
. Other conditions that are associated with an altered hormonal environment in the body and may be associated with gynecomastia are chronic renal failure and hyperthyroidism. Rarely, cancers other than testicular tumors may produce hormones that can cause gynecomastia.
What drugs are used for the treatment of gynecomastia?
. Gynecomastia, especially in pubertal males, often goes away on its own within about six months, so observation is preferred over specific treatment in many cases. Stopping medications and treatment of existing medical problems or health conditions that cause enlarged breasts in men also are mainstays of treatment.
. Medical treatments are available to treat gynecomastia, but data on their effectiveness are limited. No drugs have been approved by the FDA for the treatment of gynecomastia; however, medications that have been used to treat the condition include:
. Testosterone replacement has been effective in older men with low levels of testosterone, but it is not effective for men who have normal levels of the male hormone.
. Clomiphene can be used to treat gynecomastia. It can be taken for up to 6 months.
. The selective estrogen receptor modulator (SERM) tamoxifen (Nolvadex) has been shown to reduce breast volume in gynecomastia, but it was not able to entirely eliminate all of the breast tissue. This type of therapy often is most used for severe or painful gynecomastia.
. Danazol is a synthetic derivative of testosterone that decreases estrogen synthesis by the testes. It works by inhibition of pituitary secretion of LH and follicle-stimulating hormone (FSH), substances that direct the sex organs to produce hormones. It is less commonly used to treat gynecomastia than other medications.
What about surgery for the treatment of gynecomastia? Can it be cured?
Medications are more effective in reducing gynecomastia in the early stages, since scarring often occurs after about 12 months. After the tissue has become scarred, medications are not likely to be effective, and surgical removal is the only possible treatment.
Reduction mammoplasty (breast reduction surgery) has been used in severe cases of the condition, long-term gynecomastia, or in cases in which drug therapies have not been effective to help restore a normal breast appearance.
Typically, gynecomastia is not associated with long-term problems.
What are the benefits of a gynecomastia surgery?
The benefits of gynecomastia surgery are that it will restore a naturally masculine appearance to your chest. With a firmer, flatter and better shaped chest, men often feel more confident with increased self-esteem and are able to wear more fitted tops and reveal their chests when they want.
Gynecomastia surgery is typically a short procedure with a quick recovery and virtually invisible scars.
Who is a good candidate for gynecomastia surgery? 
Surgery for gynecomastia is a highly individualized procedure and may not be suitable for everyone. Always talk to your Specialist Plastic Surgeon before making a decision. Your Specialist Plastic Surgeon will assess your condition and general health, and plan the treatment that is best suited to you.
Before you decide on breast reduction surgery, there are some important issues to keep in mind:
. Any surgical treatment to correct gynecomastia will require incisions. While most incisions are hidden in natural contours or in the areolae of the breasts, some scars may be visible and an unavoidable result of any breast reduction surgery.
. Surgeons generally recommend waiting until breasts are fully developed. Younger men or adolescent boys may be advised to wait a number of years after the onset of gynaecomastia before surgery.
. Breast reduction surgery is not recommended for overweight men who have not tried proven weight-loss techniques such as diet and exercise.
. If gynaecomastia has resulted from the use of alcohol, certain prescription medications or drugs including steroids, you must be fully free of these substances before undergoing surgery.
. You must remain at a stable weight in order to maintain the results of your surgery.
Breast reduction may be a good option for you if:
. Alternative medical treatments are ineffective in treating the condition
. You are self-conscious about the appearance of your breasts
. You experience discomfort as the breast tissue is tender and sore
. You are physically healthy
. You have realistic expectations
. Your breasts are fully developed
. You are not a smoker or a drug user
Risks and Complications
Modern surgery is generally safe but does have the potential for risks and complications to occur.
Some general complications and risks associated with surgery may include:
. Risks of anaesthesia including allergic reaction or potentially fatal cardiovascular complications such as heart attack.
. A blood clot in the deep veins of the legs (deep vein thrombosis), which can move to the lungs (pulmonary embolus) or to the brain and may be life threatening.
. Allergic reaction to suture materials, tape adhesive or other medical materials and lotions.
. Excessive bleeding
Some potential complications and risks associated with surgery for gynaecomastia may include:
. Slightly mismatched breasts or nipples
. Temporary numbness or loss of breast sensation
. Recurrence of breast growth after surgery can occur if breasts are not fully developed.
. Another procedure may be needed to remove excess skin
. Permanent pigment changes in the breast area
. Keloids and hypertrophic scars that are raised, red and thickened scars. These may form over the healed incisions. They may be itchy, annoying and unsightly but are not a threat to health.
During gynecomastia surgery
What are the steps of a gynecomastia procedure?
A gynecomastia procedure includes the following steps:
1. Anesthesia
Medications are administered for your comfort during the surgical procedures. The options include intravenous sedation and general anesthesia. Your doctor will recommend the best option for you.
2. Liposuction technique
In cases where gynecomastia is primarily the result of excess fatty tissue, liposuction techniques alone may be used. This requires insertion of a cannula, a thin hollow tube, through several small incisions.
The cannula is moved back and forth in a controlled motion to loosen the excess fat, which is then removed from the body by vacuum suction.
There are various liposuction techniques that may be used; the technique most appropriate in your case will be defined prior to your procedure.
3. Excision technique
Excision techniques are recommended where glandular breast tissue or excess skin must be removed to correct gynecomastia. Excision also is necessary if the areola will be reduced or the nipple will be repositioned to a more natural male contour. Incision patterns vary depending on the specific conditions and surgical preference.
4. Combination of liposuction & excision techniques
Sometimes gynecomastia is treated with both liposuction and excision.
General anesthesia is commonly administered in male breast reduction procedure and the average surgery time is between 1 and 1.5 hours.
After Gynecomastia surgery
Recovery and aftercare
. While you are healing, you may experience some pain, bruising, swelling and numbness around the operated site. This is normal. Your Specialist Plastic Surgeon will prescribe pain relief as needed. If you have any problems or concerns, be sure to tell your surgeon. Any scars will also lessen over time.
. After surgery, you will wear an elastic dressing or surgical bra to provide support for your breast. (You may be required to wear a supporting garment for up to six weeks to support your breasts and compress your chest.) A plastic tube may be inserted into each breast to drain excess fluid. Other dressings may be changed or removed at this time.
. Depending on the extent of your procedure, you may need to take a few days off work to rest.
. Avoid stretching, strenuous exercise and heavy lifting for about 3 weeks after the operation. It will take about 6 weeks until you can return fully to your normal activities.
. You may go home the same day or stay overnight in hospital depending on the amount of fat and breast gland being removed.
. Most patients will return to work, a week after their gynecomastia surgery.
. How long you need to keep the dressings on will depend on how quickly your wounds heal. After 1 to 2 weeks, your stitches will either dissolve or be removed.
. You can drive again when it's no longer painful to wear a seatbelt, which may be several weeks after the operation.
. It can take up to 6 months to see the full results of your surgery.
Scars
Most men just have a scar around their nipples. But a large breast reduction may also result in a vertical scar and a horizontal scar across the breast crease (an anchor-shaped scar).
Your scars may take several months to fade.
If you experience any of the following symptoms, notify your surgeon immediately:
. Temperature higher than 38ºC or chills
. Nausea, vomiting, shortness of breath or diarrhea
. Heavy bleeding from the incisions
. Leakage of blood or fluid beyond the first day after surgery
. Worsening and/or spreading redness around the incision sites
. Increasing pain or tenderness in either breast
. Any other concerns or problems regarding your surgery, particularly if it appears to be worsening
Your surgeon will give you specific instructions on post-operative care. These instructions may include:
. How to care for your surgical site(s) following surgery
. Medications to apply or take orally to aid healing and reduce the risk of infection
. Specific concerns to look for at the surgical site(s) or in your general health
. When to follow-up with your surgeon
Plastic surgery hospitals in Iran
Tehran hospitals                                                                      

Moheb Kosar Hospital
Imam Khomeini Hospital
Ebnesina Hospital
Parsian Hospital
Pasteurno Hospital
Kasra Hospital
Treata Hospital
Shiraz hospitals
Ordibehesht Hospital
MRI hospital
Dena Hospital
Abualisina Hospital
Ghadir Mother and Child Hospital
Mashhad hospitals
Imam Reza Hospital
Mehregan Hospital
Hashemi Nezhad Hospital
Farabi Hospital
Mehr Hospital
Sina Hospital
Bentolhoda Hospital