What is a tummy tuck revision?
Is a tummy tuck revision painful?
When can I get a tummy tuck revision?
Can a tummy tuck be redone?
About Iranian Surgery
All cosmetic surgeons working with Iranian Surgery specialize in plastic surgery and perform cosmetic surgeries in well-equipped hospitals, so after tummy tuck surgery in Iran you will face the least possible complications.
Read more about :  Abdominoplasty Podcast with Dr. Afshan shah
Read more about : Abdominoplasty with liposuction surgery , before and after surgery videos
Read more about : Abdominoplasty and Breast reduction and bbl surgery , before and after surgery videos
Read more about : Does tummy tuck belt really work?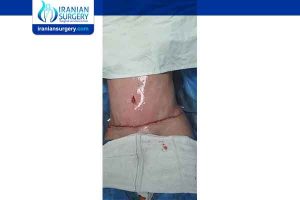 For more information about the cost of your revision tummy tuck in Iran and to schedule an appointment in advance, You can contact Iranian Surgery consultants through WhatsApp number 0098 901 929 0946 This service is completely free.

General information about Tummy tuck Revision surgery
The following table describes general information about Tummy tuck revision surgery including Tummy tuck revision cost in Iran, recovery time, and to name but a few.
| | |
| --- | --- |
| General Information |   |
| Cost | Starts from $ 1800 |
| Anesthesia | General |
| Hospital Stay | 1 Day |
| Back to Work | 1 to 2 Weeks |
| Duration of Operation | 2-4 Hours |
| Minimum Stay in Iran | 5 Days |
Read more about : How to massage lumps after liposuction?
Read more about : Does fat transfer work for breast augmentation?
Read more about : Liposuction results week by week
Read more about : Maximum weight for liposuction
Read more about : How to get rid of fluid after liposuction?
What is a Tummy Tuck Revision?
A tummy tuck revision is the general term for a secondary abdominoplasty, which can take many forms, ranging from a complete repeat procedure (as in, retightening abdominal muscles and trimming away extra skin) to more minor tweaks (scar revisions and such) that can be done in the office, under local anesthesia.
Before Tummy Tuck Revision
When to consider a Tummy Tuck Revision
Patients may seek a tummy tuck revision for a number of reasons, including:
. Post-operative weight gain or weight loss
. A pregnancy following the primary procedure
. Poor healing, or dissatisfaction with the results of the first operation.
Preparing for a Tummy Tuck Revision
How should I prepare for a tummy tuck revision procedure?
Your surgeon will provide thorough pre-operative instructions, answer any questions you may have, take a detailed medical history and perform a physical exam to determine your fitness for surgery.
In advance of your procedure, your surgeon will ask you to:
. Stop smoking well before undergoing surgery to better promote healing.
. Avoid taking aspirin, certain anti-inflammatory medications and some herbal medications that can cause increased bleeding.
. Regardless of the type of surgery to be performed, hydration is very important before and after surgery for safe recovery.
. If he or she recommends weight benchmarks or lifestyle changes, do your best to achieve them to ensure the best results and minimize the chance of complications.
Read more about : Does liposuction hurt?
Read more about : Lipomatic
Read more about : what causes rippling after liposuction?
Read more about : Nerve pain after liposuction
Read more about : Bbl in Iran
Read more about : Liposuction in Iran
Prepare your home for your recovery before surgery:
. If you have children, arrange for them to be cared for.
. If you will not have someone to prepare every meal, have easy-to-reheat meals on hand or cook your own and freeze them for heating up later. Choose healthful meals and snacks.
. Place all of your food and toiletries within easy reach, preferably at hip level, so that you do not have to reach, bend over or climb up to get them.
. Purchase several bags of frozen peas, usually three "sets" of what you will require for icing your surgical area.
. Have an area set up on your nightstand for your medications, with a medication organizer (with day and time dose compartments) and a written backup schedule/check list.
. Place several bottles of water and plain, low-sodium crackers on your nightstand.
. Place Wet-naps, Kleenex and a roll of paper towels within reach.
. Place a digital thermometer near the bed so that you will be reminded to take your temperature.
. Make sure your remote controls have fresh batteries or are fully charged.
. Have plenty of reading material and movies ready in advance so that you will have something to do when you are not sleeping.
. Have your cellphone, charger cord and a power supply nearby as well. You can use your cellphone in an emergency and also to call or text your caretaker.
. Set up your bed with plenty of pillows, including body pillows. If you have a recliner, you may wish to sleep there instead.
Whether your surgery is performed on an inpatient or outpatient basis and whether you stay overnight at a recovery center is based on many variables, including your medical issues, the amount of surgery you will undergo, the length of time your surgery takes, other procedures that may be performed at the same time, and the availability of your caregiver at home.
Your board-certified plastic surgeon is your best guide. If you go home the same day, be sure to arrange for someone to drive you home after surgery and to stay with you for at least the first night following surgery.
Read more about : Mini tummy tuck
Read more about : Fever after tummy tuck
Read more about : Pain after liposuction flanks
Read more about : Lipomatic vs liposuction
Read more about : Can i drink alcohol after liposuction?
Read more about : Exercise after fat transfer to breast
What can I expect on the day of tummy tuck revision surgery?
Your tummy tuck revision surgery may be performed in a hospital, free-standing ambulatory facility or an office-based surgical suite. Your surgeon will give you an estimate of how long your surgery will last based on the details of your surgery.
. You will receive medications to keep you comfortable during the surgical procedure. Local anesthesia combined with sedation may be an option or you will receive general anesthesia. An anesthesiologist or nurse anesthetist will be present to administer sedatives or general anesthesia and assist in monitoring.
. For your safety during the surgery, various monitors will be used to check your heart, blood pressure, pulse and the amount of oxygen circulating in your blood.
. Your plastic surgeon will follow the surgical plan discussed with you before tummy tuck surgery. Once the surgery has begun, he or she may decide to combine various techniques or change a technique to ensure the best result. It is important that you feel comfortable and trust your doctor to make these decisions.
. The surgical dressings used will depend on the procedures you undergo. Surgical drains may also be placed.
. After surgery, you will be taken into a recovery area, where you will continue to be closely monitored.
. Before leaving for home, you (or someone looking after you) should feel comfortable emptying and resetting your drains.
What are the Advantages and Disadvantages of tummy tuck revision?
Pros:
There are numerous benefits associated with tummy tuck revision when it is performed on the appropriate patient:
. Remove excess loose skin left behind from previous surgery
. Tighten abdominal muscles that were not sufficiently addressed
. Eliminate residual fat that was not removed via liposuction
. Correct a belly button that is not aesthetically pleasing
. Enhance a scar that healed poorly to make it less noticeable
. Address contour irregularities to create a smoother midsection
. Reverse changes that have occurred since the initial procedure
Cons:
. A revision tummy tuck is major surgery, with a long recovery.
. Even a successful redo surgery will leave a permanent, noticeable, well-hidden scar that can extend across the abdomen.
. Tummy tuck surgery has the highest complication rate of all cosmetic surgery procedures, so a full-fledged revision will likely have a similar complication rate.
Read more about : Long term effects of liposuction
Read more about : Liposuction cost
Read more about : Liposuction scar
Read more about : Liposuction on arms
Read more about : Mega liposuction
Who is a candidate for Tummy Tuck Revision (abdominoplasty revision)?
Patients are usually candidates for Tummy Tuck revision (abdominoplasty revision) if they have:
. Belly button (umbilicus) distortion: There are many ways in which the umbilicus can be distorted with a Tummy Tuck. Some of the changes that can occur after surgery are the following:
   . Belly button shrinkage (stenosis). This occurs when the umbilicus gets very small after surgery.
   . Enlarged belly button: When the size of the belly button is too large causing a cosmetically unpleasant enlarged appearance.
   . Elongated belly button look. This results when the vertical pull of the skin causes the shape of the belly button to change from a round to an elliptical and elongated shape.
. Conspicuous scar around the belly button.
   . Scar revision: when the appearance of the Tummy Tuck scar is unpleasant. Some of the common causes of Tummy Tuck Revision (abdominoplasty revision) regarding scar revision are:
   . Scar thickening and malposition
   . Scar lies high in the abdomen (thus, preventing you of being able to wear clothes as low as you might want.
   . Asymmetric scar (one side can be higher than the other side, which can also compromise the look and the clothes that you might want to wear.)
. Residual deformities. Some of the most common residual deformities after a Tummy Tuck are the following:
   . Dog-ears: Dog-ears can be common if the amount of tissue removal is inadequate at the time of closing the scar on the sides. A dog-ear is the result of a significant lack of soft tissue excision, which allows the tissue to bunch on the sides.
. Residual fat deposits: The most common areas that require revision after surgery is the mons pubis and the flanks. This is usually evident in patients that undergo traditional Tummy Tuck (classic abdominoplasty) when a Brazilian Tummy Tuck (lipo-abdominoplasty) was indicated. If liposuction is not performed in these areas, you will have a flat abdomen but an unsightly bulginess that will be aesthetically unpleasant. In addition, the flanks require extensive liposuction to diminish the waistline and avoid excessive fat bulginess.
. Inadequate tissue removal
. Epigastric bulging: Insufficient suturing of the abdominal wall muscles above the belly button (diastasis of the recti repair) can give you bulginess in this area that affects your abdomen negatively.
. Unsatisfactory overall Tummy Tuck appearance
Read more about : Vaser liposuction
Who should avoid undergoing a Tummy Tuck Revision?
. Pregnant women cannot undergo this procedure. However, pregnancy happens to be a major cause for women to undergo this procedure.
. Heart patients and individuals with circulatory disorders must refrain from undergoing this procedure unless cleared by their cardiologists.
. Individuals who have had major surgeries like kidney transplant, in the area in the past must be extremely careful as they have an increased risk of complications.
. Small, uncomplicated hernia repairs can be performed with a tummy tuck revision surgery.
. Smoking: Non-smokers are preferable, or smokers who quit at least six weeks before surgery.
. Amount of intra-abdominal fat surrounding your internal organs: You may need to slim down before considering a tummy tuck revision.
. Intention of having more children: Muscles repaired during a tummy tuck revision can separate again during future pregnancy.
Risks and Side effects
What are the Risks and Side effects of Tummy Tuck revision?
Fortunately, significant complications associated with tummy tuck revision are infrequent and the satisfaction rate is high. The overall complication rate is small if the operation is done by an experienced plastic surgeon operating in an accredited facility.
. There will be swelling which will obscure the actual result until the treated area is healed. This swelling can be controlled by bandages and compression garments.
. Standing and walking can be difficult in the first week after the surgery.
. The patient is likely to feel some pain and discomfort in the first couple of days after the surgery which can be dealt with by pain medication. Bruising is also a common complication.
. There may be fluid accumulation in the operated which can be drained by small pipes attached to the abdomen.
. Slight irritation around the incision sites where the ducts were inserted.
. Numbness or other changes in skin sensation
. Allergic reactions
. Damage to underlying structures
. Adverse reaction to anesthesia
. Hematoma or seroma (an accumulation of blood or fluid under the skin that may require removal).
. Bleeding
. Skin loss
. Skin discoloration
. Fatty tissue found deep in the skin might die (fat necrosis)
. Nerve damage
. Suture rupture
You can help minimize certain risks by following the advice and instructions of your board-certified plastic surgeon, both before and after your tummy tuck revision surgery.
Read more about : Can liposuction go wrong?
Read more about : How to reduce swelling after coolsculpting?
Read more about : Laser lipo vs coolsculpting
Read more about : Tummy tuck in Iran
Read more about : Lipomatic in Iran
Read more about : Fat transfer
Read more about : Does CoolSculpting cause swelling?
Read more about : Tummy tuck scars after 5 years
Read more about : Full body liposuction
During Tummy Tuck Revision
During the procedure
What happens during a tummy tuck revision?
Like your first tummy tuck, your revision surgery will likely be performed under general anesthesia. Revision procedures may take as long as the original operation, which may last between two and four hours.
The revision will depend on the problem that needs to be corrected. For instance, residual fat can often be removed via liposuction, and that procedure may also be combined with a radiofrequency treatment, such as BodyTite, to produce a contraction in tissues to tighten excess skin. If the belly button has healed in an unnatural-looking way (sometimes it becomes very small or elongated, so it looks like a slot), your surgeon may be able to address it with an umbilicoplasty, a fairly simple procedure with a short recovery time.
Sometimes, the right fix is a mini tummy tuck, which is effective for people who have excess skin and fat only below the belly button. However, if you have excess skin and/or fat and also need more muscle tightening, a full-fledged secondary tummy tuck may be in order. It's important to work together with your surgeon in order to determine the right treatment plan for the results you want.
After Tummy Tuck Revision
Recovery Timeline
. Immediately after
The recovery after tummy tuck revision will be similar to that of the original tummy tuck procedure. Our doctor will bandage the abdomen and place a compression garment over the treated area to minimize side effects. It is essential for patients to get plenty of rest during the initial stages of recovery. Discomfort can be alleviated with pain medication.
. 1 Week
Most tummy tuck revision patients feel well enough to continue their daily activities and return to work within 7 days. Heavy lifting and strenuous activities, however, should still be avoided.
. 2 Weeks
Bruising and swelling should subside considerably by this time. Light activities and postoperative massages can be performed.
. 4 to 6 Weeks
Patients can resume all of their normal activities, including exercise. Some minor swelling may persist.
. 6 Months
All of the swelling should be resolved by this point, revealing the final results.
What is the post-operative diet for a Tummy Tuck revision procedure?
. No specific diet is necessary. A healthy, well-balanced diet with adequate protein and exercise will help you maintain the results you get from the tummy tuck revision.
. Drink plenty of fluids and maintain good nutrition with adequate protein.
. Following recovery it is a good idea to make sure your caloric intake is balanced with your activity level.
. One suggestion is to substitute greens for grains.
. Do not eat processed and packaged foods. The sodium will make you swell.
. Do not drink soda. It will cause gas and bloating.
Read more about : Vaser liposuction
Read more about : Fat transfer under eyes
Read more about : Coolsculpting
Read more about : Abdominal etching
Read more about : Ideal bmi for tummy tuck
Read more about : Liposuction type
Read more about : Tummy tuck pain after 1 year
Read more about : Reduce swelling after tummy tuck
Read more about : Fat transfer side effects
How long will the results from a revision Tummy Tuck last?
Unless you gain weight or become pregnant, you should enjoy your taut shapely figure for years to come. Your clothes will fit better and you'll find increased confidence in your appearance. Our doctors believe it is important to begin an exercise program to maintain your new look and to increase your health and fitness.
Tummy Tuck Revision cost
Factors affecting the cost of Tummy Tuck revision
There are many factors that determine the overall Tummy Tuck revision cost, including:
The surgeon's skill: The most skilled and best Tummy Tuck revision surgeons are in high demand.
The type of Tummy Tuck revision surgery: Complicated procedures take longer time and therefore their cost is more.
Geographical location: the cost of Tummy Tuck revision surgery is varied according to geographical location.
The cost of Tummy Tuck revision in Iran Starts from $ 1800.