Swelling after liposuction abdomen 
How to reduce swelling after liposuction?
Liposuction can cause significant swelling. The majority of swelling does improve after four weeks, though. You will wear a compression garment for the first four to six weeks after your procedure to minimize swelling, and help with pain control.
This is usually controlled by the immediate use of a compression garment for a period of 4-6 weeks. This swelling will be apparent within 24-48 h after the procedure and continues to mildly increase for the first 10-14 days. It is soft and mildly tender without any significant signs of inflammation.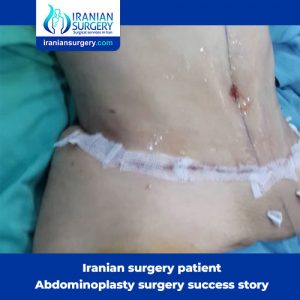 Read more about : Swelling after liposuction and tummy tuck (Video)
Swelling is downright unpleasant but don't worry, it's normal after having liposuction. The body responds to liposuction as it would to any trauma: bodily tissues swell up in order to heal the wound. Swelling starts within 24 to 48 hours after the procedure and will increase for the next 10 to 14 days before going down. It's important to follow your doctor's post-op instructions, wear compression wraps and garments, and eat well to ease uncomfortable swelling and make a speedy recovery.
Read more about: Can liposuction and tummy tuck be done together?
How to reduce swelling after tummy tuck?
It is not uncommon to experience swelling after a tummy tuck (also known as abdominoplasty). In fact, in most cases, there will be some swelling during the recovery process. You may also notice mild to moderate stomach/abdominal pain and discomfort following the surgery. The good news is that the pain and discomfort should subside within six weeks. It is important to note your stomach/abdominal swelling may last up to six months. It is crucial that you follow all of your surgeon's instructions, rest and attend all of your scheduled follow-up appointments during the recovery period. If the swelling persists or worsens contact your surgeon immediately. If you are wondering how to reduce swelling after a tummy tuck you have come to the right place. The following steps can significantly reduce tummy tuck pain, bruising and swelling.
Steps that can reduce the swelling and accelerate the healing process after a tummy tuck surgery:
Soothe Your Pain with an Anti-Inflammatory Medication
One of the quickest ways to reduce swelling after a tummy tuck is to take an anti-inflammatory medication. Your plastic surgeon will more than likely prescribe a painkiller to soothe your tender and inflamed tummy, but if you do not feel comfortable taking a prescribed narcotic, ask your surgeon if you can take an over-the-counter anti-inflammatory medication (i.e. Advil, Bayer, Aleve or Excedrin). Refrain from using these over-the counter drugs, if you have a bleeding disorder because they can thin the blood and interfere with the clotting process. The best thing you can do during the recovery period is limit movement and rest.
Wear a Compression Garment
Another way you can reduce tummy tuck swelling is to wear a compression garment. This tight-fitting garment helps reduce swelling by compressing (squeezing) the area (i.e. stomach and/or abdomen). A compression garment is extremely beneficial during the tummy tuck recovery period because it prevents your wounds from opening, reduces swelling and accelerates the healing process. Although compression garments may be uncomfortable, the tightness will help your skin heal more evenly. Over time the garment should slightly loosen so that it is more comfortable to wear. You may need to wear this garment for up to two months.
Read more about: RISKS OF LIPOSUCTION
It is important to consume healthy foods following a tummy tuck surgery. Stock up on fresh fruits and veggies and add extra fiber and whole grains to your diet. Most of all reduce or avoid salty and/or processed foods because they can cause you to retain excess fluid. It is also important that you drink plenty of fluids. Avoid sugary drinks and caffeinated beverages, if possible, and stick to water with lemon. The water and lemon will help flush out excess fluids, toxins and impurities, thus reducing your tummy tuck swelling.
Another good way to reduce swelling after a tummy tuck is to exercise (when you feel able). Avoid fast-paced or aerobic-type exercises; rather take a short walk around the block for the first few weeks. When you feel stronger you can increase your walking pace or try more rigorous activities, but make sure you talk with your surgeon first. Stretching exercises will also help reduce your swelling and release tight muscles.
Keep All Follow-up Appointments
It is extremely important that you keep all tummy tuck follow-up appointments. During surgery, drainage tubes are inserted into your stomach/abdomen area to help remove excess fluid and reduce swelling. The follow-up appointments are used to check the wound sites for inflammation and infections, determine if your body is healing properly and make sure your drainage tubes are properly removing the extra fluid caused by the surgery.
Read more about: During Liposuction Surgery
How tight should a compression garment be after liposuction?
Expert surgeons say that the compression garment should be tight enough to provide the support you need, but not too tight as to cause discomfort. The compression garment should fit snugly to achieve its goals, but wearing a garment that is too tight can worsen the condition instead of improving it.
Read more about: Mega Liposuction
Liposuction scars and the result
During the liposuction procedure, small incisions are made in order to remove the excess fat cells. These incisions are small and made in inconspicuous areas whenever possible, so they are less noticeable. You should receive after-care incision instructions to care for them after the procedure. These instructions should help to ensure that the incisions heal with minimal scarring.
While liposuction removes a certain number of fat cells in the treatment area for good, the remaining cells can continue to store fat and grow in size. Following a healthy diet, drinking plenty of water and participating in a regular exercise routine (once your surgeon clears you to do so) can help promote healing, maintain a healthy body weight and help you achieve your desired body contour after the swelling goes down.
Read more about: How to get rid of fluid after liposuction?