Exercise after fat transfer to breast
Exercise after breast augmentation
Recovery from breast augmentation typically takes one to two weeks. Your breasts will be swollen and sore for several days after breast augmentation surgery. You will need to limit your activity for several weeks.
Read more about :  Bbl surgery Podcast with Dr. Afshan shah
Read more about :  Abdominoplasty Podcast with Dr. Afshan shah
Read more about : Abdominoplasty and Breast reduction and bbl surgery , before and after surgery videos
Read more about : Breast reduction and breast lift surgery, before and after surgery videos
Read more about Breast augmentation
Read more about Breast reduction
Read more about Brazilian Butt Lift 
Read more about Minimum size fore breast reduction
After breast augmentation, the tissue around the breasts needs to heal so that capsules can form. For some patients, strenuous exercise too soon after their surgery might cause the scar tissue to constrict the implant capsule, causing pressure and hardening. Once you've had breast augmentation surgery, you may want to know how long you should wait before getting back to your exercise routine.
Most patients can return to light exercise at about 10 days to 2 weeks and in overall, Recovery is usually relatively quick. doctors usually recommend patients to wait at least four weeks before they begin intense physical exercise such as lifting weights, swimming, or running. At that stage, they can perform any unrestricted activity.
Read more about Fat transfer breast augmentation in Iran
Read more about How much fat do you need for fat transfer breast augmentation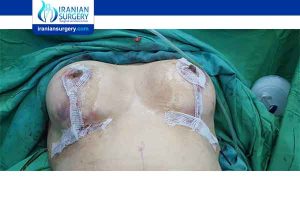 You will wear a sports bra for about six weeks, starting immediately after surgery. Many of patients return to work after 4 - 7 days if that work is non strenuous and sedentary.  Vigorous exercise should be postponed for two weeks but lower body exercise is recommended and encouraged after fat transfer to breast. Body weight squats and lunges and leg presses are allowed, and light cardio using a stationary bicycle or an elliptical without the arm attachments are good choices in the weeks immediately following surgery.
Read more about Gynecomastia Surgery In Iran
Read more about Duodenal Switch Surgery In Iran
Read more about Breast-Conserving Surgery In Iran
Read more about Strabismus Surgery In Iran
Read more about Laminectomy Surgery In Iran
Read more about Oral Cancer Treatment
Read more about Rectocele Repair Surgery In Iran
Read more about Coronary Angiography In Iran
Read more about TURP Surgery In Iran
Read more about Spinal Stenosis Treatment In Iran
Read more about GIFT Infertility In Iran
Read more about Metoidioplasty In Iran
Read more about Lumineers Teeth In Iran