Is abdominoplasty a major surgery?
How much does a full abdominoplasty cost?
What are the risks of abdominoplasty surgery?
A personal consultation with your board-certified aesthetic plastic surgeon will determine the best option for you. Here are some different kinds of Abdominoplasty:
. Full Abdominoplasty
In addition to the incision across the lower abdomen, a traditional Abdominoplasty involves an incision around the navel. Excess skin is removed, muscles are tightened and liposuction may be used to contour the abdomen. This surgery removes skin from above the navel down to the pubic area that has been compromised by pregnancies, genetic laxity or obesity.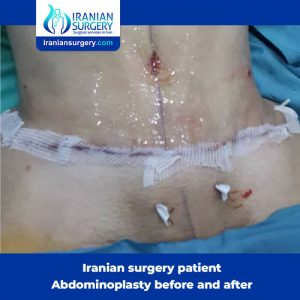 Read more about : Abdominoplasty with liposuction surgery , before and after surgery videos
Read more about :  Abdominoplasty Podcast with Dr. Afshan shah
. Mini Abdominoplasty
If you only need a small amount of skin or fat removed, you can have a mini Abdominoplasty.
A single incision is made in the pubic area, which will be placed as low as possible and can range from a few inches to the entire span of your abdomen. Through this incision, your surgeon will remove excess skin, tighten slack muscles and possibly use liposuction to further refine the area. The ideal candidate for a mini-Abdominoplasty has laxity and protrusion below the navel. A mini-tummy tuck is usually recommended for those who have always been in fairly good shape but cannot achieve their aesthetic goals with diet and exercise.
Read more about : Does tummy tuck belt really work?
. Extended or High Lateral Tension Abdominoplasty
If you have excess skin in the love handles or hips, your incision can be made longer to address this problem. The high lateral tension Abdominoplasty was one of the first procedures developed to address skin excess after significant weight loss or pregnancy. The technique uses a layer in the deeper tissue to support and maintain the repair. This procedure includes a Abdominoplasty in the front of the abdomen and transfers the lift over the hip to the side of the thigh to improve contour in this area, suspending and improving the hip and thigh. You can simulate the effect by grabbing the skin on the sides of your waist and pulling up as if you're putting on a pair of pants.
Read more about : Liposuction in Iran
Read more about : Lipomatic
Read more about : Coolsculpting
About Iranian Surgery
Iranian surgery is an online medical tourism platform where you can find the best Abdominoplasty Surgeons. The price of Abdominoplasty in Iran can vary according to each individual's case and will be determined based on photos and an in-person assessment with the doctor. So if you are looking for the cost of Abdominoplasty in Iran, you can contact us and get free consultation from Iranian surgery.

During Abdominoplasty Procedure
How is an Abdominoplasty procedure performed?
In this surgical procedure, your surgeon will remove your loose abdominal skin and tighten up your abdominal muscles with sutures.
. Your surgeon will mark your abdomen to indicate the location of the incisions, the center of your torso and the location of the repositioned navel.
. A solution of lidocaine (a local anesthetic) and epinephrine (a vasoconstrictor that controls bleeding by constricting blood vessels) will be injected.
. The primary Abdominoplasty incision will be above the pubic mound, from one hipbone to the other. In a full abdominoplasty, another incision is made around your navel. In a mini-Abdominoplasty, your surgeon will use a shorter incision.
. The surgeon will loosen the skin from your abdominal wall to your ribcage and then place sutures in the fascia of your abdominal muscles to pull them into a tighter position. This is the muscle repair portion of the surgery.
. After your abdominal muscles have been sutured, your surgeon will remove excess fat by liposuction or other methods. Your abdominal skin is then stretched down over your incision line and the excess skin is removed.
. Next, your surgeon will mark the placement of your navel. Although the skin around your navel has been moved, the navel almost always stays in the same place. Your surgeon cuts a hole through the redraped skin and sutures it around your navel.
. Your surgeon will use tissue glue, sutures, staples or Steri-Strips to close the incisions.
. In a full abdominoplasty, the surgeon will often insert one or more drains to prevent fluid buildup, which can cause pressure on the incision. The drain is a clear plastic tube placed through a very short incision below the main incision, which leads out of the body to a small oval-shaped bulb. Each time you empty a bulb and before you close it again, you will be asked to squeeze it to help drain the wound.
The goal of your aesthetic plastic surgeon and staff is to help you achieve the best results and to make your surgical experience as easy and comfortable as possible.
How long does abdominoplasty surgery take?
Depending on what exactly you're having done, the operation can take between two and four hours, but this may vary between surgeons.
Read more about : Arm Lift Surgery
Read more about : Gynecomastia Surgery