What types of surgical repairs are available for a rectocele?
If non-surgical methods do not help control rectocele symptoms, surgery may be needed. Talking with a reconstructive surgeon who specializes in pelvic floor conditions can help women decide upon the best approach. In most cases, surgery is done under general anesthesia and takes approximately 1 hour.
There are a number of different surgical repair options, each of which takes its name from the path used by the surgeon to reach the rectocele.
Transvaginal repair: The rectocele is reached through the vagina. This is the traditional approach to rectocele repair by gynecologists. It offers the chance to correct not only the rectocele but a relaxed perineum and widened vaginal opening. It also has the advantage of not disturbing any tissue in the rectal area.
Transperineal repair: The rectocele is reached through the perineum. This method allows the surgical removal of hemorrhoids at the same time, if necessary. However, it usually requires the implanting of a mesh over the entire surgical area to provide added support following surgery.
Transanal repair: The rectocele is reached through the anus. This method is preferred by many colorectal surgeons because it allows for correction of problems in the anal or rectal area, in addition to repairing the rectocele. Some studies also suggest that pain after surgery may be less with this method than with the transvaginal approach.
Other types of repairs include:
Laparoscopic repair uses a laparoscope, a thin lighted tube that needs only a small opening to reach the area being repaired. Advantages to this method include clearer visibility of the affected area, quicker recovery time, less pain, and a shorter hospital stay. Disadvantages include difficulties with suturing, increased procedure time and expense, and extra time on the part of the surgeon to master laparoscopic techniques.
Ventral-rectopexy involves the use of a polypropylene (flexible plastic) mesh that is stitched to the front of the rectum and attached to the back of the pelvis (the hip bone) using special types of tacks. The mesh pulls up the bowel and prevents it from sagging down into the vaginal wall. This operation may be performed using a laparoscope.
Other types of mesh are made from the tissue surrounding a cow's heart, or from pig skin and intestine. These materials closely resemble the type of tissue found along the wall of the vagina.
After rectocele Surgery in Iran (in hospital)

General anesthesia is usually used for repair of a rectocele . You may stay in the hospital from 1 to 2 days. Most women can return to their normal activities in about 6 weeks. Avoid strenuous activity for the first 6 weeks. And increase your activity level gradually.
Normal bowel function returns within 2 to 4 weeks. It is important to avoid constipation during this time. Your doctor will give you special bowel care instructions. But it is important to include sources of fibre and adequate fluids in your diet. Try to drink about 6 to 8 glasses of water a day.
Most women are able to resume sexual intercourse in about 6 weeks.

Why It Is Done

Surgical repair of rectoceles is used to manage symptoms such as movement of the intestine that pushes against the wall of the vagina, low back pain, and painful intercourse. An Rectocele may not cause symptoms until it is so large that it bulges into the midpoint of the vaginal canal.
Rectocele often occur with other pelvic organ prolapse, so tell your doctor about other symptoms you may be having. If your doctor finds a bladder prolapse (cystocele), urethral prolapse (urethrocele), or uterine prolapse during your pelvic examination, that problem can also be repaired during surgery.
How Well It Works

Not much is known about how well the surgery works over time. The surgery is more likely to be successful if the woman can avoid constipation, does not go through pregnancy and delivery, and does not have any other pelvic organ prolapse.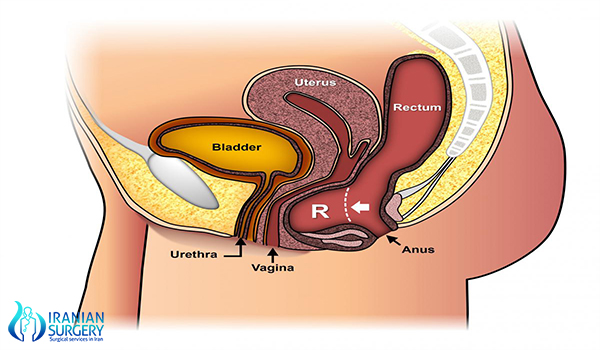 Risks

Risks of rectocele repair surgery are uncommon but include:
Urinary retention.
Bladder injury.
Bowel or rectal injury.
Infection.
Painful intercourse.
Formation of an abnormal connection or opening between two organs (fistula).
What To Think About
Pelvic organ prolapse is strongly linked to labour and vaginal delivery. So you may want to delay surgical repair of a rectocele until you have finished having children.
Surgical repair may relieve some, but not all, of the problems caused by a rectocele .
If pelvic pain, low back pain, or pain with intercourse is present before surgery, the pain may still occur after surgery.
Symptoms of constipation may return following surgery.
The success rate is lower if you have had previous pelvic surgery or radiation therapy to the pelvis.
You can control many of the activities that contributed to your rectocele or made it worse. After surgery:
Avoid smoking.
Stay at a healthy weight for your height.
Avoid constipation.
Avoid activities that put strain on the lower pelvic muscles, such as heavy lifting or long periods of standing.
Complete the surgery information form (PDF) ( What is a PDF document? ) to help you prepare for this surgery.