How much fat can liposuction remove?
How much weight can you lose with liposuction surgery?
How many sizes do you lose with liposuction?
One of the most common questions patients ask us is how much weight will they remove after liposuction surgery?
In reality, it's not much.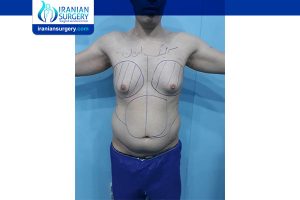 Liposuction or tummy tuck is not a weight loss treatment. It's not designed to be that way. Therefore, patients shouldn't consider this as a solution to their weight issues.
Read more about : Liposuction in Iran
What a liposuction can do for you?
You may have heard from patients that this surgical procedure has helped them lose weight. It's true that it can help with weight loss, but not in the way you might think.
Surgeons designed liposuction surgery purely to trim excess skin, correct separated muscles, and remove stretch marks. Plastic Surgeons also use the procedure to tighten the abdominal area, so the stomach will become flat and sculpted. Put it simply, it does not address excess fat.
After your liposuction in Iran, you may probably weigh 4 to 10 pounds less, and this is due to the removal of excess skin and a bit of the fat layer attached to the excess skin. In other words, you won't see a drastic drop on the scale after the surgery.
Will I still gain weight after liposuction?
Immediately after the liposuction, weight gain is expected due to swelling and excess fluids. Body weight should return to normal within 4 to 6 weeks.
Compression garments are provided by the surgeon and should be worn all the time to aid in draining the anesthetic solution from the body. Compression garments should be worn for at least a week to avoid infections and to ensure faster recovery time.
Clients who underwent liposuction should also engage in light exercise, as well as a diet of carbohydrates, fruits, proteins, and vegetables.
With the proper lifestyle, maintaining your desired weight won't be difficult, which also means that the liposuction treatment won't be put to waste.
While the fat cells removed during liposuction can no longer come back, nothing will stop the body from replacing those fat cells if you put on weight.
Fat cells do accumulate less often in treated areas, however, so when you put on weight after liposuction, most likely, those fat cells will develop in a different area instead.
For the best results, avoid overeating and make sure to actively maintain your desired weight through exercise.
Limitation of liposuction surgery
There is a limit to how much fat can be removed without requiring an overnight stay in the hospital. This amount is five liters, which is roughly equivalent to 10 pounds.
Whenever possible, this amount of fat will be removed. Sometimes, however, it is not possible to remove five liters.
Some of the reasons to stop liposuction before removing five liters of fat include:
The desired result has been achieved before reaching five liters
You don't have five liters of fat present in the area being treated
The area being treated starts to bleed
It can be hard to predict in advance how much fat will come out. Sometimes it is possible to remove a very large amount of fat from relatively lean individuals. Conversely, it can sometimes be surprisingly difficult to remove fat from an individual who looks like they have enough to reach the five-liter limit.
Am I good candidate for liposuction?
Generally, yes, liposuction is safe for anyone who has a realistic expectation of what the treatment can provide.
As long as you're not pregnant, breastfeeding, excessively obese or have blood clotting or bleeding disorders, liposuction is a safe and effective method to help you achieve your ideal body.
Either way, it's always best to consult cosmetic surgeons who will provide advice how to best proceed with undergoing liposuction.
In Iran, the experts in liposuction work exclusively at Skin Club – Cosmetic Practitioners. Before getting any kind of treatment, clients are required to go through an obligation-free consultation meeting, so the treatment will surely be personalized and tailor fit to your needs.