Cost of dental implants in Iran vs the USA
What is the cost of full mouth dental implants in Iran?
On an average, the dental implant cost in Iran is ranged between $ 250- 600 and the time is taken for the treatment is usually one week. The price depends on many factors like type of tooth implant, the material of the implant, the design of the implant and no. of teeth involved.
How much are Dental Implants in Iran?
Below are our prices for dental implants in Iran. In comparison to the US where a single implant costs $2,790, in Iran, the prices begin from $750.

Dental Implant Cost in Iran VS Dental Implant Cost in USA  (in USD)
Dental Implant Cost in Iran (in USD)

| Dental Implant Procedure | | USA Cost | Iran Cost |
| --- | --- | --- | --- |
| Single Tooth Implant | | $2,790 | $600_900 |
| Implant and Crown + Abutment | | $4,930 | $700_1200 |
| All-on-4 Implants | | $15,000-24,000 | $3300_4200 |
| All-on-6 Implants | | $25,000-30,000 | $4500_5000 |
| All-on-8 Implants | | $36,000 | $4500-6300 |
It's evident from the above table that it is much cheaper to get dental implants in Iran than in the U.S.A. In fact, the cost of these implant procedures in Iran is almost 300% less than that in the U.S.A. This is the concept around which dental tourism in Iran is based. The low cost of dental implants in Iran allows you to combine your holiday and dental treatment.
Extra costs you may incur when getting full mouth dental implants in Iran are as follows:
Dental implants X-ray
Cost of CT scan in Iran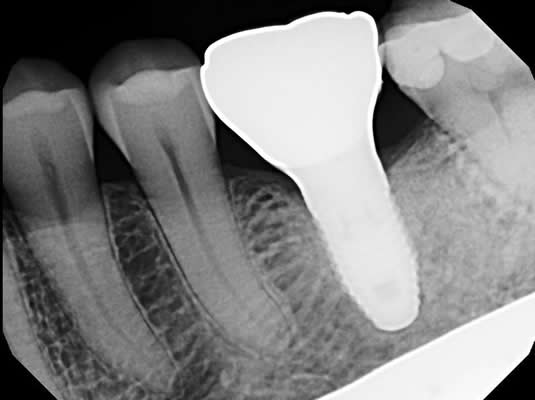 3d x-ray to diagnose and plan your treatment which is $70
Cost of Extraction
Cost to extract remaining bad teeth (per tooth) which is $60
Cost of Bone Grafting
Cost to add bone to prepare implant sites (per arch) which is $200
Cost of IV Sedation
Cost of anesthesiologist for unconscious surgery is $
How much can I save on dental implants in Iran?
The average cost of a titanium dental implant with abutment and standard crown in the US is $3,600. In Iran, the average price is $900.
While dental implants are an expensive procedure, they are a permanent solution that looks, feels and acts exactly as your own tooth.
Get online consultation with doctors in Iran about dental implant
If you are interested in traveling and treatment in Iran, and wish to get a rapid assessment of what dental surgeon might be able to do for you, then our online virtual consultation may be suitable for you.
Hundreds of patients have already tried our online consultation services and they appreciate the thoughtful feedback given by our doctors. At Iranian Surgery CO, you will receive an honest assessment of whether dental implant is likely to help you.
[kkstarratings]