As a secondary surgery to correct primary rhinoplasty, revision rhinoplasty in Iran can be even more complicated procedure compared to initial one. For patients who need revision rhinoplasty to fix the problems of previous nose surgery, it is essential to find a rhinoplasty surgeon who is qualified enough, experienced and knowledgeable which are the main features of our surgeons.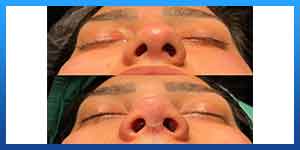 Why Do We Need a Revision Rhinoplasty?
The first point is that the nose is one of the parts of our face, and we cannot hide it. For many people who are not satisfied with the shape of their nose even after the first nose job or are very self-conscious about it, revision rhinoplasty in Iran or anywhere else is a fair solution.
Sometime after ageing, the skin of the tip of the nose starts to get saggy and drops, and that makes sense to look after another nose job.
Unfortunately, sometimes in the first nose job, the applicant has not chosen a qualified specialist surgeon, and their problem remains unsolved, both cosmetic-wise and respiratory.
Lastly, some applicants have in mind a type of nose that does not fit their face contour, but they insist on making their nose look like it, causing them to be dissatisfied with the first rhinoplasty and leading them toward the second operation. If you find a surgeon who guarantees the aftermath to be exactly what you want, regardless of your nose's potential for surgery, be very careful.
Before revision rhinoplasty surgery in Iran
What important factors should I notice before doing revision rhinoplasty in Iran?
If you are considering revision rhinoplasty then make sure your board-certified plastic surgeon has substantial experience with rhinoplasty. Experienced rhinoplasty surgeons are more likely to see revision cases than those who do this operation infrequently.
Look at your prospective surgeon's website to see how many rhinoplasty cases are in their photo gallery. Computer imaging may be helpful for your surgeon to visually communicate what potential outcome you may expect from surgery. Previous rhinoplasty patients are also a great resource for prospective patients; your plastic surgeon should be able to supply you with patients who have offered to speak with you and others and discuss their experience in some detail.
In the end, your decision to undergo revision rhinoplasty is a personal one. Choosing an experienced, board-certified plastic surgeon who has "connected" with you and earned your trust will offer the best chance of a successful outcome. Most patients who are unhappy with the outcome of primary rhinoplasty are pleased with the final result from revision rhinoplasty if they follow these simple recommendations.
Preparing for Revision rhinoplasty in Iran
If you are going to perform revision rhinoplasty in Iran, it is suggested to choose professional rhinoplasty surgeons. Your nose is one the main parts of your face which play a pivotal role in improving your beauty. Thus, we can help you by offering a list demonstrating top six revision rhinoplasty surgeons in Iran.
Revision rhinoplasty in Iran is one of the most challenging operations the facial plastic surgeon performs given the complex 3-dimensional anatomy of the nose and the psychological impact it has on patients. The intricate interplay of cartilages, bone, and soft tissue in the nose gives it its aesthetic and function. Facial harmony and attractiveness depends greatly on the nose given its central position in the face.
Who are the right candidates for revision Rhinoplasty surgery?
Common problems that require secondary Rhinoplasty are as follows:
. Nasal airway obstruction
. Collapse of cartilage or nasal bones
. Artificial cosmetic appearance to nose ("Overdone nose job")
. Internal and external nasal valve collapse
. Worsened asymmetry
. Over reduction or inadequate reduction of dorsal height (bridge height/hump)
. Incomplete shaping (not enough of a cosmetic change)
. Excessive or inadequate tip projection
. Excessively narrowed nasal tip ("pinched tip")
. Excessive internal and/or external scarring (thickened scar tissue)
During Revision rhinoplasty surgery in Iran
During Revision rhinoplasty surgery in Iran, the experience and expertise of the surgeon becomes even more important. Revision rhinoplasty in Iran is usually performed under general anesthesia. Incisions are primarily internal, though a small external incision is sometimes used.
The bone and cartilage of the nose is reshaped, and care is taken to preserve the breathing function of the nose. Our surgeons are able to improve nasal breathing for the patients. Revision rhinoplasty in Iran generally takes anywhere from 2-5 hours.
Revision rhinoplasty in Iran is a premium surgery to re-evaluate the nose shape and to alleviate previous functional problems. This surgery uses natural materials to prevent further side effects and tissue damages. Mainly, using 100% natural rib cartilage which is highly recommended for the revision rhinoplasty. This is because the vast majority of people who have problems with the primary rhinoplasty experienced foreign implant side effects and used up remaining septal cartilage already.
What is done in a revision rhinoplasty?
Revision rhinoplasty often requires cartilage for structural support for the tip and/or bridge of the nose. Septal cartilage is often deficient and plastic surgeons often must choose cartilage from elsewhere in the body, particularly the ear and occasionally the rib. Soft tissue irregularities along the bridge of the nose or tip may also require tissue that provides a cover or camouflage and acts as a "natural filler" which is permanent. An excellent source is "temporalis fascia," which can be taken from a remote incision within the hairline and results in no noticeable deficit. Occasionally, scarring within the nose requires the use of skin grafts to reopen a distorted and narrowed nasal airway.
Which type of revision rhinoplasty: open or closed?
The necessary changes in the secondary rhinoplasty can be done through a "closed" or "open" approach. Typically, if there are major structural changes required, open approach may be preferred. Minor contour corrections can be performed via a "closed" technique. Closed rhinoplasty is performed only when internal incisions (endonasal) are made for access to the nasal structures.
Open rhinoplasty refers to the addition of an incision in the skin bridge between the two nostrils (columella) in order to lift up the nasal skin for more direct visualization of the structures to be altered. The decision to use either the closed or open approach in revision rhinoplasty is based on surgeon preference and each technique has its pros and cons.
Cartilage grafts (portions of cartilage from the septum, ear, or a rib) are often necessary to accomplish the cosmetic and functional goals in revision rhinoplasty. It is very common for the primary procedure to have depleted much of the nasal cartilage. A lack of septal cartilage is the most common indication showing that we need ear or rib cartilage sources for graft material. These segments of cartilage are then shaped into structural and shaping pieces for using in the nose.
As with primary rhinoplasty, there is very little room for error and it is vital that you seek a rhinoplasty expert who is skilled and experienced in the secondary techniques. In order to reduce the rates of further revisions and ensure a successful outcome, it is best to seek a plastic surgeon or facial plastic surgeon who specializes in rhinoplasty and revision rhinoplasty.
Recovery after revision rhinoplasty in Iran (In-home care)
The average revision rhinoplasty recovery time is one year. That may sound like a long time, but it becomes much more manageable when it's broken down into a timeline. The following recovery milestones may vary from patient to patient, but generally, it goes something like this:
1 Week: The splint can be removed from your nose and you can go out in public without showing noticeable signs of surgery unless there is bruising around the eyes. This may take 2 weeks to resolve. It is safe to resume activities of daily living.
2 Weeks: The majority of the facial swelling has subsided and most of the bruising should have resolved.
3-4 Weeks: You can safely return to cardiovascular activities such as jogging, swimming and cycling.
6 Weeks: The bones are stable, you can resume resistance workouts (weight lifting), wearing glasses and blowing your nose.
3-6 months: The numbness and abnormal sensations in your nose and nasal skin should be resolved.
1 Year: The healing process is complete – swelling should have
Read more about : Revision rhinoplasty swelling timeline
Risks and Side Effects of Revision Rhinoplasty
In general, revision rhinoplasty surgery carries the risks of:
. Adverse reactions to anesthesia and infection.
. These risks are minimized by patients divulging their full medical histories, including any allergies to medications, and by keeping the area clean prior to and following the revision rhinoplasty.
. Unforeseen events like trauma to the nose can affect the final look of the nose. Side effects can include issues breathing through the nose, asymmetry, and swelling, which may only be temporary but can be permanent. In some cases, revision rhinoplasty can correct these issues.
. Advanced complications may lead to the loss of cartilage and bone.
After revision rhinoplasty
It requires restriction of your physical activity for six weeks after rhinoplasty revision surgery. A splint will remain in place for eight days after surgery, and there will be some degree of nasal congestion and swelling for a similar time frame. More details regarding postoperative restrictions will be discussed during your consultation.
Because the complexity and time involved are more than your first rhinoplasty, it also costs more. Generally, revision rhinoplasty costs 50-100% more than a primary rhinoplasty.
After Revision Rhinoplasty, you observe the final results in 6 months, that's why patients should be tolerant during this period and wait for this much better final look. In Revision Rhinoplasty operations, you spend a night at the hospital and return to your business life in approximately 10 days.
Recovery after revision rhinoplasty
Aside from the usual advice for patients to keep their heads as close to vertical as possible immediately following surgery, and to sustain a liquid diet for 12 hours after the operation, it's also smart to keep a small zip-lock bag filled with frozen peas on the eyes every 10 minutes per hour for the first 48 hours.
Revision rhinoplasty surgeons mostly uses absorbable sutures that do not need to be removed, they also uses advanced techniques that allow them to avoid packing in most cases.
Is revision rhinoplasty in Iran more expensive than primary rhinoplasty?
On average, the revision rhinoplasty cost in Iran is %20 higher than the cost of first surgery which is far lower than other countries.
On average revision rhinoplasty cost in Iran is %20 lower than India, %100 lower than Turkey, %200 lower than Australia and % 180 lower than the UK while its quality is as high as countries such as the US and UK.
What are the advantages of a revision Rhinoplasty (nose job) in Iran?
Experienced cosmetic surgeons
Undoubtedly, Iranian cosmetic surgeons are among the most experienced rhinoplasty surgeons in the world, and almost 95% of people who undergo rhinoplasty in Iran are satisfied with the final result.
Most Iranian cosmetic surgeons graduates from Europe and the United States universities and are on the list of the best rhinoplasty surgeons in the world.
Affordable price
The cost of revision rhinoplasty in Iran is much lower than in Turkey, the United States and Europe. For example, on average, the cost of a revision rhinoplasty in the United States is $ 8,000 which is at least 4 times that of Iran. The average cost of a revision rhinoplasty in Turkey is $ 3,500, which is at least twice as much as in Iran.
How long should you wait for a revision rhinoplasty?
Having a revision rhinoplasty not long after the first surgery would turn a minor problem into a disaster. Therefore, deciding to undergo revision rhinoplasty should not be impulsive.
You should wait at least 10-12 months after your previous rhinoplasty before considering a revision rhinoplasty when your nose has taken its final shape. It takes at least one year for the swelling to completely subside.