Am i good candidate for liposuction?
Everyone has some fat that they'd like to get rid of, but the amount of and location of the fat may not be the same. When it comes to eliminating unwanted fat, liposuction is the gold standard, but it may not be the right solution for everyone. Consequently, people contemplating the procedure usually want to go in knowing the answer to this question: Am I a good candidate for liposuction?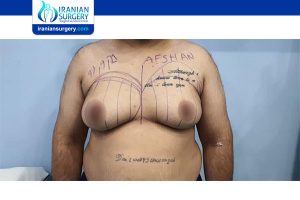 Read more about : Abdominoplasty in Iran before and after
Read more about :  Liposuction Podcast with Dr. Afshan shah
Read more about : A patient who came from USA to Iran for Liposuction and abdominoplasty surgery
About Iranian Surgery
Iranian surgery website is an online medical tourism platform where you can find the best liposuction Surgeons in Iran. The price of a liposuction in Iran can vary according to each individual's case and will be determined based on photos and an in-person assessment with the doctor. So if you are looking for liposuction cost in Iran, you can contact us and get free consultation from Iranian surgery.

Who is a good candidate for liposuction?
"Liposuction is not a weight loss solution."Liposuction (also referred to as "lipo") is a cosmetic procedure that is done to eliminate unwanted pockets of fat from specific parts of the body, in order to improve overall shape. There are various forms of liposuction.Traditional liposuction uses a cannula or small tube to break up and extract the subcutaneous fat beneath the skin. However, in the last few decades various types of technology including laser and ultrasound energy have been introduced to remove the fat.Liposuction can be performed on almost all regions of the body, but the most common areas include the abdomen, hips, thighs, and back.
Am I a good candidate for liposuction?
Liposuction is done to eliminate pockets of stubborn fat, but it may not be the ideal solution for everyone.  If you are thinking about having the procedure done, it's advisable to consult with a board certified plastic surgeon ( to determine if liposuction is right for you.You might be a good liposuction candidate if:
You'd like to reduce a few areas of fat that are 'diet resistant'
These fat deposits simply won't budge, regardless of how much you diet and exercise. Although you may not be able to spot reduce these problem areas, liposuction can effectively target and minimize them.
Read more about : Abdominoplasty
You are already at a stable weight
When you're already at a stable weight, the plastic surgeon can better identify the regions of the body where liposuction would be most effective, making you a much better candidate for the procedure.
You understand that liposuction is not a weight loss solution
Lipo is designed to reshape the body and create a sleeker appearance. As a result, it's necessary to lose all the excess weight before surgery, as losing or gaining too much weight after liposuction will alter the final results.
You have realistic expectations about surgery
Liposuction will trim certain problem areas and provide substantial improvement, but patients should understand that the results will not be perfect.
You are already in good health
Healthy patients are less likely to experience any complications, and will therefore get the best possible outcome.
Read more about : coolsculpting vs liposuction
You have good skin elasticity
Patients with good elasticity in their skin also get very good results with liposuction. When the skin is elastic, it can easily conform to the new contours of the body after the fat is removed, but patients with lax skin may end up with more loose skin after liposuction.
The benefits of liposuction( benefits and risks of liposuction)
Liposuction is a safe way to remove unwanted fat and change your entire appearance, because it precisely targets problem areas. It is a very effective way to reshape your body, and the results are immediately noticeable, as your body will look firmer and more contoured.The incisions for liposuction are very small, and are almost indiscernible when fully healed. This results in less scarring when compared to other types of cosmetic surgery procedures.If you'd like to improve your physique and sculpt your body, liposuction is often a very effective option!
Liposuction as a procedure is rapidly growing in IranTargeting various parts of the body, the skills and techniques behind liposuction have developed over the years, leading to specialties within the field including spot liposuction.Along with reducing the overall cost of liposuction procedures, it has also given patients the ability to target specific parts of their body.
Read more about : How much fat can liposuction remove?

What Is Spot Liposuction?
Spot liposuction is a non-invasive form of liposuction where individual parts of the body (think abdomen, buttocks, chest, back, etc.) are targeted for systematic fat elimination.UltraSound-LiposuctionBeing non-invasive, the side effects and costs associated with spot liposuction are far below traditional liposuction alternatives.Small incisions are made in discreet parts of the body to eliminate the chance of the marks and potential scars from being seen.This procedure is performed the world over and has seen great success in its application of helping to contour parts of the body.
What parts of the body can it be done on?
Spot liposuction targets specific areas of the body.Because of this, it can be calibrated to help you approach and deal with stubborn pockets of fat that refuse to go away.On the front of your body, spot reduction for love handles, waist, lower abdomen, upper abdomen, and chest are not uncommon.On the back of your body, spot reduction for flanks, hips, back, and the buttocks is also not uncommon.Upper arms spot reduction has been done in the past as well.For the legs, inner thighs, outer thighs, anterior thighs, and lower legs are all common places to have spot liposuction done.Finally, spot lipo for cheeks is not uncommon either.
Read more about : Revision Liposuction
liposuction Side Effects
The risks and side effects of spot liposuction are minimal when an experienced cosmetic surgeon performs or personally oversees the procedure.Risks are generally low regardless of the part of the body where you have spot liposuction done (i.e. waist, buttocks, inner thighs, etc.)Risks include post procedure bruising, where the skin in that particular area turns black and blue for a few days.Issues that can develop also include tenderness and in less frequent cases localised pain spasms.
Again, because spot liposuction is non-invasive, the side effects are minimal when compared to a surgery for weight reduction or fat removal.This is especially promising given that certain areas of the body close to organs, like the waist, lower abdomen, and upper abdomen, may pose increased risk.
Individuals who receive spot liposuction can typically return to work after a few days.Any side effects still being experienced at this time should be reported to the plastic surgeon as well as your primary care physician if the side effects concern you.Many liposuction professionals prefer spot liposuction because it is a non-invasive form of liposuction.What this means is that your recovery time will be far shorter than if you went with a more traditional alternative.In addition, spot liposuction has enough of a history behind it to be proven safe with minimal risks or side effects.