What are the long term effects of lap band surgery?
What are the side effects of a gastric band?
Does stomach banding work?
Gastric banding surgery pros and cons
What are the cons and pros of gastric banding surgery?
Advantages
There are many advantages to using an adjustable gastric band placement as a way of fighting obesity. The amount of food that can be held in a patient's stomach is greatly reduced with the device in place without the need to permanently remove parts of the stomach or re-rout the intestine — a feature considered to be the most attractive compared to more invasive weight loss procedures.
The average achievement for the gastric band is 40 to 50 percent of excess weight loss, which can result in improvement of comorbidities like insulin resistance, type 2 diabetes, hypertension, dyslipidemia, cardiovascular disease, stroke, sleep apnea, gallbladder disease, hyperuricemia, gout, and osteoarthritis, and overall health.
The surgery also requires a shorter hospital stay, usually less than 24 hours, with some centers discharging the patient the same day as surgery, while it is among the FDA-approved bariatric procedures with the lowest rate of early postoperative complications and mortality, as well as lowest risk for vitamin and mineral deficiencies. In addition, an adjustable gastric band is a reversible and adjustable process, unlike other bariatric surgeries that are permanent.
Read more about : Gastric balloon side effects
Read more about : Mini gastric bypass surgery side effects
Read more about : Gastric balloon diet
Disadvantages
However, the gastric band also has cons, starting with the fact that the device is associated with slower and later weight loss than other surgical procedures, which can sometimes impact patients' motivation to remain compliant with the program. Similarly, some patients that use the adjustable gastric band fail to lose at least 50 percent of excess body weight compared to the other surgeries commonly performed.
In addition, it is one of the methods that requires patients to hold a foreign device inside their bodies, which can be uncomfortable and a "strange" experience for some patients. Several side effects are also associated with the band, including band slippage or band erosion into the stomach, which occurs in a very small percentage of patients, as well as dilatation of the esophagus if the patient overeats.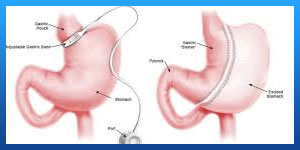 Patients may also suffer mechanical problems with the band, tube or port in a small percentage of patients and it requires strict adherence to the postoperative diet and to postoperative follow-up visits in order to guarantee successful results and avoid potential side effects related to the band. However, due to complications that need to be surgically corrected, adjustable gastric band is also the bariatric surgery with highest rate of re-operation, according to the society.