Facial Plastic Surgery in Iran
Facial plastic surgery is a multidisciplinary specialty largely driven by otolaryngology but includes oral maxillary surgery, dermatology, ophthalmology, and plastic surgery. It encompasses both reconstructive and cosmetic components. The scope of practice for facial plastic surgeons in Iran may include rhinoplasty, browlifts, blepharoplasty, facelifts, microvascular reconstruction of the head and neck, craniomaxillofacial trauma reconstruction, and correction of defects in the face after skin cancer resection.
Facial plastic surgery also encompasses the use of injectable fillers, neural modulators (e.g., Botox Cosmetic etc.), lasers, and other devices aimed at rejuvenating skin. Facial plastic surgery is a constantly evolving field with continuing innovative advances in surgical techniques and cosmetic adjunctive technologies.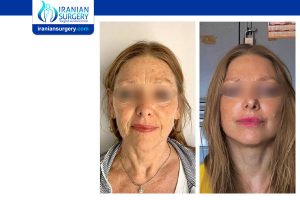 Read more about : Face lift surgery before and after
Read more about : Rhinoplasty cost in Iran
Read more about : Face feminization surgery cost
Read more about : Jaw Fillers Men
What does Facial Plastic Surgery involve?
Facial plastic surgery is a part of otolaryngology that is divided into two categories: reconstructive and cosmetic.
. Reconstructive plastic surgery is performed for patients with conditions that may be present from birth, such as birthmarks on the face, cleft lip and palate, protruding ears, and a crooked smile, that also affect normal function. Other conditions that are the result of accidents, trauma, burns, or previous surgery can also be corrected with this type of surgery. In addition, some reconstructive procedures are required to treat existing diseases like skin cancer.
. Cosmetic facial plastic surgery is surgery meant to enhance visual appearance of the facial structures and features. Common procedures include facelifts, eye lifts, rhinoplasty, chin and cheek implants, liposuction, and procedures to correct facial wrinkles. ENT specialists are well trained to address all these problems.
Why Should I consider Facial Plastic Surgery?
Nowadays, people choose facial plastic surgery procedures to give them a more youthful, attractive appearance or to enhance or change a facial feature to better suit them.
Facial plastic surgery can be important because our facial expressions allow us to interact and communicate with each other. Our appearance has an impact on how others perceive us. While some would like to improve certain parts of their face, others are born with facial abnormalities such as a cleft lip, a birthmark, or other birth defects. Moreover, many conditions such as the effects of aging, sun damage, or previous facial trauma can be corrected through procedures performed by a skilled facial plastic surgeon.

What are the types of Facial Plastic Surgery?
Surgical facial plastic treatments include:
. Rhinoplasty/Septoplasty—Surgery of the outside and inside nose in which cartilage and bone are rebuilt and reshaped to improve the appearance and function of the nose
Read more about : Septoplasty
Read more about : Rhinoplasty vs. Septoplasty
. Blepharoplasty—Surgery of the upper and/or lower eyelids to improve the function (like drooping eyelids) and/or appearance of the eyes
. Brow lift—Surgery to improve forehead wrinkles and droopy eyebrows
. Rhytidectomy—Surgery of the skin on the face and neck to tighten the skin and remove excess wrinkles
. Liposuction—Surgery to remove excess fat under the chin or in the neck
. Facial Implants—Surgery to make certain structures of the face (cheek, lips, chin) more prominent and well defined
. Otoplasty—Surgery to reshape the cartilage of the ears so they protrude less
. Skin Surface Procedures—Surgery using lasers, chemical peels, or derma-abrasion to improve the smoothness of the skin
. Facial Reconstruction—Surgery to reconstruct defects in facial skin from prior surgery, injury, or disease, including reconstruction resulting from cancer surgery, scar revision, repair of prior facial trauma, removal of birth marks, and correction of congenital abnormalities of the skull, palate, or lips.
Read more about : Lip augmentation
How should I prepare for Facial Plastic Surgery?
The first step in considering facial plastic surgery is a meeting with the surgeon to discuss goals, alternatives, and potential risks and benefits of facial surgery. Once you and the surgeon have decided on a course of treatment, your surgery is scheduled. Surgery may be done on an inpatient or outpatient basis, depending on your situation. You'll receive follow-up care from the surgery team.
Why Facial Plastic Surgery in Iran?
Facial Plastic Surgery in Iran is one the Iran's leading aesthetic surgeries, our certified facial plastic surgeons are dedicated to bringing their expertise in this field  in order to give you a more youthful and attractive appearance.
Facial plastic surgeons in Iran, have performed numerous procedures annually which make them more experienced than other countries' facial plastic surgeons, due to high demand and low cost of Facial plastic surgeries in Iran, thousands of people travel to Iran every year so that they can undergo facial plastic surgery in Iran with the best surgeons at an affordable and reasonable price.
Read more about : Iranian Society of plastic surgeon