What is Buttock Lift?
A buttock lift also known as butt lift or gluteoplasty is a cosmetic surgical procedure to improve the appearance of the buttocks. It may be done as part of a tummy tuck (belt lipectomy) or lower body lift to contour the buttocks, groin, thighs and abdomen.
A buttock lift alone won't add any volume to the buttocks. But sometimes, a buttock lift is combined with an augmentation procedure to alter the shape or size of the buttocks with implants or fat grafts.
During a buttock lift, excess skin and fat are removed from the buttocks. The remaining skin is then repositioned to create a more toned look.
Read more about : Bbl surgery in Iran
Before Buttock Lift
When to consider a Buttock Lift
. If you have loose, sagging skin and extra fat in your buttocks
. If you recently experienced dramatic weight loss and are close to your ideal weight
. If your gluteal area makes you feel self-conscious
. If excess fat or skin make you uncomfortable or cause mobility problems
. If your self-confidence would improve from such a procedure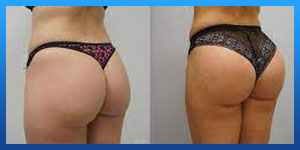 Read more about : 360 Liposuction
Are you a good candidate for a butt lift?
Excess skin and fat in the gluteal area can add bulk and frustrate your efforts to achieve a slimmer, more sculpted body through weight loss. If any of these conditions apply to you, then you might be a good candidate for buttock lift:
. You have undergone bariatric surgery or significant weight loss through dieting.
. Pregnancy and/or aging have left you with loose skin and cellulite below the waistline.
. You have significant skin laxity, excess skin, and ptosis (sagginess) of the buttocks.
. The layers of fat below your loose skin are relatively thin.
. You do not smoke. Smoking slows down the healing process and increases the risk of serious complications during and after surgery. If you smoke, you must quit at least six weeks before surgery.
. Your weight has been stable for at least a year, with no further weight loss expected.
. You are in overall good health without chronic medical conditions, such as diabetes or heart disease. People in poor health are not good candidates for body contouring procedures. You must obtain clearance for plastic surgery from your primary care physician or from doctors treating you for medical conditions.
. You have a healthy diet. Problems such as protein deficiencies can interfere with healing.
If you are in good general health and have a positive attitude and realistic expectations, you are most likely a good candidate for this procedure.
Keep in mind that a buttock lift won't change your skin quality.
A buttock lift isn't for everyone. Your doctor might caution against a buttock lift if you:
. Have a severe chronic condition, such as heart disease or diabetes
. Plan to lose a significant amount of weight
. Have a body mass index that's greater than 32
. Are a smoker
. Have an unstable mental health condition
Read more about : BBL and a Tummy Tuck at the Same Time
Advantages and disadvantages
Pros:
. Your buttock area will look smoother and more toned.
. The results will be long-lasting.
. Any discomfort caused by excess skin will be alleviated.
Cons:
. Full recovery could take several months.
. Future weight fluctuations can affect results.
. The procedure could result in loss of volume in the buttocks.
These are the top three pros and cons to weigh when considering a butt lift. If you want to focus on those specifically unique to you, please consult with your aesthetic plastic surgeon.
Risks and complications
A buttock lift poses various risks, including:
. Fluid accumulation beneath the skin (seroma). Drainage tubes left in place after surgery can help reduce the risk of seroma. Your doctor might also remove fluid after surgery using a needle and syringe.
. Poor wound healing. Sometimes areas along the incision line heal poorly or begin to separate. You might be given antibiotics if there is a wound healing problem.
. Scarring. Incision scars from a buttock lift are permanent, but they're typically placed in areas that aren't easily visible.
. Changes in skin sensation. During a buttock lift, the repositioning of your tissues can affect superficial sensory nerves. You'll likely feel some reduced sensation or numbness. This numbness usually diminishes in the months to year after the procedure.
Like any other type of major surgery, a buttock lift poses a risk of bleeding, infection and an adverse reaction to anesthesia.
Additionally, if you're having a buttock augmentation procedure when having a buttock lift, discuss the potentially serious side effects that can occur when you're using your own fat (autologous fat grafts), such as infection complications and even death.
How you prepare
Initially, you'll talk to a plastic surgeon about a buttock lift. During your first visit, your plastic surgeon will likely:
. Review your medical history. Be prepared to answer questions about current and past medical conditions. Talk about any medications you are taking or have taken recently, as well as any surgeries you've had. If your desire for a buttock lift is related to weight loss, your doctor will likely ask detailed questions about your weight gain and loss, as well as your diet.
. Do a physical exam. To determine your treatment options, the doctor will do blood tests and examine your buttocks, skin and lower body. The doctor might also take pictures of your buttocks for your medical record.
. Discuss your expectations. Explain why you want a buttock lift and what you're hoping for in terms of appearance after the procedure. Make sure you understand the benefits and risks, including scarring.
Before a buttock lift you might also need to:
. Stop smoking. Smoking decreases blood flow in the skin and can slow the healing process. Smoking can also significantly increase your risk of complications. If you smoke, your doctor will recommend that you stop smoking before surgery and during recovery.
. Avoid certain medications. You'll likely need to avoid taking aspirin, anti-inflammatory drugs and herbal supplements, which can increase bleeding.
. Maintain a stable weight. Ideally, you'll maintain a stable weight for at least six to 12 months before having a buttock lift. Significant weight loss after the procedure can affect your results.
. Arrange for help during recovery. Make plans for someone to drive you home after surgery and stay with you as you begin to recover.
Read more about : BBL Death Rate
What you can expect
Before the procedure
A tube (catheter) will be placed into your bladder to collect urine. Your legs will be placed in devices called sequential compression boots, which are used to prevent blood clotting during and after surgery.
During Buttock Lift
What can I expect on the day of buttock-lift surgery?
Your buttock-lift surgery may be performed in an accredited hospital, free-standing ambulatory facility, or office-based surgical suite. Most butt lift procedures take at least three to six hours to complete but may take longer.
You will receive medications to keep you comfortable during the surgical procedure. Local anesthesia combined with sedation may be an option but general anesthesia is more commonly used for this procedure. An anesthesiologist or nurse anesthetist will be present to administer sedatives or general anesthesia and assist in monitoring you during surgery. After you are asleep, a breathing tube will be placed in your mouth to ensure that your airway is secure during position changes involved in the butt lift procedure.
For your safety during the surgery, various monitors will be used to check your heart, blood pressure, pulse, and the amount of oxygen circulating in your blood.
Your plastic surgeon will follow the surgical plan discussed with you before surgery. Once the operation has begun, he or she may decide to combine various techniques or change a technique to ensure the best result. It is important that you feel comfortable and trust your doctor to make these decisions.
When you wake up, you may find the following:
. Surgical drains have been placed to remove fluid that accumulates within the incisions.
. You are wearing a compression garment, which controls swelling, supports the suspended tissues and smoothes and flattens the skin. This garment may be placed at the time of surgery or later.
After surgery, you will be taken into a recovery area, where you will continue to be closely monitored.
You may go home on the day of surgery with skilled nursing help or spend two or three days in an aftercare center with a nurse, or in the hospital, unless you and your plastic surgeon have made other plans for your immediate post-operative recovery Under no circumstances will you be permitted to go home alone or stay at home without another adult present. Follow your doctor's recommendation in relation to this decision.
Before leaving for home, you (or someone looking after you) should feel comfortable emptying and resetting your drains.
How is a buttock lift procedure performed?
There are many techniques and approaches, but generally:
. Your surgeon will make an incision at the top of the buttocks, in the hips, groin, or under the buttock cheeks to remove excess skin and pull the remaining skin taut.
. Liposuction may be used to further contour the buttock area or thighs to achieve a balanced look.
. Any incisions are sutured and closed in layers to ensure that the skin remains tight.
. Drains and dressings are placed and usually a compression garment or girdle is worn to reduce swelling and tighten the skin.
What are my options?
Depending on the quality of your skin, how much excess there is to remove, and your body shape, your surgeon will determine what options are open to you. If there is a large amount of skin to remove, you may consider having a lower body lift, which would help remove skin around other areas of the body, including the stomach, buttock, thighs and hips. If removing the skin will result in a loss of volume to the buttock, a buttock augmentation might be appropriate following a buttock lift.
What will my buttock lift incisions and scars be like?
Incisions for a butt lift could include a large incision on the top of the buttocks in the back or hidden underneath the buttock by the crease. If liposuction is involved, there will be smaller scars that will fade and be mostly unnoticeable.
After Buttock Lift
Aftercare and Recovery
Your surgeon will discuss how long it will be before you can return to your normal level of activity and work. After surgery, you and your caregiver will receive detailed instructions about your post-surgical care, including information about:
. Drains, if they have been placed
. Normal symptoms you will experience
. Any potential signs of complications
Immediately after your buttock lift
. When the anesthesia wears off, you may have some pain. If the pain is extreme or long-lasting, contact your physician. You will also have some redness and swelling after the surgery. In some cases, the swelling will remain for weeks or even months. Contact your physician to determine if your pain, redness, and swelling is normal or a sign of a problem.
. Make sure you continue to have lots of help at home − this cannot be stressed enough. You'll be tempted to try to help around the house soon after surgery, but you won't feel like yourself for at least two weeks, and you still should not do anything strenuous, including lifting, for four to six weeks. If you have small children, arrange for someone else to be totally in charge of their care for two weeks.
. Ask your surgeon how to sit and sleep, including the use of pillows, to minimize the tension on your incisions, reduce pain, and facilitate a thinner scar.
. Drains, which also control swelling, are placed to remove fluid that accumulates within the incisions. Your doctor will ask you to measure the amount of fluid in your drains daily. Once the output falls low enough, your drains will be removed in your doctor's office. Drains typically remain in place two to three weeks, but may be left longer.
Recovery time frame after a buttock lift
For the first months after a buttock lift, you'll need to take care when moving — increasing your activity level slowly — and avoid positions that strain your incision line to prevent the reopening of the wound. Your doctor will provide instructions. In addition, follow-up visits with your doctor will be needed.
Scar management might include use of silicone sheeting, scar cream and massage. The appearance of your scar will improve over time.
Buttock-lift surgery is quite extensive and will require two to three weeks of recovery before you can resume normal activities. Full healing will take several months. Being in good health, not smoking, and having help after surgery will increase the speed of healing, improve your results, and prevent complications.
How long will the results last?
Results from buttock lifts are very long-lasting. As with most surgery, weight fluctuations, pregnancy, and aging will take a toll on the body and the results of your buttock lift. If you maintain a healthy lifestyle and avoid stretching the skin by weight gain, you can enjoy a youthful contour for a long time.
Sources:
. https://www.mayoclinic.org/tests-procedures/buttock-lift/about/pac-20393277
. https://www.smartbeautyguide.com/procedures/body/buttock-lift/