What are the pros and cons of Dental Veneers?
Pros:
. Stain/Scratch resistant: Veneers, particularly porcelain veneers do not develop scratches or plaque stains over the period of their life.
. Long lasting: Veneers are less prone to damages or fractures. They are known to be durable for longer durations. Typically, people can wear veneers for at least a decade.
. Obscuring imperfections: Veneers benefit the patient by hiding imperfections in the teeth structure and covering the inter-tooth gaps and stained enamels.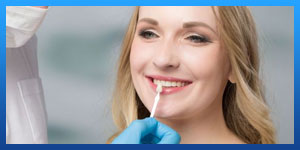 . Extremely natural: Veneers are exceptionally lifelike and give more of an original look to the teeth. Thus, a person can achieve a natural tooth structure along with a gleaming smile.
. Improve worn down, broken, chipped, discolored, misaligned, uneven, or oddly-shaped teeth with a simple procedure.
. Each dental veneer is custom-made to match the luminosity, color, and features of your natural teeth.
. No special maintenance is required.
. Select the tooth color that you most desire.
. The procedure to place dental veneers is efficient, painless, and fast.
Read more about : Are veneers permanent?
Read more about : Gingivectomy 

Cons:
. Alteration of teeth: To fit the veneers, the tooth in focus needs to be altered or partially shed. This leads to weakening of the healthy teeth. Customized veneers are created with proper measurements to ensure minimum loss to the teeth.
. Irreversible: The procedure of placing veneers is not reversible that is, once you get a veneer there is no way back. Careful consideration and diagnosis is required before opting this treatment. However, properly placed veneers rarely develop any complications.
. Sensitivity due to dentine exposure: Efforts should be made by dentists to ensure less exposure to the dentine. This exposure may lead to sensitivity problems. However, sensitivity disappears in a week after the permanent veneers are fit.
. Pricey: Veneers have high costs.
. Porcelain dental veneers may chip or crack if you bite your nails, chew on ice, or grind your teeth.
. Tooth decay under a dental veneer can occur, which may lead to necessary root canals and/or porcelain crowns.
Read more about : Dental implant vs Crown 
Read more about : Problems with veneers