Procedure
The preoperative evaluation of a rhinoplasty is simplified by dividing noses into three groups .
An external file that holds a picture, illustration, etc.
Simplified illustration for the green / yellow / red light nose classification.
The first group, called 'green light noses', includes noses that are reasonably easy to operate from the surgeon's point of view, and where good results, from the patient's perspective, are easily achieved.
These noses are ideal for the occasional or beginner rhinoplastic surgeon. In addition to requiring minimal to moderate experience, they also usually lead to satisfied patients and bolster the surgeon's reputation.
The second group, called 'yellow light noses', ranges between the 'green' and 'red' groups.
The third group, called 'red light noses', includes noses that are difficult to operate from the surgeon's point of view, and are likely to give limited results from the patient's point of view.
Only highly experienced rhinoplastic surgeons should attempt to correct these noses, because the main reward may end up being the surgeon's self-satisfaction for tackling a challenging job.

DIAGNOSIS
For simplicity, the three most important criteria that determine nose classification are, in order of priority, the profile view (the most crucial evaluating factor), the skin thickness and the frontal view.
Analysis of the profile view should be performed first, followed by skin palpation and frontal view analysis.
Once this initial assessment is performed, the patient is categorized as having a green light, yellow light or red light nose .
Length of Stay in Iran
This is an outpatient procedure needing 1.5 to 3 hours in the operation theatre. After being moved to a recovery room, your health condition is monitored, if everything is fine you are discharged on the same day. Sometimes, an overnight stay is advised. You are given painkillers to avoid post-surgery pain. You should stay in Iran for at least 7-9 days after the nose surgery for regular check-ups. In case you went through an open nose surgery, your stitches need to be removed after some days. You can leave for your home when your doctor asks you to do so.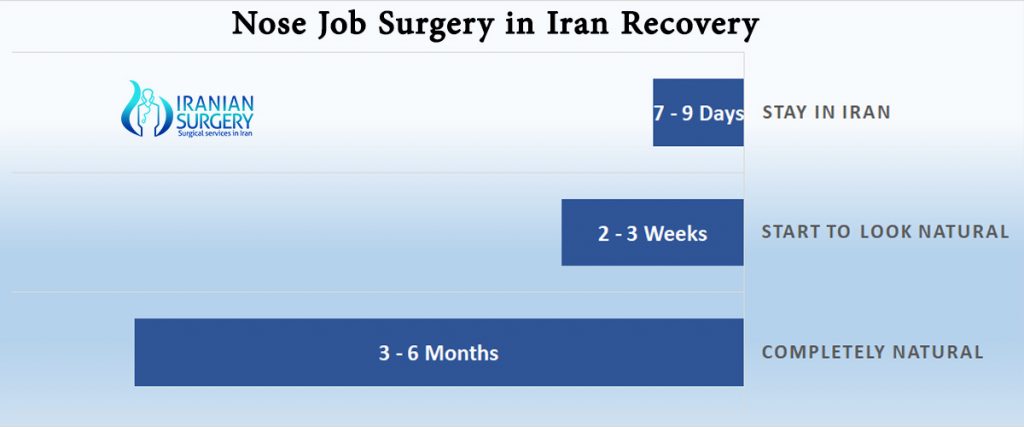 Recovery after nose surgery

This is a variable entity depending upon the type of nose surgery. Closed  nose surgery needs less recovery time while for open surgery, the pace of recovery is slow. You are to wear a nasal splint for one week after the surgery. There is swelling around your eyes which would subside in 3 to 14 days. However, nasal swelling can take even 6 months to go away. But this is visible to only you and your physician. Avoid strenuous activity in the first 3 to 6 weeks. You can return to your routine activities 2 to 3 weeks after the nose job. There would be no sign of surgery and stitches in a small period of time.
Success Rate of nose surgery in Iran

Nose surgery iran is widely regarded as one of the most complicated cosmetic surgeries. A nose job has a high success rate, reported to be between 85% to 90%. Only 10 to 15% of the surgeries need revision. The success rate can be even higher if the procedure is performed by the certified plastic surgeon. For a failed primary Rhinoplasty, secondary surgery is performed for which cartilage is taken from your costal cartilage. The nose is reshaped and the incision is stitched. Healing process continues for a while. This revision surgery is almost always successful.
After Nose surgery

Following are the points that should be kept in mind for taking care of yourself after surgery:
Do come for a regular checkup after being discharged.
Take your medicines as and when prescribed by your physician.
Live with someone for a few days. You need help with your work after surgery.
Eat healthy and nutritious food for a better recovery.
Keep your head a little higher than your chest. It will help you reduce bleeding and swelling.
Avoid exercise and other strenuous activities in the first few days.
Do not blow your nose.
Brush your teeth slowly to avoid excessive movement of your upper lip.
Chewing can be painful in the early days. Eat soft food products and increase liquid intake.
Do not wear clothes that need to be pulled over your head.
Avoid laughing and talking for a week.
Do not take a bath for some days after the surgery. A wet bandage can cause infection.
Do not wear glasses on your nose for at least 3 to 4 weeks after surgery.
Cover your nose while going out in the sun.