What is knee Liposuction?
Knee liposuction is a surgical procedure that involves the removal of fat deposits from the inner knee. The procedure is often done in conjunction with liposuction of the thighs to achieve a more contoured look.
This procedure is ideal for targeting small collections of fat that are difficult to reduce by diet and exercise alone.
Overall, the results of a knee liposuction procedure are considered permanent as long as you maintain your weight and fitness level. Depending on your contouring goals, more than one session may be necessary.
Read more about : Liposuction results week by week
Read more about : Lipomatic
Before Knee Liposuction
Who's a good candidate for knee liposuction?
You may be a good candidate for knee liposuction if you have good skin elasticity and are at a weight that's healthy for your body type. This procedure is designed for people who already follow a healthy lifestyle plan but are having trouble with fatty deposits in certain areas of their body.
You may not be a good candidate for this procedure if you experience weight fluctuations or if you're currently trying to lose weight. It's recommended that you be within 30 percent of your ideal weight before getting liposuction.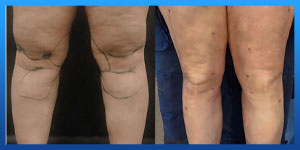 Knee liposuction doesn't completely get rid of cellulite or saggy skin. While these skin concerns are more common around the thigh area, they can sometimes occur around the knee, too. You can discuss other removal options with your plastic surgeon.
Liposuction also isn't recommended for people who smoke or have any serious chronic illnesses.
Read more about : How to smooth out stomach after liposuction?
Advantages of knee liposuction
In many cases, the removal of even a small amount of fat tissue can make a major difference to the overall leg aesthetics, helping them to appear sleek and symmetrical.
While knee liposuction may be all that is required to re-contour the knees, patients often choose to receive inner thigh liposuction plastic surgery at the same time to achieve proportionate and attractive results that enhance their overall lower body silhouette.
Additionally, some patients may like to have a knee lift at the same time. This is a relatively new procedure, which is becoming popular among celebrities. It can eliminate 'kninkles' or knee wrinkles, promote fresh collagen fiber production, and tighten loose skin tissue above the knee.
You can expect to have the following key benefits after undergoing knee liposuction surgery, particularly when it is undertaken in combination with outer or inner thigh liposuction:
. More toned-looking and youthful leg appearance
. Greater comfort and ease when running or walking
. More confidence to wearing clothing that reveals the knees
Read more about : Arm lift
Any side effects or precautions to be aware of?
For healthy candidates, knee liposuction is safe overall. Swelling is to be expected, and it may peak at 2 weeks following your procedure. Compression garments may be needed for up to 6 weeks to keep swelling at bay.
Other possible side effects include:
. Bruising
. Thermal burns
. Excess fluid accumulation (seromas)
. Irregular pigmentation
. Loose skin
. Worsened appearance of cellulite
. Numbness or pain
In some cases, a separate surgery may be needed to remove excess skin in the legs following knee liposuction. Talk to your provider about the likelihood of this scenario.
You should also ask your doctor about your risk for more serious side effects, such as the following:
. Infections
. Excessive bleeding
. Nerve damage
. Blood vessel damage
. Deep vein thrombosis
You'll be asked to temporarily stop taking anti-inflammatory drugs and other types of medications or supplements that may increase bleeding during your procedure.
Follow your doctor's instructions for aftercare, as you may be advised to refrain from strenuous activities for several weeks.
Another possible complication is the removal of too much fat during knee liposuction. This can create an uneven contour, which may be difficult to correct.
During Knee Liposuction
What's the procedure like?
You can expect the following process for knee liposuction:
First, you'll be given anesthesia so you won't feel pain during knee liposuction. This may come in the form of a local anesthetic or general anesthesia that puts you to sleep for the entire procedure.
Your surgeon will make small incisions around the inner knee. Next, they'll insert a small tube called a cannula, which is designed to loosen fatty deposits. This excess fat is then suctioned via an attached vacuum-like device.
Once the desired fat is removed from the knee area, your surgeon will close up the incisions and cover the area with compression bandages. These are designed to control excessive bleeding and swelling during your recovery.
The procedure itself is done in an outpatient hospital or another surgical facility. No overnight stay is required, but you may ask a loved one to stay with you at home for the first night of your recovery. Knee liposuction usually takes between 30 to 45 minutes to complete the procedure.
After Knee Liposuction
Recovery
Swelling (edema) of the entire leg is normal following this procedure. You can help minimize the swelling by elevating your leg and wearing compression garments.
Patients should ideally ask someone to drive them home after the surgery as the knees will feel stiff right after the procedure. It is also not advisable to drive while still under the influence of the anesthetic.
Patients can usually return to their routine activities within two to three weeks of the surgery. They can resume their exercise regimen within four to six weeks of the procedure.
When will I see the results?
Patients are able to see the results right after the procedure; however, is not after the 5-6 week period that the final results are seen.
How long do the results last for?
The results can last as long as the weight is maintained.
This is why it's highly recommended to maintain a healthy lifestyle to maintain the weight and help the results last longer. Regular exercise can also help tone as well as enhance the final results.
Sources:
. https://www.healthline.com/health/knee-liposuction
. https://www.theprivateclinic.co.uk/blog/ankle-thigh-knee-liposuction/
. https://www.drmotykie.com/liposuction-knees/
. https://www.ekimplasticsurgery.com/liposuction-for-your-knees/