Why Is Iran a Better Country than Turkey to Get a Rhinoplasty?
Which country is best for nose surgery,Iran or Turkey?
Is Iran better for rhinoplasty or Turkey?
Definitely yes. because of two reasons. 1. Cosmetic nose surgeons in Iran are much more professional than Turkish surgeons. 2. The price of rhinoplasty in Iran is at least 50% lower than in Turkey.
The average cost of rhinoplasty in Iran with Best Plastic Surgeons in 2023 is $ 2500, which includes the cost of rhinoplasty surgery, hospital and anesthesia, pre op tests, consultation, medication during hospitalization, checkup and follow while cost of rhinoplasty in turkey with Best rhinoplasty surgeon in turkey in 2023 starts from $ 4000.
Read more about : Best plastic Surgeons in Iran
Read more about : Top Nose Surgeons in Iran Tehran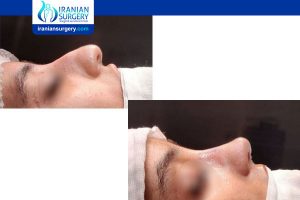 Why Is Iran a Better Country than Turkey to Get a Rhinoplasty?
There are various reasons for this fact which are as follows:
1. Skill and Experience of Iranian surgeons
Anyone familiar with Iranian people knows perfectly Iranian people highly care about their appearance. This fact makes Plastic surgeons keep up with the latest fashion and taste of the society.
Rhinoplasty surgeons in Iran, have performed numerous procedures annually which make Iranian rhinoplasty surgeons more experienced than other countries' plastic surgeons, due to high demand and low cost of rhinoplasty in Iran, thousands of people travel to Iran every year which makes Iran as the capital of cosmetic surgeries, especially nose job in the world.
Further, it is of paramount importance that your surgeon be expert in various types and styles of nose surgery including open rhinoplasty, close rhinoplasty, non-surgical rhinoplasty, fantasy, dolly, semi-fantasy and natural Rhinoplasty etc.
It is worth explaining that the quality provided by Iranian surgeons is far higher than countries such as Turkey.
Read more about : Best rhinoplasty Surgeon in the World
2. Clinic/ Hospital Standards
Doctors are not the only participant of a successful rhinoplasty in Iran(what should i do after bad rhinoplasty?). We could enumerate dozens of factors while the most important factors are routed in the clinic/hospital features. If the clinic is well-equipped, its atmosphere will automatically attract experts with high academic degrees and skills. Therefore, you could also evaluate the expertise of a doctor based on the clinic fame where he or she works in and at the same time, evaluate a clinic by its doctors.
It is worth mentioning that the clinic staff are important as well. To illustrate, well-trained nurses and professional secretaries who are working in a modern clinic/ hospital could make a surgery very pleasant. Lastly I should mention that the vast majority of hospitals/clinics in Iran are well-equipped and benefit from modern/latest technology.
To sum up, both the quality of Iranian surgeons' work and hospitals are far better than those of Turkey.
Read more about : Rhinoplasty surgery before and after 
3. The cost of Rhinoplasty
Since rhinoplasty costs in many countries are so expensive, many people have to postpone their procedure for a couple of years or consider going abroad instead.
Another reason why patients travel to Iran for Rhinoplasty is the low cost of treatment stemming from a sharp decline in the Iranian currency in recent years. The low cost of Rhinoplasty in Iran, makes thousands of people travel to Iran every year to undergo their procedure at an affordable price.
Differences Between Turkey and Iran Nose Job
As we explained above there aren't many differences between the procedure techniques in different countries. Results of all cosmetic surgery or treatment should be of a very high standard. As well as a high level of patient satisfaction.
One difference between Turkey and Iran is the nose job cost or procedure package price. In the Turkey you will be expected to pay sometimes two times the amount for the same treatment in Iran. This is why so many people travel to Iran for cosmetic treatments like a nose job. Many people feel like cosmetic surgery is for the rich and famous but Iranian surgery want to give everyone the opportunity to achieve their cosmetic goals.
There are some great nose job clinics in the Iran, but there are also some bad ones. This is usually down to how they are run or the qualification, experience and ability of the medical professionals carrying out the surgery. However Iranian surgery hand pick the highest quality Surgeons and hospitals to provide great nose job treatments for our customers travelling to Iran. Due to the research and screening our quality control team carry out, you can be assured the partnered clinic and surgeon that carries out your procedure is of the highest quality.