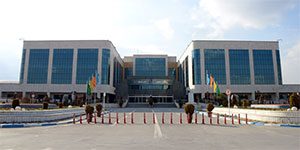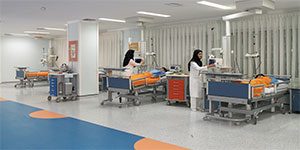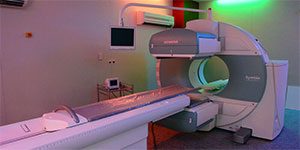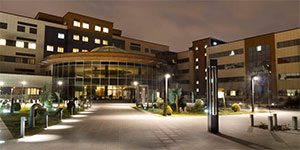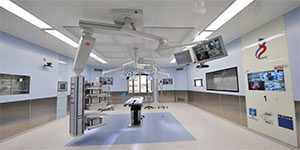 Razavi Hospital is a multi-specialty hospital that offers high-quality health services to local and international patients. It is located in Mashhad, Iran, between the cities of Mashhad and Toos. The hospital was established in 2005 and covers an area of 56,000 square meters. It has more than 300 beds and various departments, such as cardiac units, cosmetic surgery wards, radiology departments, fertility clinics, nuclear medicine and operation theatres. The hospital is accredited by Accreditation Canada International (ACI) and has received several certificates for its quality and safety standards including ISO 9001 and ISO 45001. The hospital also engages in medical education and clinical research, hosting international congresses, symposiums and seminars in collaboration with global health organizations. Razavi Hospital is affiliated with Astan-e Quds Razavi, a charitable foundation that manages the holy shrine of Imam Reza (AS), the eighth Shia Imam. The hospital's mission is to provide appropriate medical services for Mashhad citizens and medical tourists, while developing the cultural and social services of Astan-e Quds Razavi.
Razavi Hospital has a dedicated International Patient Department (IPD) that provides various services for foreign patients, such as online consultation, reservation, translation, hotel booking, fast track, VIP services and follow-up after discharge. The IPD also helps with visa, insurance and legal issues. The hospital has a network of health tourism agents in different countries that can facilitate the travel and treatment process for foreign patients. Razavi Hospital offers a wide range of medical services for foreign patients, such as cancer treatment, eye surgery, heart surgery, infertility treatment, cosmetic surgery and dental care. The hospital has advanced equipment and technology, such as digital radiology, MRI, CT scan, nuclear medicine, radiotherapy and endoscopy. The hospital also has a team of experienced and qualified doctors, nurses and staff who can provide high-quality care for foreign patients.
Some of the departments of the Razavi Hospital are:
– Radiology department: This department includes general radiology, sonography, CT scan, MRI, and extracorporeal lithotripsy. The department uses digital systems for imaging and post-processing, and provides images on CD and film.
– Echocardiography department: This department uses advanced echocardiography devices to perform color, Doppler, tissue Doppler, and contrast echocardiography for cardiac patients.
– Infertility treatment department (IVF): This department performs hormonal tests, semen analysis, urology consultation, psychological consultation, drug therapy, IUI, IVF, microinjection, sex determination (PGD), PRP, and all diagnostic procedures such as laparoscopy, hysteroscopy, PESA, and TESE. The department has all the facilities to ensure the privacy of the patients.
– Laboratory department: This department includes hematology, immunology (hormonology, immunology and serology, and fetal screening), biochemistry, microbiology (bacteriology, parasitology, urine and fluid analysis, and mycology), pathology (cytology, immunohistochemistry, molecular pathology, and flow cytometry), genetics and molecular pathology (molecular genetics unit, molecular pathology unit, cytogenetics unit), and reception. The department operates in three shifts 24 hours a day.