Leg lengthening and shortening
Surgery is the beginning of the lengthening process. Lengthening after the procedure requires a certain time, usually 60 to 80 days to achieve 6 to 8 cm. In the meantime, when the necessary exercises are performed and precautions are taken, usually, there are no problems. Height gained does not shorten again after the operation and processes are completed; as the processes permanently lengthen the bones in the area. However, if problems such as osteoporosis occur in older ages in people who undergo surgery, there is a chance that their bones may shorten.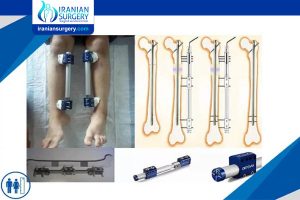 Read more about : The Swedish patient saved $ 90,000 by choosing Iran over the United States to have leg lengthening surgery.
Read more about : Miracle of Iranian surgeons with successful Leg lengthening surgery
Read more about : Leg lengthening surgery scars
Read more about : Success rate of limb lengthening surgery
_________________________________________________________________________________________________________________________
About Iranian Surgery
Iranian surgery is an online medical tourism platform where you can find the best orthopedic Surgeons in Iran. The price of limb length discrepancy treatment in Iran can vary according to each individual's case and will be determined based on photos and an in-person assessment with the doctor.
For more information about the cost of limb length discrepancy treatment in Iran and to schedule an appointment in advance, you can contact Iranian Surgery consultants via WhatsApp number +98 901 929 0946. This service is completely free.

_________________________________________________________________________________________________________________________
Read more about : Walking after Leg Lengthening Surgery
Read more about : Leg lengthening surgery
Read more about : Limb lengthening Surgery scar
Read more about : Limb Length Discrepancy Symptoms
Read more about : Leg Lengthening Surgery Before and After photo