Ovarian Volume by Age
The measurement of ovarian volume has been shown to be a useful indirect indicator of the ovarian reserve in women of reproductive age, in the diagnosis and management of a number of disorders of puberty and adult reproductive function, and is under investigation as a screening tool for ovarian cancer. To date there is no normative model of ovarian volume throughout life.
In an article published in 2013, by searching the published literature for ovarian volume in healthy females, and using their own data from multiple sources (combined n = 59,994) researchers have generated and robustly validated the first model of ovarian volume from conception to 82 years of age. This model shows that 69% of the variation in ovarian volume is due to age alone. They have shown that in the average case ovarian volume rises from 0.7 mL (95% CI 0.4–1.1 mL) at 2 years of age to a peak of 7.7 mL (95% CI 6.5–9.2 mL) at 20 years of age with a subsequent decline to about 2.8 mL (95% CI 2.7–2.9 mL) at the menopause and smaller volumes thereafter.
This is the first validated normative model of ovarian volume from conception to old age; it will be of use in the diagnosis and management of a number of diverse gynecological and reproductive conditions in females from birth to menopause and beyond.
Ovarian Volume throughout Life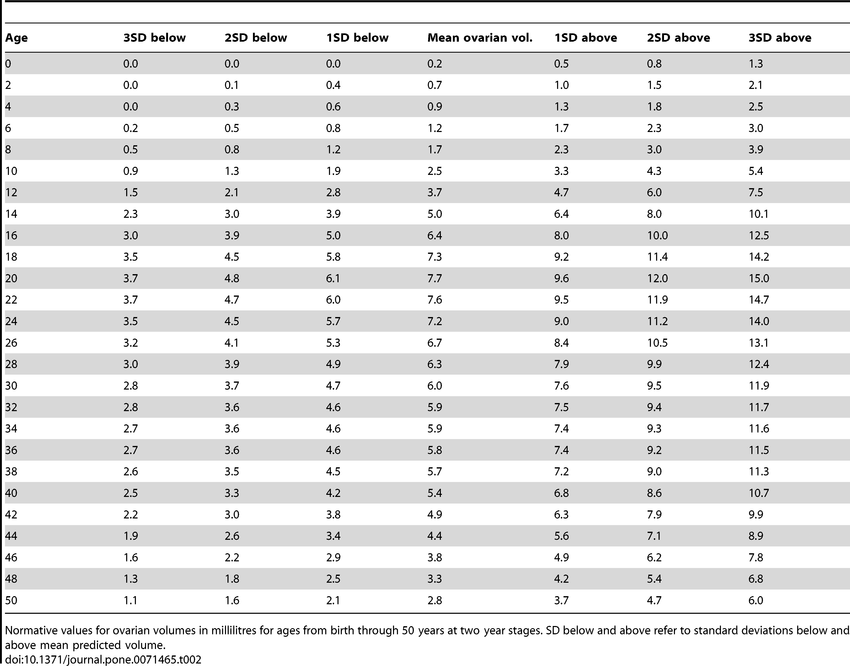 About Iranian Surgery
Iranian surgery is an online medical tourism platform where you can find the best doctors and plastic surgeons in Iran. The price of IVF in Iran can vary according to each individual's case and will be determined by an in-person assessment with the doctor.
For more information about the cost of IVF in Iran and to schedule an appointment in advance, you can contact Iranian Surgery consultants via WhatsApp number 0098 901 929 0946. This service is completely free.
Source:
https://www.researchgate.net/figure/Ovarian-volumes-by-age_fig17_256477213