Dental crown in Iiran
Dental crown in Iran is done at the dental hospitals and clinics having a team of professionals and specialists at low cost. The centres are well equipped and have the latest instrument and state of the art amenities and the dental team are committed to provide world class dental treatment with their vast experience. Iranian surgery aids overseas patients get the best healthcare for almost all kinds of problems, in Iran at affordable costs.
What is a Dental Crown?
A dental crown is a tooth-shaped "cap" that is placed over a tooth -- covering the tooth to restore its shape and size, strength, and/or to improve its appearance. The crowns, when cemented into place, fully encase the entire visible portion of a tooth that lies at and above the gum line. They are typically bonded to the tooth using dental cement. Crowns can be made from many materials, which are usually fabricated using indirect methods.
Why Dental Crown?
A dentist might recommend placing a dental crown for a variety of reasons but, in general, most of these reasons will usually fall within one of the following basic categories:
To restore a tooth to its original shape
To strengthen a tooth
To improve the cosmetic appearance of a tooth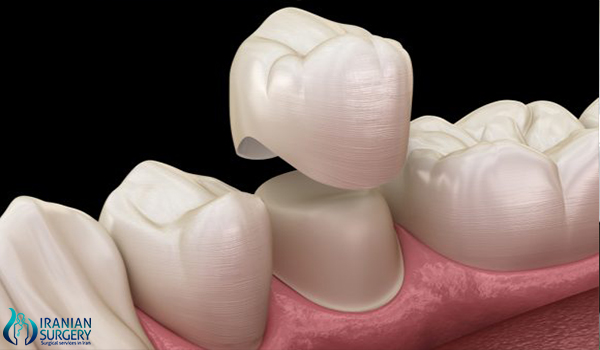 How much does dental crown cost in iran?
Cost of dental crown in iran starts from $240
Are you a Candidate for a Dental Crown?
A good candidate for a Dental Crown should have the desire to correct damaged teeth. Teeth that are cracked, chipped or decayed could benefit from crowns. A patient's dentist may determine that dental crowns are needed to aid in other dental procedures such as a dental bridge or covering a dental implant post. In addition to the physical characteristics needed for the procedure, a good candidate for dental crowns will have a complete understanding of the dental procedure and recovery. The patient should be willing to go through the process that could take two or three visits depending on the damage involved and any other oral health issues that may be a factor. Many dentists may want to correct other dental or oral health concerns prior to completing the crowns.
What Types of Dental Crown is available?
Permanent crowns can be made from all metal, porcelain-fused-to-metal, all resin, or all ceramic.
Metals used in crowns include gold alloy, other alloys (for example, palladium) or a base-metal alloy (for example, nickel or chromium). Compared with other crown types, less tooth structure needs to be removed with metal crowns, and tooth wear to opposing teeth is kept to a minimum. Metal crowns withstand biting and chewing forces well and probably last the longest in terms of wear down. Also, metal crowns rarely chip or break. The metallic color is the main drawback. Metal crowns are a good choice for out-of-sight molars.
low cost dental crown Iran
Porcelain-fused-to-metal dental crowns can be color matched to your adjacent teeth (unlike the metallic crowns). However, more wearing to the opposing teeth occurs with this crown type compared with metal or resin crowns. The crown's porcelain portion can also chip or break off. Next to all-ceramic crowns, porcelain-fused-to-metal crowns look most like normal teeth. However, sometimes the metal underlying the crown's porcelain can show through as a dark line, especially at the gum line and even more so if your gums recede. These crowns can be a good choice for front or back teeth.
All-resin dental crowns are less expensive than other crown types. However, they wear down over time and are more prone to fractures than porcelain-fused-to-metal crowns.
All-ceramic or all-porcelain dental crowns provide the best natural color match than any other crown type and may be more suitable for people with metal allergies. However, they are not as strong as porcelain-fused-to-metal crowns and they wear down opposing teeth a little more than metal or resin crowns. All-ceramic crowns are a good choice for front teeth.
Temporary versus permanent. Temporary crowns can be made in your dentist's office whereas permanent crowns are made in a dental laboratory. Temporary crowns are made of acrylic or stainless steel and can be used as a temporary restoration until a permanent crown is constructed by the dental laboratory.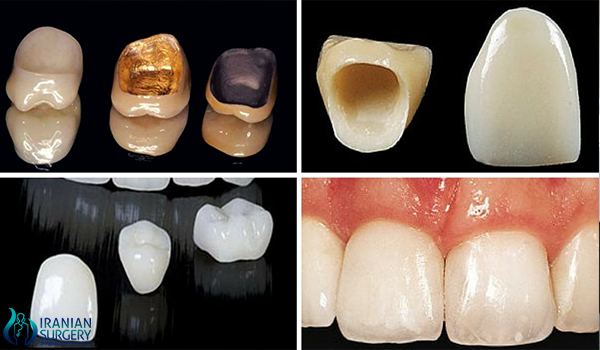 Before Dental Crown in Iran
A Dental Crown can be installed in two dental appointments. To be at ease, it may help you to know what to expect and how to prepare for this procedure. The installation of the dental crowns is a pain-free procedure.
First appointment: During the first appointment, the dentist will assess the condition of your teeth. Then, he will take off a few millimeters from your tooth, to be able to fit the crown on it. You won't feel any pain, as you will receive an anesthetic. Eat before your appointment, so as to avoid any complications that may be caused by anesthesia (i.e. fainting). In case there is too little left of your original tooth, the dentist may add some cement to have a stable base for the crown. When the tooth has a desired shape, the dentist will take an impression of the tooth and the neighboring teeth as well. The impression material is soft and won't hurt, but it will be kept in your mouth to dry. The impression will be sent to the technician, along with the indication of the right shade of color for the crown. The shade for the crown will be chosen judging by the shade of the surrounding teeth. The dentist will make a temporary crown made of plastic or metal, to protect the tooth while you wait for the crown to be ready.
Second appointment: The dental crown will be ready in up to 2 weeks, depending on the technician. The temporary crown will be exchanged for the permanent one and you need to feel if it is comfortable. Make sure the crown is not too high when you bite on it; the dentist will take a look at your teeth from different angles to see if the crown is a perfect fit. If need be, the technician will make some modifications on the dental crown, so another appointment will be required.

What is the Procedure of Dental Crown in Iran?
If you've never had a dental crown, it can be daunting. However, dental crowns are very common and routine. It typically takes two visits for a crown. In some cases, there exists technology that allows a crown to be prepared and cemented in only one visit (such as CEREC). Prior to recommending a crown for a tooth, your dentist will examine the tooth, bone, nerve, and surrounding tissues both clinically and radiographically (with x-rays). From the exam, your dentist will indicate the ideal treatment for your tooth. In some circumstances, if the nerve of the tooth is infected and painful, or if the tooth has extensive decay that infiltrates the nerve of the tooth, a root canal may first be performed.
procedure dental crownIf a root canal is unnecessary the following steps will be taken. The soft tissue and tooth will be anesthetized and the area can be isolated with a rubber dam. The old filling and decay will be removed. After the old filling and decay is removed a build-up will be completed to replace the missing tooth structure. After the build-up is performed, the tooth will be prepared for the crown. Once the tooth is prepared, an impression will be taken of the prepared tooth. The dental assistant will make a plastic, tooth colored temporary crown. The temporary crown is cemented in place with temporary cement. The dental impression is sent to an expert dental lab technician who will fabricate the crown. The dental lab takes approximately 2-3 weeks to complete the process, which means that the patient will have the temporary crown for 2-3 weeks.
During the second visit, the dentist removes the temporary crown and replaces it with the permanent one. He or she will check to ensure it fits correctly, that it doesn't affect your bite, and that it blends in nicely. If the patient and dentist agree on the appearance and feel of the new crown, the tooth can be numbed and the permanent crown is cemented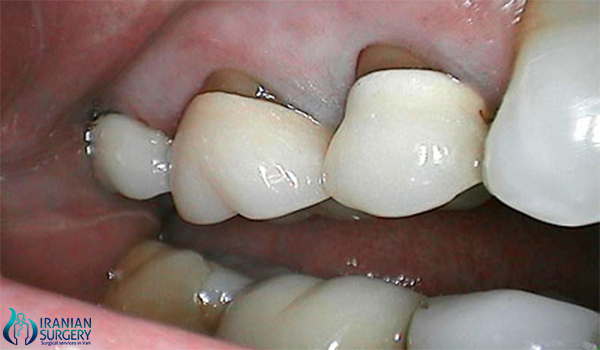 I decided to do dental crown in Iran. What should I do?
You do not need to worry about dental crown until you pay more attention to all these issues before proceeding. The important thing is to find a dental clinic And dental surgeon surgeon . If you are looking for dental crown cost in Iran , you can contact us and Get free consultation from Iranian surgery.
The dental crown Process in Iran
Just like any other surgery, you should check your medical records with a professional doctor. To do this, you must send us all your medical files and medical IDs. We will connect you with the best doctors, hospitals and clinics in Iran, and then you can ask any questions you have in mind.
By traveling to Iran, you can save the most money and get the highest quality of dental surgery.
Priority should be given before dental crown in Iran
Consultation with dental surgeon before traveling to Iran
Estimated cost of dental crown in Iran
Duration of treatment in Iran
Travel expenses to Iran.

Does dental crown cost in Iran less than other countries?
Low price is one of the most important features of dental surgery in Iran. This is because the cost is less than 200 to 500 percent of the price of dental crown in Europe, Turkey, Qatar and the United States, while maintaining the same efficiency.
Who is the best  dental surgeon in Iran?
Most surgeons in dental surgery in Iran have high experience in dental surgery.
Most Iranian dental surgeons graduate from reputable American and European universities and have enough experience to do so.
dental crown Package in iran
We offer the best dental crown Package in iran at the most affordable prices. Our dental crown Package in iran includes flight ticket, hotel, pick up, clinic and transfer.
Hotel / Transfer/ Full board / Visa
Items included in the package :
Clinic and doctor visits
laboratory tests
medical photography
dental crown surgery in clinic or hospital
post-operative care
medicines
recovery and follow-up