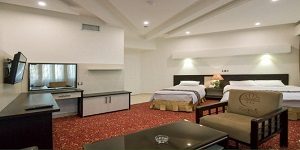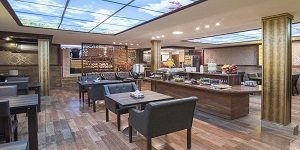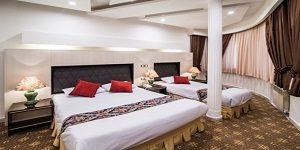 The 4-star Aryo Barzan Hotel is located among many bazaars and tourist sites in the center of Shiraz city.
The 3-star Morvarid Hotel Tehran (former Diamond) was established in 1963 in Haft-Tir Square and was renovated in 2013 with the goal of serving more suitable and up-to-date services.
Morvarid Hotel Tehran is located within the traffic area, but has easy access to the Haft-e- Tir subway and commercial, recreational and sports centers such as the Shahid-Shirodi-Shrdi Stadium and Tehran's Big Bazaar, and easy access to the Modares Highway is one of the best features of this hotel.
Morvarid Hotel Tehran has 2 floors and 95 rooms. These include single rooms, twin rooms, double rooms, triple rooms, large suites.
The hotel also has experienced staff with amenities and services such as: A quiet and pleasant restaurant with a variety of Iranian cuisine, a coffee shop in a cozy and intimate environment.
Taxes and VAT are included in prices.
Breakfast included and it's Free.
Check-In time is from 14:00 O'clock and Check-Out time is before 12:00 O'clock in local time.
Rooms at Morvarid Hotel provide Toilet Seat, Safety Box, Hair dryer, Refrigerator, LCD TV, Wi-Fi Internet, Split Air Conditioners, Bathroom, Shower, Desk, Mini-bar, Toilet Table, Air Conditioner. In addition, Morvarid Hotel offers breakfast, which will help make your Tehran trip additionally gratifying.
Free parking
Free High Speed Internet (WiFi)
Free internet
Free breakfast
Free airport transportation
Business Center with Internet Access
Dry cleaning
Laundry service
Wifi
Bar / lounge
Restaurant
Breakfast available
Airport transportation