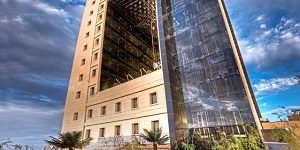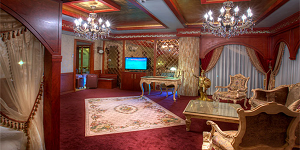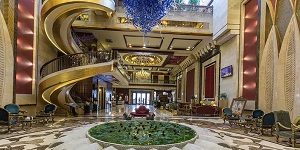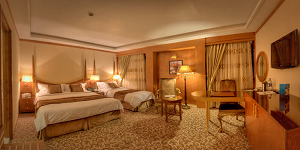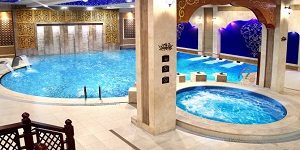 The 4-Star Almas Novin Hotel Mashhad has been established on an area of 9,000 square meters in 1396.
Luxury Darvishi Hotel is located in the main street to Imam Reza's shrine, in a distance of 1400 meters from the shrine.
This hotel has 25 floors, which is the tallest accommodation building and the largest atrium in Iran with glass surface, established in 2011 that really can be called the best hotel of Mashhad.
Top five-star Darvishi Hotel has 223 rooms in 32 different sets such as season rooms, pent house, nations' room and VIP rooms.
Roof garden with exceptional landscape, traditional shopping center, various Iranian and European restaurants, fast food and coffee shop, and aquatic complex offering services such as pool, sauna, jacuzzi in a luxurious and stylish space are among the best and most modern facilities of the hotel, making the hotel even more attractive and pleasant.
Darvishi Royal hotel has a different type of rooms and suites with different facilities and decoration. The hotel offers guestrooms with complete amenities. Some of these include climate control, ironing facilities, work desk, IPTV, Wi-Fi, telephone, coffee/tea maker, wake up service and alarm clock. Additionally, luxe and royal VIP rooms feature an indoor jacuzzi.
Free parking
Free High Speed Internet (WiFi)
Fitness Center with Gym / Workout Room
Pool
Free breakfast
Babysitting
Children Activities (Kid / Family Friendly)
Free airport transportation
Free internet
Wifi
Public wifi
Internet
Hot tub
Indoor pool
Restaurant
Breakfast available
Breakfast buffet
Airport transportation
Shuttle bus service
Business Center with Internet Access
Conference facilities
Meeting rooms
Spa
Concierge
Non-smoking hotel
Dry cleaning
Laundry service